Student dems anxiously watch election results pour in
November 4, 2020
As polling stations across the country closed, students gathered in the warmth of a tent on the Davis Center green to anxiously watch the presidential election unfold.
At a UVM Campus Democrats Election Night Watch Party Nov. 3, viewers watched Democrat Joe Biden and Republican Donald Trump run head to head in states across the country, and tensions in the room ran high as election coverage began at 7 p.m.
As roughly 20 students watched CNN's election coverage projected on a screen in the tent, Senior Owen Doherty, president of the UVM Democrats and organizer of the election watch party, said he was feeling optimistic about the night.
"I'm really excited, we've seen a lot of activism and excitement across the country not just today, but really in the last few weeks and in the last year,"  Doherty said around 7:10 p.m. Tuesday night.
Though nervous about being too confident about Biden winning, Doherty said he was excited to see what would happen over the course of the night, especially since he'd invested so much of his time in the election over the past four years.
"There is nothing on my schedule after today," Doherty exclaimed. "I feel like Nov. 3, 2020 has been a day marked on my calendar for four years now, and I'm more than excited for it to be over and hope that it ends well."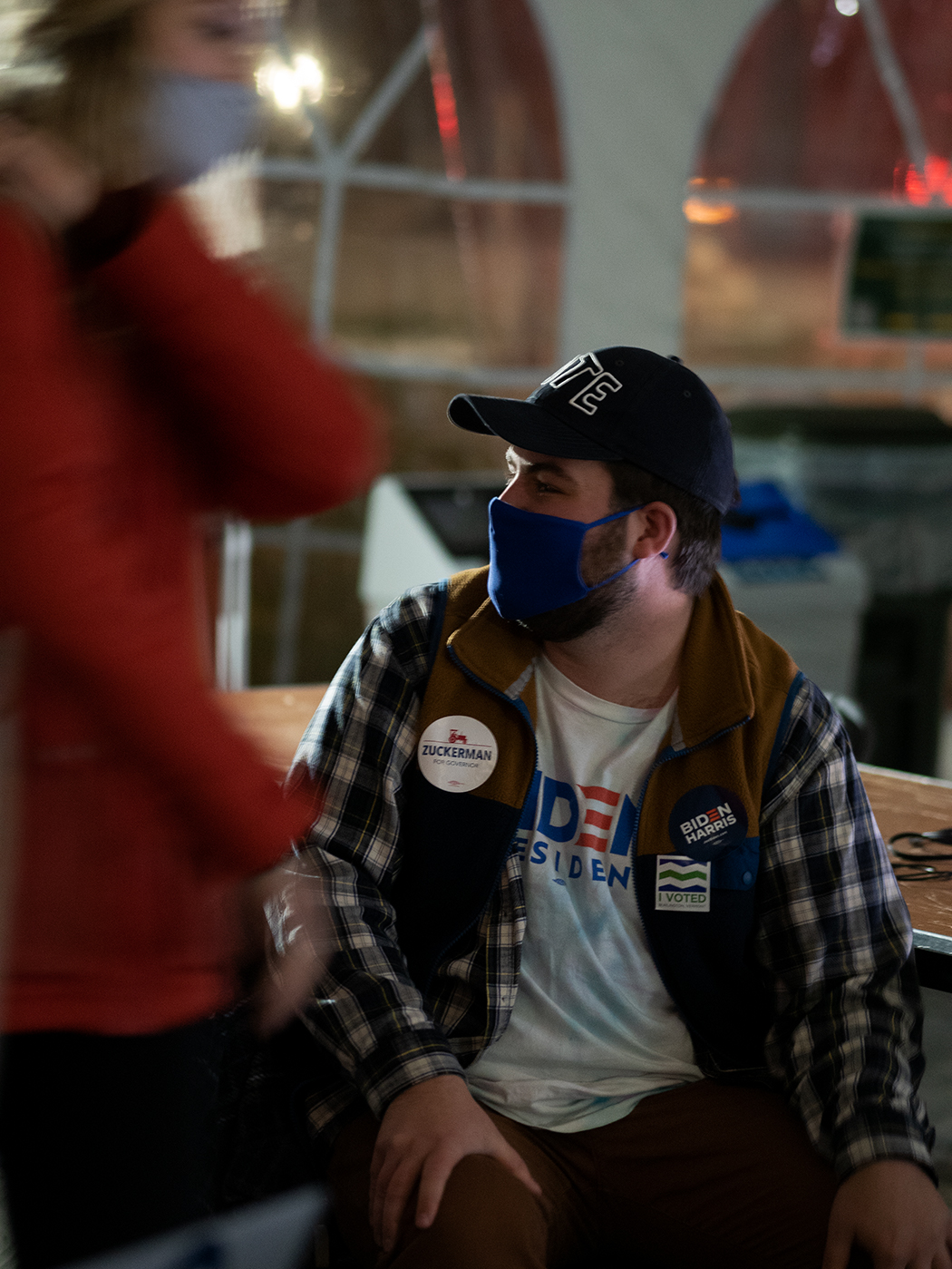 First-year Chris Lamm shared Doherty's enthusiasm, and expressed his increased interest in the election because of his disapproval of President Donald Trump.
"I would say since Donald Trump's election four years ago, I have definitely gotten a lot more into politics and care about it more than I did back then," Lamm said. "I'm a lot more excited about the election."
While Lamm and Doherty remained optimistic, First-years Chloe Bouska and Sarah Freedman said they were anxious. 
"I've been stressed all day, all week. Really, the last few months," Bouska said. "There's been a lot of anticipation leading up to it but now that it's here it's, well, it's crunch time."
With similar nerves going into the night, Freedman recalled the 2016 election and how that result shaped her feelings on the current presidential race. 
"I think the 2016 election was what really got me more involved in politics." Freedman said. "I think it's all kind of coming to a head here, and obviously I definitely want to stay engaged in political processes after the election, but I think this is just so crucial to our country."
As states began turning their distinctive blue and red colors to indicate Democratic or Republican wins, Biden supporters scattered across the room cheered as states like Vermont, New York, Massachusetts and Colorado went blue.
Although attendees showed little surprise when Biden won Vermont, some students were disheartened when the Republican candidate Phil Scott beat Democrat David Zuckerman in the race for governor.
Hannah King, Vice President of the UVM Democrats, expressed her sadness at Zuckerman's loss.
"I'm not surprised with the results necessarily, but it's definitely disheartening to see such a liberal state elect a conservative governor that continues to undermine the values of Vermonters," King said. 
However, King and Doherty were hopeful about races for seats in the House, where a number of Democrats were looking to unseat Republicans.
"We've been following really competitive House races like with Speaker Mitzi Johnson, who is in a really contentious race, and it looks like she will unseat one of the Republicans, so I'm really excited about that," King said.
Doherty referenced a similar situation in Essex County, Vermont, where Democrat Alyssa Black flipped a seat in the Vermont House of Representatives from Republican to Democrat.
These victories on the state level made Doherty hopeful for the future, and his positive outlook didn't diminish as he shifted his focus back to the presidential election.
However, as pivotal states like Texas, Florida, North Carolina and Pennsylvania remained tight, anxiety in the room increased. 
Junior Tessa Schneider said although she hasn't been following politics for long, she was particularly interested in the turnout of Texas' vote, which was split between Biden and Trump, who each held 49.3% of the state's vote at the time.
"They're talking about Texas a lot," Schneider said at 9:20 p.m. "Apparently it's really close in Texas right now and that would be really cool if Texas went blue." 
Similarly, Doherty took interest in Wisconsin, another swing state capable of deciding the presidential election results.
"I worked for the Wisconsin Democratic Party this year, so I'm very invested in what happens in Wisconsin. I'm excited to see what happens there because they went to Trump in 2016 and we're hoping to bring them back to blue," Doherty said.
However, looking forward, Doherty knew the results of this election wouldn't all rely on one state. 
"There's a lot of states on the map, a lot of states available, a lot of pathways to victory." Doherty said, referring to Biden winning as victory. 
As the election watch party neared its end, Doherty emphasized the fact that it could take hours, or even days, until final election results are announced and echoed the words of CNN analyst John King that "the night is still young."