The sights and sounds of homecoming for Vermont's presidential candidate
March 6, 2020
ESSEX JUNCTION—On a rainy Super Tuesday, thousands of people stood for hours in Essex Junction, Vermont, watching live results on the big screen as presidential primaries across the country were called.
All were there for the same reason March 3: to catch a glimpse of Democratic presidential candidate sen. Bernie Sanders.
Before the rally began, supporters stood outside the Champlain Valley Exposition's doors, waiting to be let in by security around 5:30. Students, families and people of all ages waited in long lines for hours.
"I feel like Bernie's going to be able to create a baseline of support for the future generations," said college student Jacob Swartz. "And even if it doesn't affect us immediately, he's going to introduce more great policies for our children and our grandchildren."
Young voter Kaitlyn Paszkiewicz said she likes Sanders because of his charisma and his pro-socialist policies.
"Personally, I want him to be my grandpa," she said. "Also, I hate capitalism, and I just don't think it's good for anybody except very few people."
While holding a Bernie sign over her head to protect herself from rain, supporter Esther Piper said that Sanders is a great choice for all Americans.
"Bernie's political agenda, his social message, his economic message are exactly what this country needs," she said. "He's not just for one person, he's not for himself. Everything he does is to impact everyone."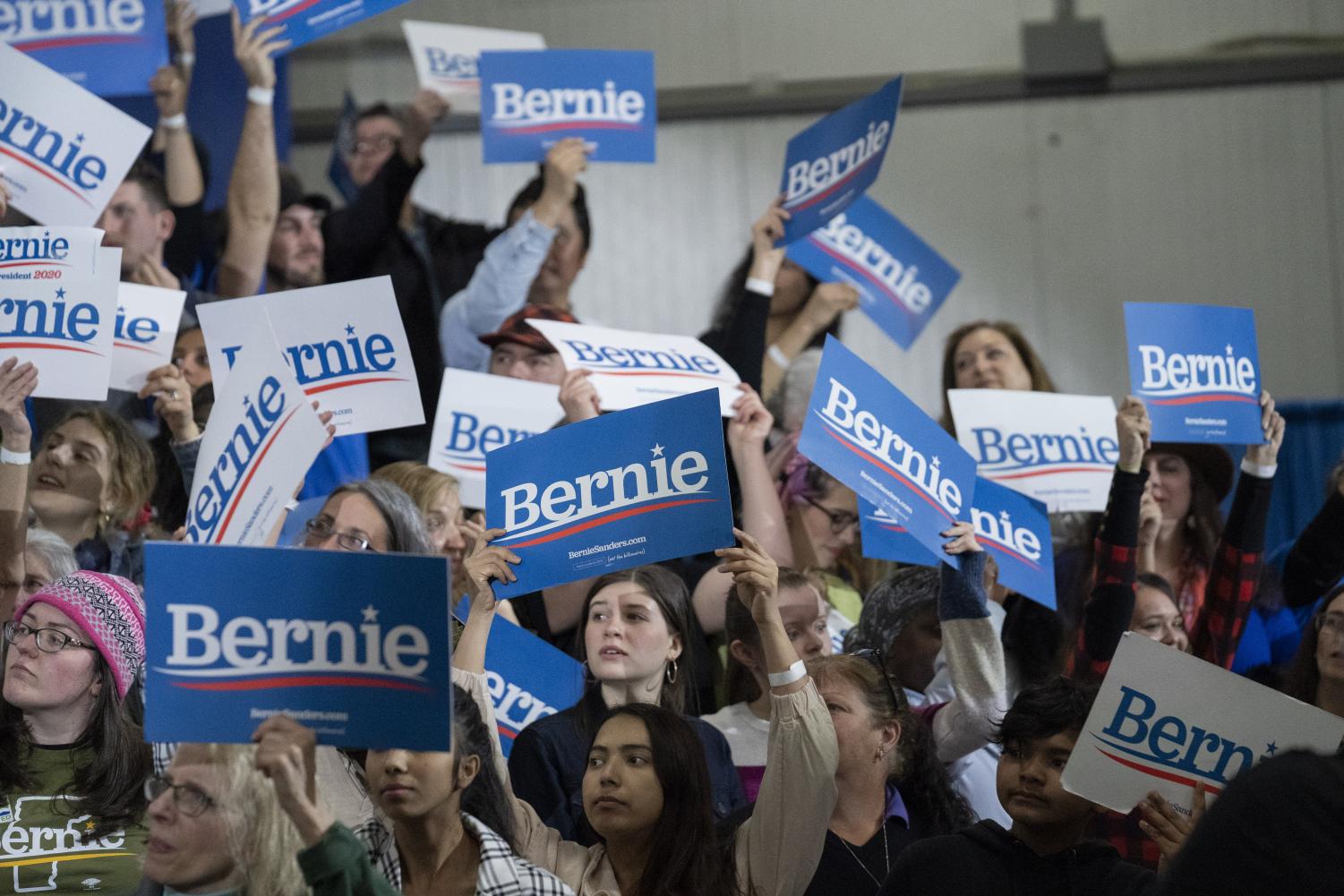 Rally volunteer Andrea Joseph said that she likes Sanders because he supports people in every age group.
"He supports the things that women of my age need, things like social security," she said, holding armfuls of signs to hand out to supporters. "He's just a good guy. He's honest, he's sincere, and he does what he promises."
As people gathered inside the main venue, a family of three huddled together, still bundled in winter coats and carrying Bernie signs.
"Every decade, the generational wealth gap gets bigger and bigger, and Bernie's trying to level the playing field," said supporter David Justice, holding his young daughter Olivia in his arms.
Supporter Jessica Justice agreed.
"People should get more behind his ideas for the future generations so that something good is set up for them," she said, holding a small beanie that Olivia had previously thrown on the ground.
Baby Olivia Justice babbled, but it is unclear whether or not she supports Sanders.
Large crowds of people formed all over the venue, many struggling to get closer to the podium where Sanders would stand in several hours.
Olivia Anderson, a Canadian student in the crowd, said that everyone, including non-Americans, should care about U.S. politics.
"It's totally necessary to be knowledgeable about American politics because no matter where you are, America will impact you," she said. "Vote if you can, and talk to your local officials."
Various guests came up to the podium to deliver a speech to the crowd, including campaign worker Acelynn Victoria Wahl, Burlington city councilor Ali Dieng, VT Attorney General TJ Donovan, State Treasurer Beth Pearce, Lieutenant Governor David Zuckerman and Sanders' wife Jane Sanders.
As the night went on and election results were broadcasted live on the wall of the venue, the energy of the crowd ebbed and flowed.
The crowd cheered when Sanders took the lead in results and booed when other candidates took the lead in others.
"Biden, get out of my state! He's in my state, man!" a supporter yelled from the crowd when Biden took the lead in Massachusetts.
Though the support for Sanders continued through the live election updates, some supporters were impatient as hours passed with no sight of Sanders.
"I don't believe in Jesus, but Jesus Christ I want to see Bernie!" one supporter yelled.
Others sat down amidst the crowd, tired from standing.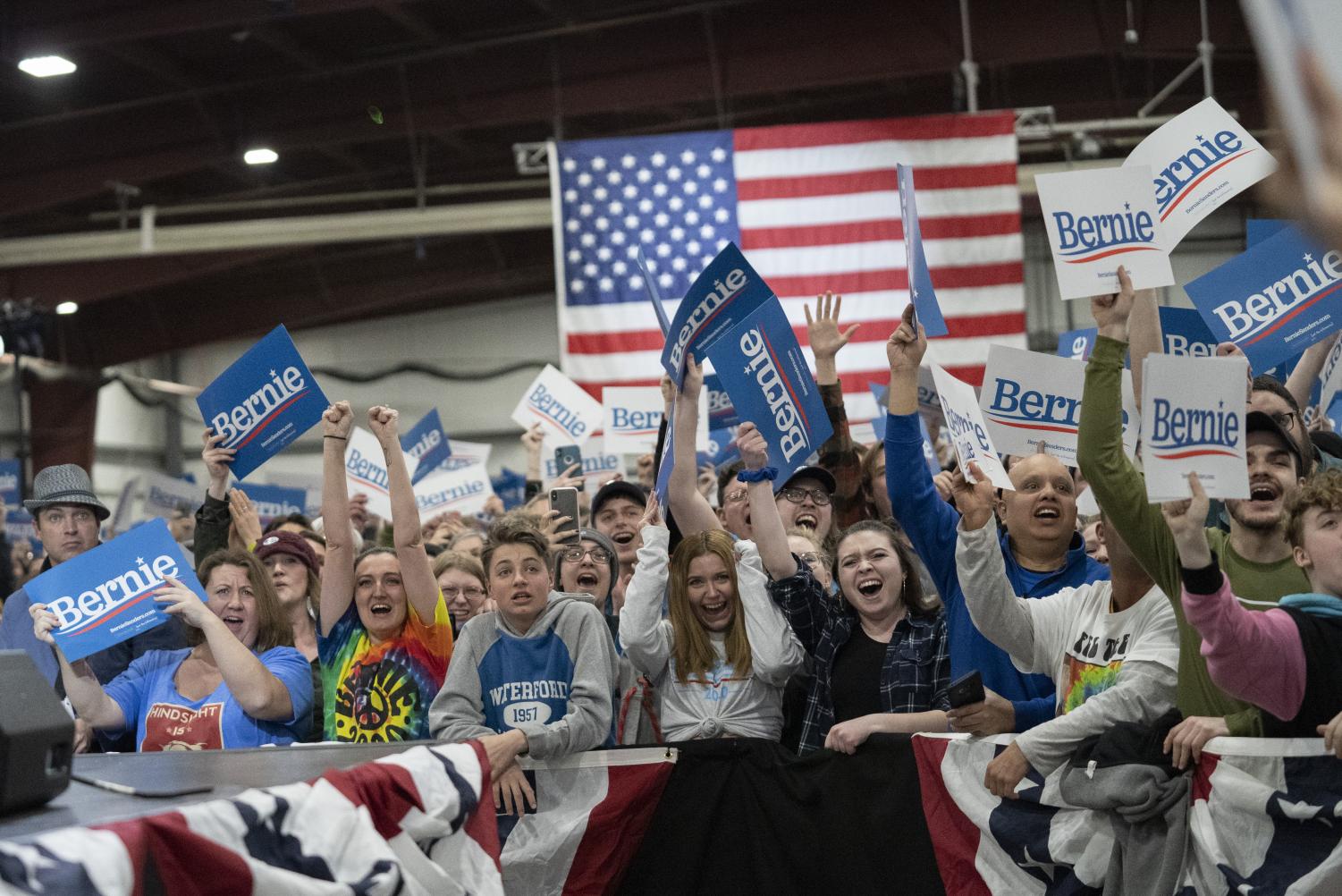 "I literally can't feel my legs anymore," one supporter said from the crowd, sitting cross-legged on the floor. "R.I.P. my legs."
At 10, nearly five hours after venue doors opened to the public, the crowd erupted into cheers as Sanders took the stage to deliver a speech in his home state.
"I'd like to thank the great state of Vermont and all of the people in the state," Sanders said. "Not only for the victory you gave our movement tonight, but for the years and years of love and support you've given me and my family."
The crowd cheered, waved Bernie signs in the air in clenched fists, laughed when Sanders knocked over a nearby water bottle and chanted his name as he left the stage.
"I love him so much!" one supporter yelled while others cheered.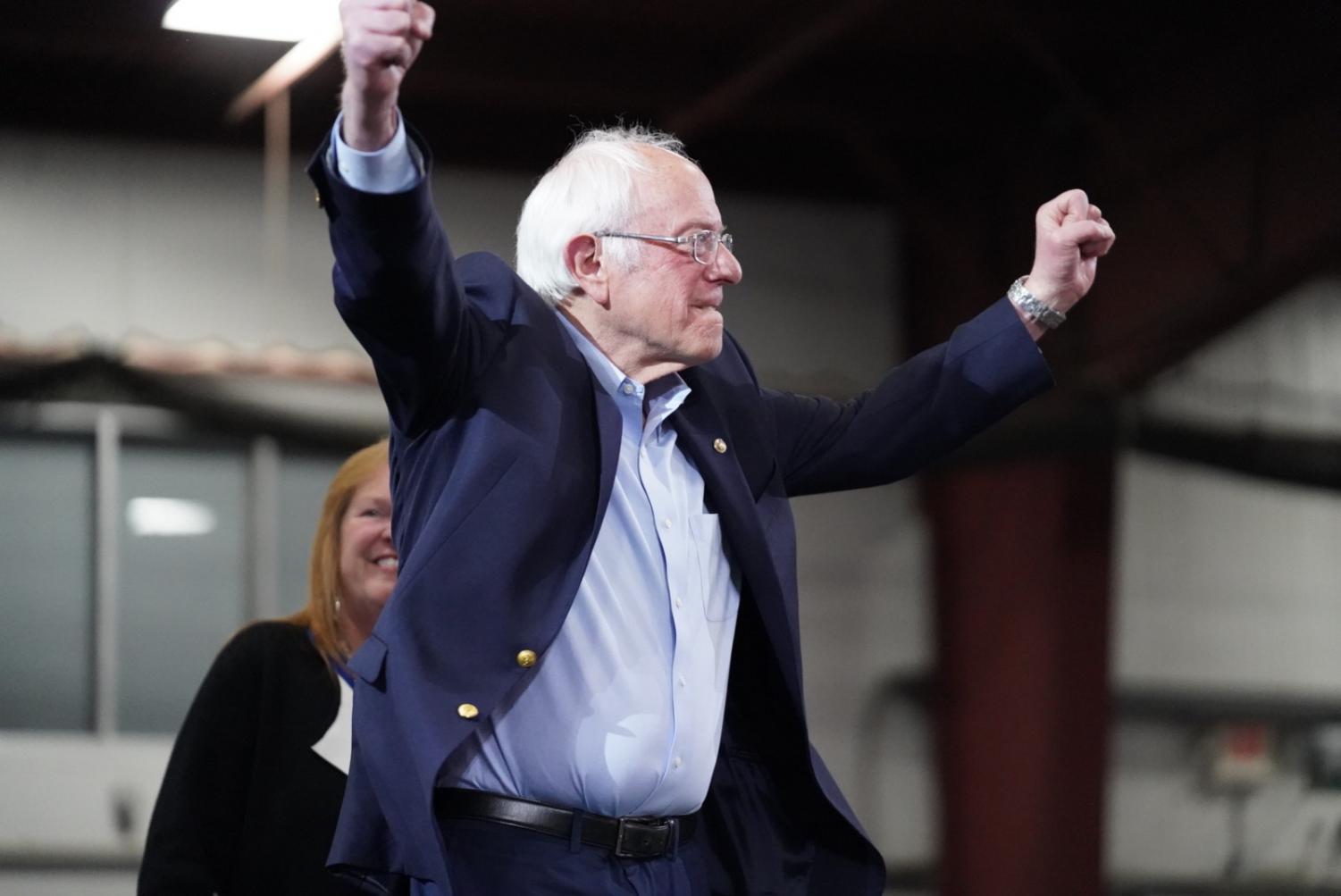 As people filed out, lingering crowd members continued to show support. One group of UVM students said they felt empowered and energized.
"I teared up when he started speaking, but I didn't cry because I didn't want to ruin my mascara," said UVM first-year Grace Jack.
Despite the long wait, getting to see Sanders made it worth it, said UVM first-year Tony Mitchell.
"Seeing him was so surreal," he said. "Besides, being with so many people who truly believe in the same ideals I do made me so happy."
On Super Tuesday, Sanders won his home state, but competitor former vice president Joe Biden, proved to be a formidable opponent. In total Biden now has 627 super delegates to Sanders' 551.