'Voting changes the future:' Students volunteer at the polls, campaign for candidates at Ward 8
March 2, 2021
Fighting against cold winter winds, UVM students in Ward 8 gathered at the Fletcher Free Library to cast their votes in the 2021 Burlington mayoral election.
Although Democratic incumbent Miro Weinberger went on to win reelection by narrow margins Tuesday evening, many UVM students in Ward 8 voted for Progressive candidate Max Tracy. 
The Cynic spoke to several students and community members at the polls. Here is what they had to say:
Senior Ethan Waxman, Mariah Cronin and Jane Stromberg
Senior Ethan Waxman, UVM alumni Mariah Cronin and City Councilor Jane Stromberg stood in front of Fletcher Free Library, holding "Max for Mayor" signs under warm hats and gloves. 
Waxman said he was supporting Tracy because he hasn't been happy with Weinberger's work as mayor. 
"Fuck Miro. I'm sick of seeing shit go down the hole and I want to get things done," he said. "That's why I'm out here in the cold supporting Max. I'm pissed off and I'm here for real change." 
As a UVM student, Waxman said he was excited to see that many other students on campus were coming out to vote. 
"I'm seeing people get energized, even people that I know only get energized about illicit items," he said. "I'm hopeful about the outcome of this election."
Cronin, a UVM alumni from the class of 2020, said that being educated about political issues and voting is an important part of democracy. 
"There are a lot of different ways to take action, and voting is one that is very direct and powerful," Cronin said. 
Stromberg complimented Tracy and said that he was a good candidate for Burlington mayor. 
"In my life, I've never met someone so down to earth, and he's such a strong advocate for social justice movements too," she said. "I'm looking forward to working with a mayor that I can talk openly with, especially because I don't have that relationship with the mayor currently."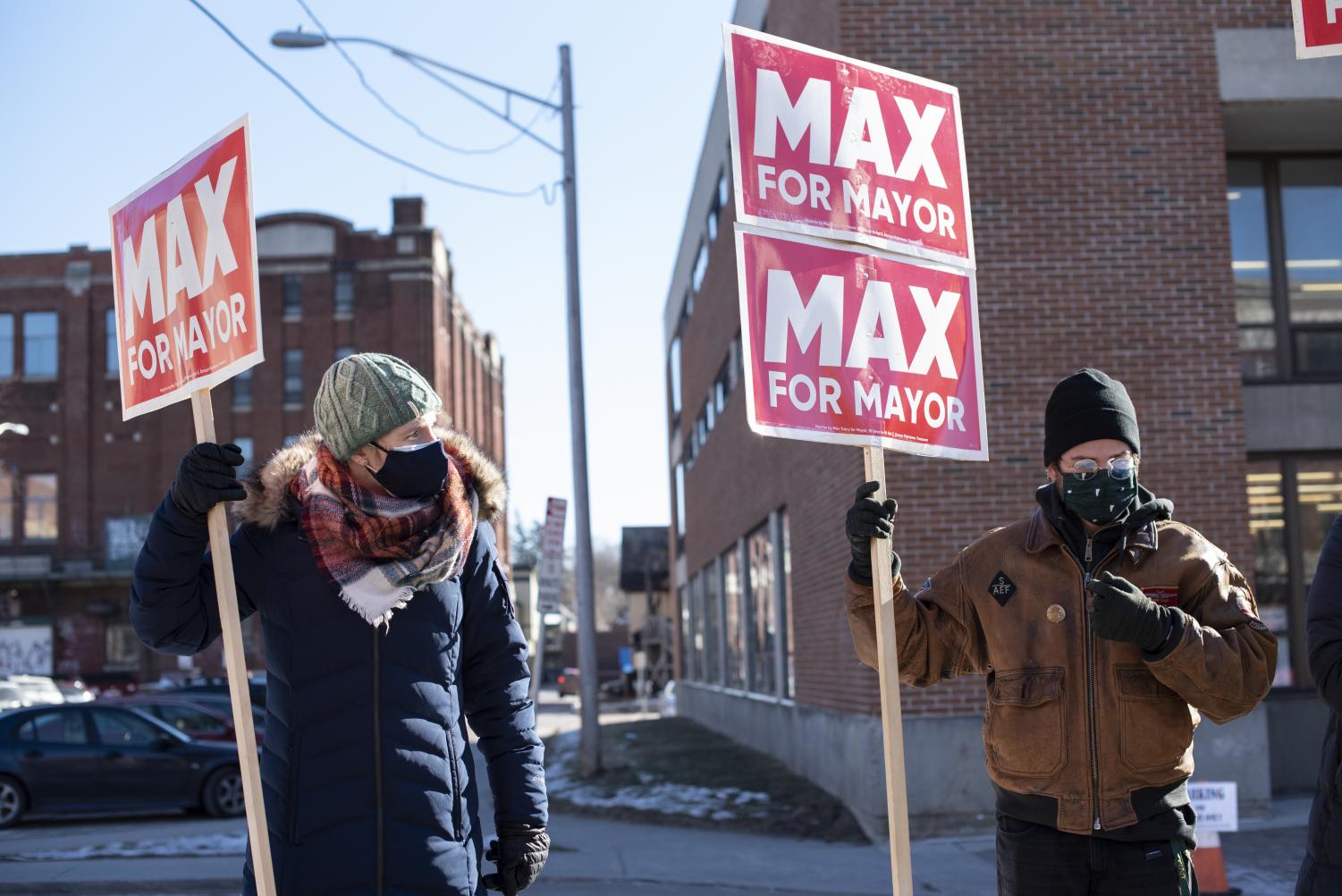 Senior Kayla Downs
UVM Senior Kayla Downs, a volunteer poll worker, sat at a table at the entrance of the library, directing voters to different sections of the room based on their voting needs. 
Downs decided to spend the day volunteering because a friend told her the polls needed more hands and because classes were canceled. She said she will be voting for Tracy because of his progressive climate policies. 
"Climate policies are really important to me, and I like his plans for the overall Burlington community," she said. 
She believes that this election is important because Tracy has a good chance of winning and there are important policies on the table, she said.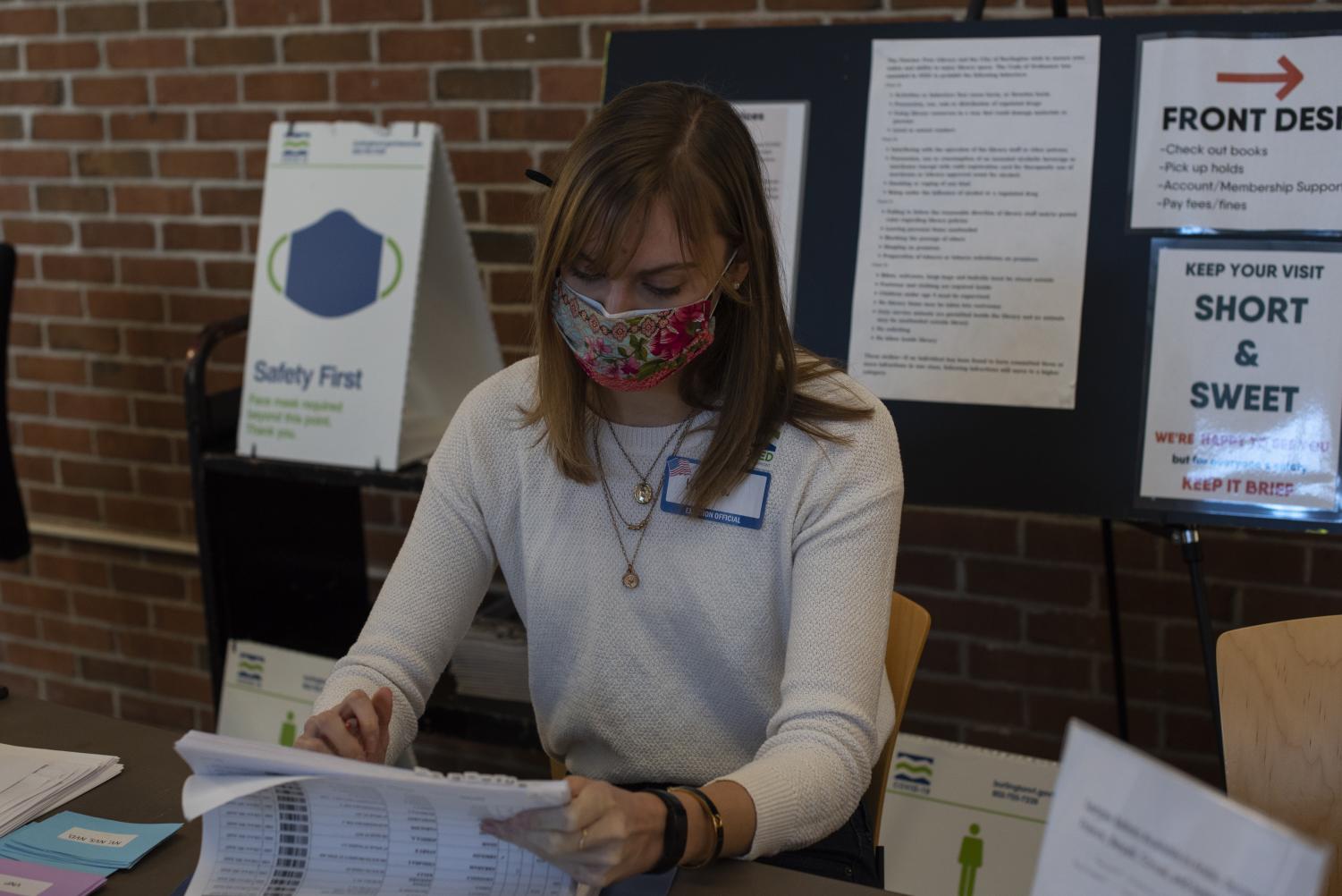 Sophomore Maddie Henson and Sophomore Cora Smith 
Sitting behind a white table with a plexiglass screen, UVM sophomores Maddie Henson and Cora Smith helped register community members in Ward 8 so they could cast their ballots. 
Henson, an SGA senator, said she was volunteering because she believes registering people to vote is a good thing to do to help the Burlington community. 
"I'm excited to help out and be here, especially with the political climate in the past year," she said. 
Though Weinberger briefly came into the library and handed Henson a box of donuts, she said she will be voting for either Tracy or Independent candidate Ali Dieng. 
"You think you can steal my vote, but you won't!" she said, in regards to Weinberger. 
A large number of people registered to vote, Smith said, displaying a manila folder, packed thick with papers.
"The campus community wants to be involved with the local political scene and are involved by voting," Smith said. "People have been bringing their friends and registering in groups of five to seven. I'm excited to see that so many students are getting involved."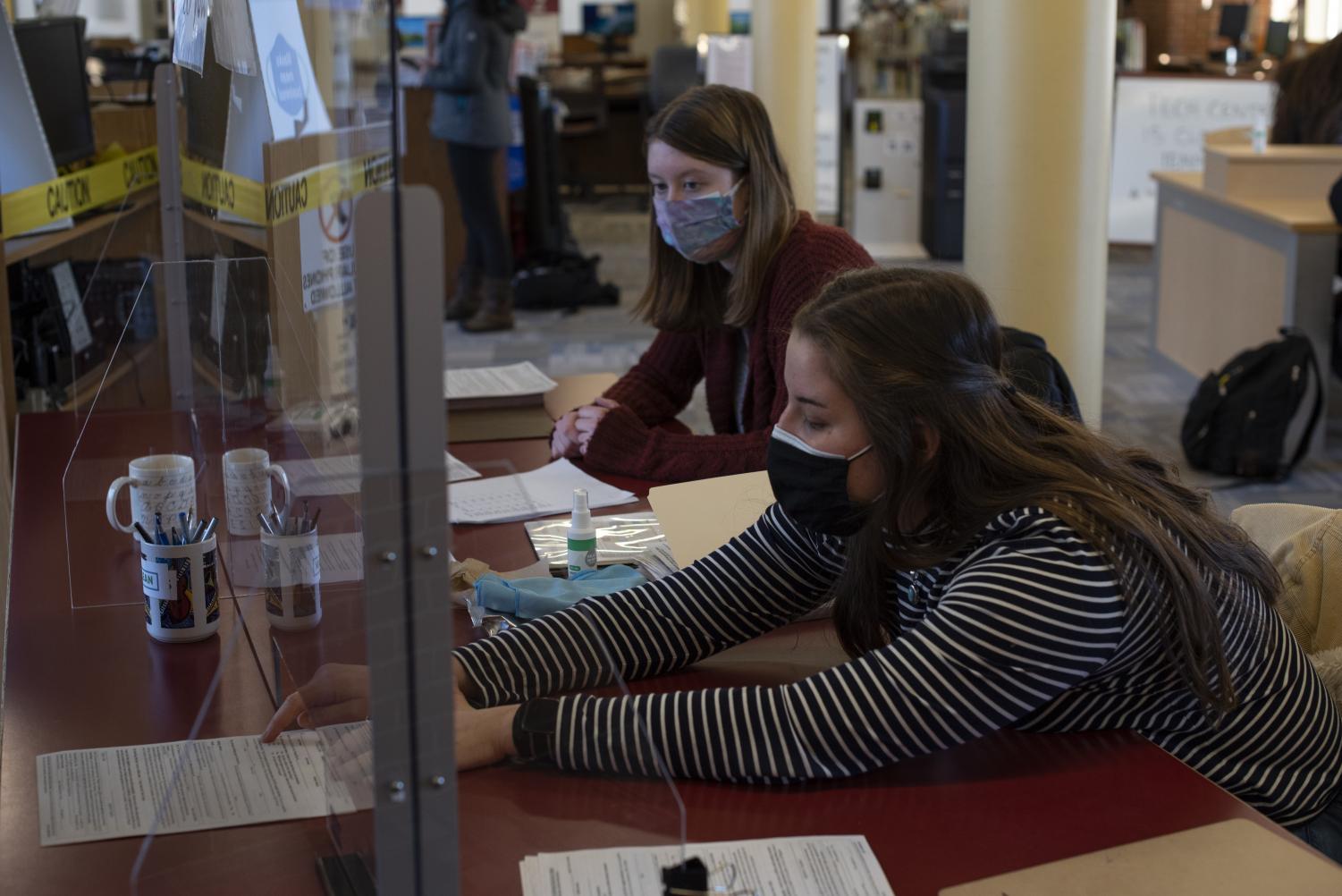 Former UVM student Keanu Von Diez
Former UVM student Keanu Von Diez said he came out to vote because he believes voting is an important part of local politics, education and the future of Burlington. 
Von Diez said that though he was considering voting for Weinberger, he will probably end up voting for either Dieng or Tracy. 
"Weinberger seems to be too much of a developer and a businessman, and may not have the best intentions for Burlington," Von Diez said. "He has the experience, but the other candidates seem more civic-minded." 
Though others may not see the importance of local elections, Von Diez said that Burlington sets an example for other communities, especially on a progressive front, which can "bring a lot of benefits for everyone."
Simon Rosenbaum 
High school junior Simon Rosenbaum, a student at Vermont Commons who said he plans to apply to UVM, stood outside the library holding a sign that read 'Miro for Mayor,' engaging people in conversation as they passed by to cast their ballots. 
Rosenbaum said he wants to get involved in the Burlington community as a prospective UVM student. Especially as a young person, engaging with politics on a local level is important, he said. 
"Voting changes the future," he said. 
Though many students decided to vote for Tracy, Rosenbaum voted for Weinberger because of his leadership in a time of crisis and his policies in renewable energy. 
"He's shown really good leadership so far, and we need to keep leadership that does so well in handling crises," he said, referring to the COVID-19 pandemic. "I think this election is important, and we should support our chosen candidates."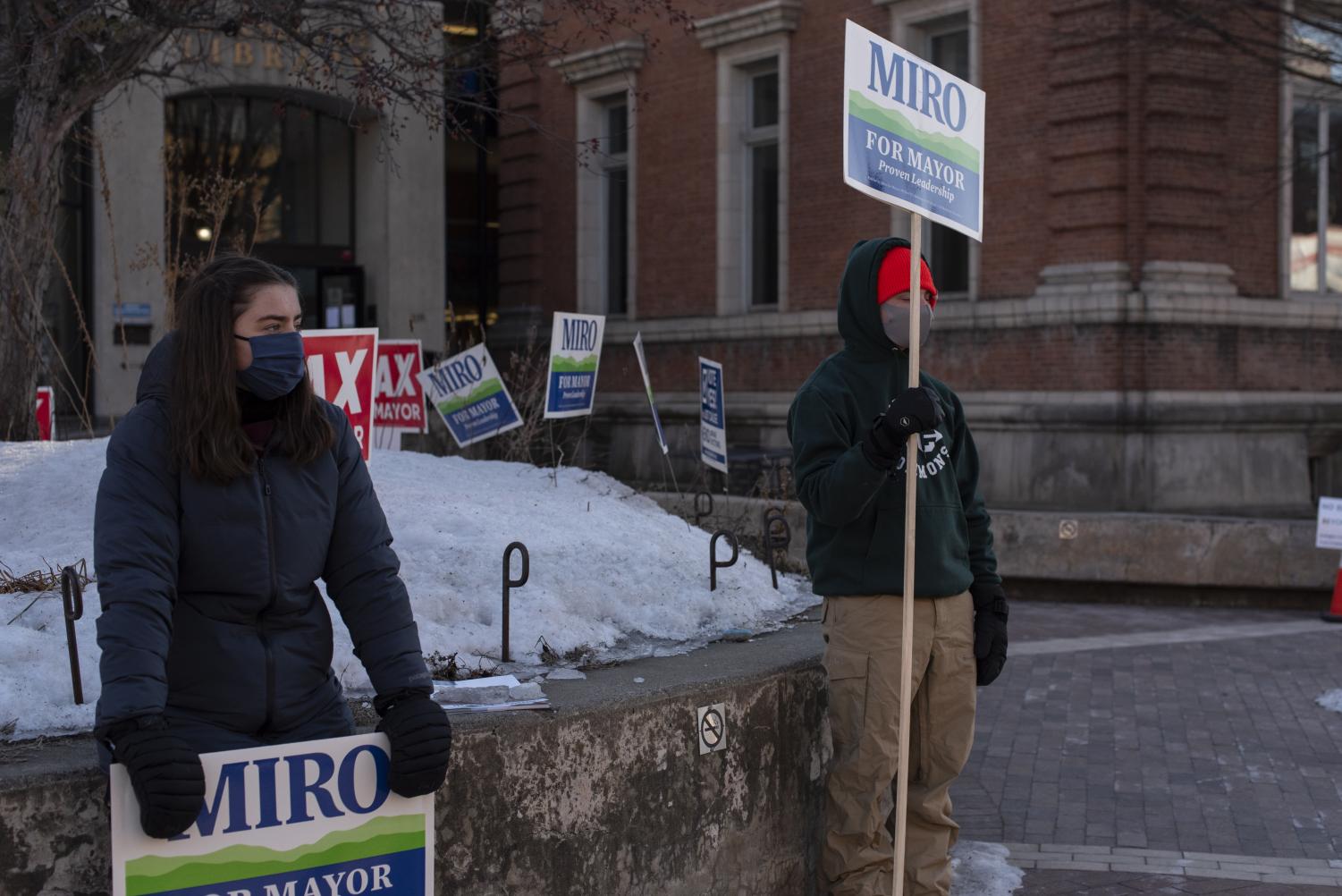 Ward 8 Clerk Keith Pillsbury 
Keith Pillsbury, Ward 8 Clerk and UVM alumni, said there was a regular turnout of voters for this election, with nearly 1,000 people coming out to cast their votes.
Pillsbury also said the precautions set for COVID-19 were working well with plenty of space, hand sanitizer and separate entrances and exits. 
"We're doing the best we can to keep everyone safe, and nobody has had any problems with wearing masks," he said. 
Pillsbury said that voting is an important part of democracy and was glad to see many new voter registrations. 
"Voting is your voice. If we want democracy to work, then people have to take part in it and own it," he said.