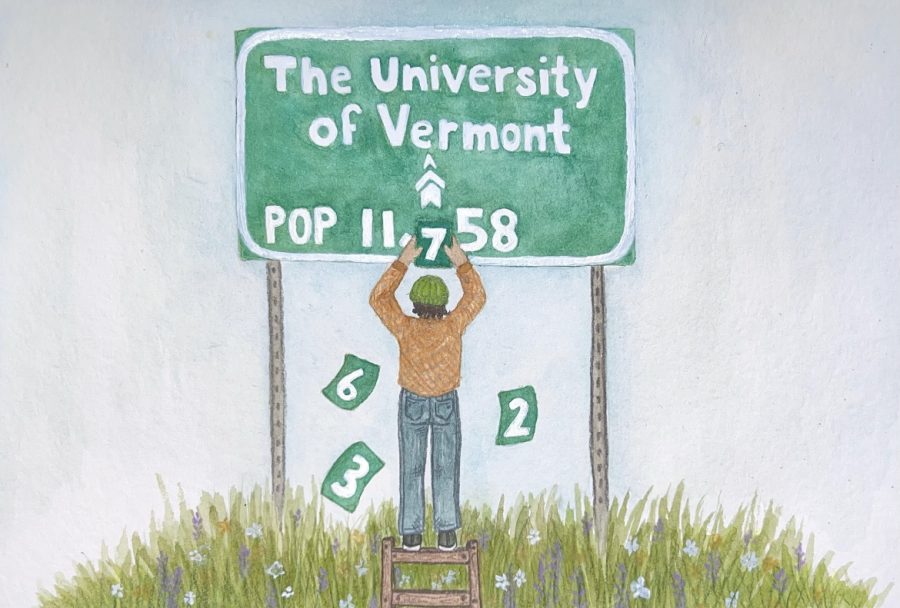 UVM needs to stop breaking class size records
September 22, 2022
The thought of being crowd-crushed never crossed my mind as something I would need to worry about during my first week of college. 
As I surveyed the mass of people during UVM's annual convocation twilight induction ceremony, I turned my head to my friends, acting as my anchors in the sea of first-years, and referenced the unsightly resemblance of the ritual to the disastrous music festival of Woodstock '99. 
UVM has done it again: the largest application pool it has ever seen, topping last year's record of 25,500. The University received more than 30,000 applications to the class of 2026, the highest in the institution's history, according to a May 4 article from UVM Today.
The response to record-breaking class size should not be encouraging more record breaking in the realm of class size. 
This is not something worth celebrating. 
One of the consequences of a large first-year class means that there has been an uptick in the number of students in triples, according to an April 7 Cynic article.
This results in less privacy for students and over-crowding of student resources and spaces such as dining halls and common areas.
There is also elevated concern over being in close quarters, as COVID-19 cases are spreading through dorms, specifically the Wing/Davis/Wilks Hall, according to firsthand accounts from residents. 
The close proximity among first-year residents has gone unmitigated and unaddressed in relation to the rise of COVID-19 cases, ever since UVM did away with quarantine housing. 
The housing crisis isn't limited to on-campus living. When the current first-years begin to look for off-campus housing in a few years, there will likely be increased competition and stress to find housing. 
The Burlington area has been facing issues with overcrowding and insufficient housing. Multi-unit housing in Burlington is limited, meaning students, immigrants and refugees compete for living accommodations, according to a Nov. 11, 2021 Cynic article. 
Oftentimes, students' rent is paid for by people who work in other states where the salaries are higher, which adds additional pressure to the housing market, and which limits opportunities for other community members, according to the article.
Since there is already competition for housing in Burlington among UVM students and immigrants, this influx of even more students seeking to rent in Burlington will continue to take away housing opportunities from working families and refugees. 
As these issues keep piling up and hindering students without any hopes of resolution, the first-year class' tuition money partially contributes to fund UVM President Suresh Garimella's $484,000-a-year paycheck with little mitigation occurring in response to the demands of a never-before-seen class size. 
In addition to an uptick in triples, some class sizes are larger than usual.
I spoke with environmental studies professor Amy Seidl about what she thinks the large class size will mean for UVM.
"My Introduction to Environmental Studies class has never been as large. While there is room, and I'm thrilled to have so many students select this major, UVM will need to bring resources to accommodate a growing interest in studying the environment," Seidl stated in a Sept. 8 email exchange with the Cynic.
Though class sizes are unusually large, Seidl encourages UVM to look for new solutions to the increased population.
"UVM will need to accommodate a growing population of students in new ways, including encouraging local transportation when they live off campus, assisting in students' ability to compost and recycle their waste, and to choose housing in which students inquire about energy efficiency and heating/cooling bills and capacity," Seidl stated.  
I also had the opportunity to speak with Moses Murphy, UVM's director of admissions. 
"We're looking at all various aspects of student candidates […] and then evaluating students not only to determine are they capable of academic success […] but also what they're going to bring to the community," Murphy said in a Sept. 9 interview. 
There is no singular person or group entirely responsible for this issue because it arises from a number of unpredicted causes.
The effects of the large class of 2026 have already proved to be chaotic. UVM needs to stop breaking records with their class size and focus on the needs of the student population that is already enrolled.