Intervale offers fresh produce and strong community
Hang on for a minute...we're trying to find some more stories you might like.
Sweet bell peppers, leafy green arugula, and papery yellow onion create a rainbow at the end of an otherwise dusty and gray Vermont road.
All this produce was grown by local farmers at the Intervale Community Farm, a 58-acre farm in Burlington that includes seven sections of the Winooski River's lower floodplain, according to the farm's 2018 member guide.
The ICF is certified-organic and cooperatively owned. Members can purchase small, medium or large shares, which gives them access to fresh produce every week.
At the entrance, a painted yellow sign hanging on an iron fence reads "Welcome to the Intervale Community Farm. Thriving since 1990" in curly black lettering.
Inside the fence, shareholders mill about the pole barn or pavilion, with reusable grocery bags over their shoulders, their hands digging into crates full of round squashes and large melons.
On a chalkboard outside, an employee wrote "What's your favorite summer recipe?" and dozens of people responded in various colors and handwritings: gazpacho, zucchini bread, pesto.
"
You can catch up with the farmer who worked with the produce from the time it was a seed to the moment it's in your hand."
— Carolyn Zeller
Behind the barn, everything is green. Rows of low-growing basil and parsley stretch for several yards, and tomato and bean plants reach high, winding and draping themselves around wooden stakes.
The ICF is a part of the Intervale Center, which was started by Will Raap in 1986. He spearheaded the clean-up of over 700-acres of land that had previously been Burlington's municipal dump, according to the Intervale's website.
Carolyn Zeller '10, the administrative assistant at the Intervale Center, has been involved with the Intervale since she was a first-year at UVM.
"I used to go to the Intervale to use its public recreation trails," she said. "We called it Burlington's backyard."
Now that she works at the Intervale, Zeller said she is part of the organization on a more direct and meaningful level.
"The Intervale Community Farm serves over 600 households during the summer season," she said. "It is the largest and oldest community-supported agriculture farm in Vermont."
When individuals purchase a produce share for the season, instead of shopping at the grocery store, they get a better value that goes beyond monetary, Zeller said.
"When you go the Community Farm to pick up your share, you can catch up with the farmer who worked with the produce from the time it was a seed to the moment it's in your hand," she said.
Junior Rebecca Nottonson was a community outreach intern this summer at the Intervale. She picked crops farmers didn't get to and helped distribute produce to places like the Chittenden County Emergency Food Shelf, she said.
"It was a very fulfilling experience," Nottonson said. "We kept food from going to waste, which is important to me."
Junior Kendall Ross also interned with the Intervale this summer.
"Harvesting leftover watermelon with a group of preschoolers was definitely a highlight," she said.
With help from volunteers like Nottonson and Ross, the Intervale can serve over 200 low-income Vermont families every week, Zeller said.
There are a variety of ways for students to get involved at the Intervale, Zeller said. Interested individuals should visit: https://www.intervale.org/get-involved/
The Intervale is a place where people of all ages can roll up their pant legs, wander into the fields and help their community while contributing to the sustainable food movement.
About the Contributors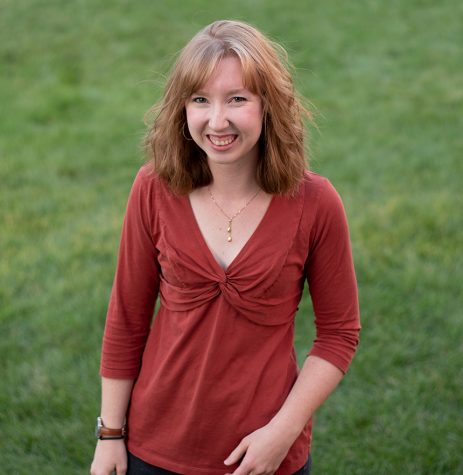 Bridget Higdon, Editor-in-Chief
Bridget Higdon is a senior English major from Sparta, New Jersey. Before becoming Editor-in-Chief, Bridget was a staff writer, the Assistant Arts Editor...