Leader, activist and caregiver: Meet Noel Riby-Williams
September 4, 2020
A smile crept over Noel Riby-Williams' face as the three kids she nannies tapped on the window and peeked through the blinds, watching her throughout the interview.
Sitting on the porch, Riby-Williams, a UVM junior, relayed her past experiences that detail the impact she has had on Montpelier, Vermont, her hair still dripping from swimming with the kids.
Riby-Williams' life in activism began in 2018 when she and her cousin orchestrated the raising of the Black Lives Matter flag at Montpelier High School, the first public school in the U.S. to do so with school permission, according to Riby-Williams.
When Riby-Williams heard that year that UVM had raised the flag but then took it down shortly after, her mentor and one of the school's English teachers Karen McCadden suggested that she lead Montpelier High School in raising the flag themselves.
"It took a lot of work, it wasn't overnight," Riby-Williams said. "We made a whole month, a Black History month, that had all of these activities like a privilege walk and we watched the 13th as a school showing, it was awesome."
Every black student or child in Montpelier had a chance of pulling the flag up, Riby-Williams said.
"We all pulled it up together, which was really beautiful, especially for me holding my brother crying because it was such a beautiful moment, '' Riby-Williams said.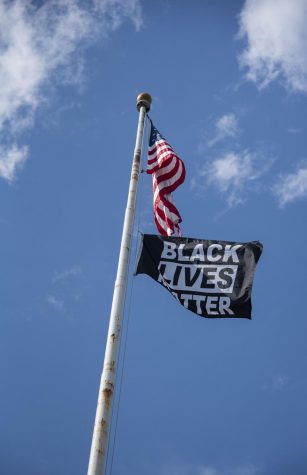 Growing up in Montpelier, Riby-Williams was one of two black people in her graduating class of roughly 86 other students, the other black student being her cousin. 
Her family moved to Montpelier from Accra, Ghana when she was one year old. Growing up in Vermont as a black woman was good and bad at times, she said.
"I was really lucky to have my core family values, and I feel really prideful about being Ghanian," Riby-Williams said. "Growing up here didn't take away from my cultural values, but it was hard in a sense that there were not many other black people." 
Mary Riby-Williams, Noel's mother, said that the Montpelier community was very accepting and helpful when her family moved into the community from Ghana.
At home, M. Riby-Williams says her daughter is very loving. She said Noel helped take care of her brothers while her mom was in nursing school, acting as a second mom.
"She is very caring, that she has now carried from her house to her community," M. Riby-Williams said.
The work her daughter has done for her community makes M. Riby-Williams very proud as a mother.
"I'm a proud mom, but also I'm an African. I came from Ghana, West Africa. We push our kids to do more, to do better," M. Riby-Williams said. "I say to her that 'Yes you did it, you can do more than that.'"
M. Riby-Williams said she believes that her daughter will be doing things that are bigger than Montpelier and Vermont.
"She's fighting to make the change in our community and from our community going out to other communities, into the whole country," M. Riby-Williams said. "The whole country is looking for change right now and I pray that this change will happen."
Two years after the flag was raised at Montpelier High School, Riby-Williams led a 5,000 person protest in Montpelier to honor George Floyd, Breonna Taylor and all others who have been made victims of police brutality. 
Six days following the protest, Riby-Williams organized a 200-person-group painting of the Black Lives Matter mural on State Street in front of the Vermont State House.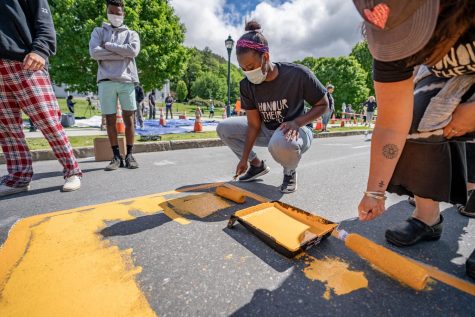 "I'm kind of shy, I don't really like talking in public so doing the protest was a big confidence booster," she said.
Close friend of  Riby-Williams, Emmanuella Boateng, said she is very proud of the work Noel has done this summer. Boateng recognized that Noel feels she's not a great public speaker, but said she has done amazing things that disprove that idea.
"The fact that she was able to put her fear aside to address racial justice so publicly because of how important it is to her, just shows how far she's willing to go for what she believes is right," Boateng said.
Boateng is the former president and creator of UVM's African Student Association, a club she started to create a space for students from Africa.
When Boateng created ASA in 2018, she said she was looking for people who had passion and people who were willing to educate others on subjects that are "unpopular" within the community. Around that time, a friend introduced Riby-Williams to Boateng.
"Noel had not only introduced African culture to her school but she also had advocated for Black Lives Matter to be a permanent vision in her school, and I was like 'this is someone I want to be around,'" Boateng said.
After two years of Boateng serving as the club's president, Riby-Williams has now taken her place.
"She's the person I trusted to carry the candlelight and hold it up," Boateng said. "She's given a new light to ASA in ways that I never saw possible."
Boateng and Noel are also both part of UVM's Afrofusion dance group that performs both traditional dances as well as upbeat hip hop dances.
"We just fool around, have fun and laugh," Noel said. "It's not a judgemental environment at all."
Outside of ASA and Afrofusion dance practices Noel said she needs to schedule time to be around other black people.
"I'm only with those black people at certain times of the day. I'm not with them in a lot of my classes, I'm not with them when I walk places," Noel said. "I think when I'm not with them, I know I'm alone."