Four students reflect on pandemic era campus
Each grade has had differing accessibility to what campus has to offer.
On March 11 2020, the department of Residential Life announced in an email that students were not to return to campus after spring break due to the COVID-19 pandemic. 
A year and a half later, two classes graduated from UVM, and this Fall marks the second class of first-years that will arrive at UVM under COVID-19 related restrictions. 
The class of 2022 is the only current UVM class to have experienced a full year on a pre-pandemic campus. 
Here is a look into the perspectives of students from each class.
Megan Richardson (she/her) – Class of 2022
Richardson is a senior Political Science major. She was a sophomore when COVID-19 initially interrupted the school year. She is a Resident Advisor in the Harris Millis Complex and a Peer Mentor with the Honors College.
How do you feel about how drastically campus has changed since your first year?
"Freshman year was so normal, nothing like the last two years. Especially junior year, which was so hard to make friends. I already knew people and had the connections from spending the last two years on campus, but I still struggled because of the restrictions.
I'm hesitant to get excited about this year. I don't think it will be like freshman year — the openness and connectivity available to us — I think it will be a weird conglomerate of that 'normal' experience with residual anxiety of the COVID era.
Being an RA and Peer Mentor the last two years, it's been hard seeing freshmen impacted by this. People have really weird and very different experiences and it will be interesting to see how all of that combines for this campus environment. People are really trying to make up for lost time."
How do you think the social culture of campus will change this coming year?
"My hope is that people will take full advantage of being able to be around other humans. I hope that campus will be more alive than ever and that people will be making a ton of friends after being so starved of contact. Going outside now, it feels so profoundly different to be able to take off our masks and interact without the fear of being seen or chastised.
But there's still that underlying fear of 'what if I still get COVID from this?' Masking up inside on campus is definitely bringing back a lot of those feelings. I guess time will tell us if this is sustainable, but it will be at least in the beginning."
How do you feel about the pandemic altering your college experience? How has it affected your relationship to campus?
"The pandemic created a huge barrier to campus. First, we weren't able to be here. School was not happening where it was meant to. When we did come back in the Fall of 2020, there's this huge separation in these physical spaces that I had come to know as something totally different. 
Campus itself was barren, or whatever the opposite of 'full of life' is. And everyone was scared, rightfully so.
That communal fear that no one was immune from is absolutely not a normal vibe for a college campus and I think it goes without saying it was a massive disruption to our lives here."
Deniz Dutton (she/her) – Class of 2023
Dutton is a junior Environmental Science major. A first-year during the first COVID-19 shut-down, Dutton lived on campus through the extent of the social distancing guidelines.
Do you feel connected to campus? How familiar is the physical space to you?
"Last year I was living on campus the whole time and I felt very alienated from the central campus where everything used to go on.
It used to be so busy and every time I would walk over there it was empty. It was like, 'this is the heart of the university and it's not even beating. Where is the university?'
The only tangible university experience I had in the last year was living in a residence hall and being lucky enough to be in a club sport that met in-person. It's really sad."
What are your expectations for the semester with respect to both our post-vaccine privileges and the continued precautions being taken to limit the spread of COVID-19? 
"My expectation is that campus will be how it was during my Fall of freshman year, except with masks. I really don't know about the effectiveness of just wearing masks and doing nothing else. Maybe it's just UVM trying to save face or something while trying to provide a classical college experience."
Your class is in a unique position, having tasted the freedom of pre-pandemic college living for only a short period. How do you feel about that experience being impeded on so soon?
"I feel like I was lucky to have had that in-person experience to begin with. When we were transitioning to Teams I was curious and pretty open to it. After a couple months of that I think we were all pretty tired. I never want to deal with Teams again."
Cate Lebsock (she/her) – Class of 2024
As a prospective student in Spring of 2020, Lebsock had to apply and select a college while those spaces were physically unavailable to her. She is a Biology major and is returning for her sophomore year this fall.
What were your expectations surrounding living on campus last year and how did it feel for you?
"I just wanted to be on campus in a dorm and not at home again with my parents. That's it. I knew I wasn't going to be in person and that it would be difficult.
I just thought, 'Please let me be on campus and let me meet at least two friends.' I went into a 14 day quarantine at the beginning of the year, and it was so lonely. But I ended up meeting my friends through quarantine.
Apart from meeting the few people I did, it feels like I never went to college. I only had one lab that was in-person. I didn't meet a single person through my classes. Everyone that I knew was from my residence hall."
How familiar do you feel with campus?
"I know nothing about campus. I know Redstone because that's where I lived and the cafeteria and that's about it. I couldn't tell you where any classes should be or what's even past the Davis Center. I seriously have no idea."
What are your expectations for the year to come?
"My expectation is that this year will be more like college, like that movie fantasy where you meet people in class and go to coffee. Just having that freedom that you'd usually have going into your freshman year. I'm expecting it to be a do-over."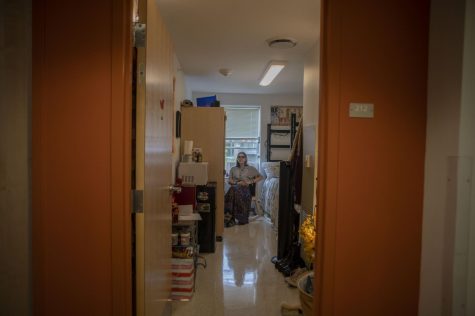 Grace Antis (she/they) – Class of 2025
Antis is a rising first-year, entering UVM undeclared. Like Lebsock, they finished high school and selected a college under pandemic related restrictions.
What was the college application process like for you? Were you able to visit campus?
"I always wanted to go to college. Instead of it being a, 'Go, visit, see what feels right' kind of thing that a lot of people have had, it was a 'Throw a dart at a wall' thing.
I originally wanted to go to school in Canada, but that was off the table. One of my teachers pointed out UVM and I took his advice.
I wasn't able to visit Burlington consciously or check out the campus. I knew that I wouldn't be able to see the dorms or anything.
None of my classmates were able to check their colleges out either. It's alright, but it definitely didn't do me any favors."
What are you expecting from your first year with regards to pandemic restrictions and 'normalcy?'
"I'm nervous that things won't be the same. I know I'll never get that traditional, normal college experience.
There's always going to be the fear of COVID, but since we've gone through a year of making mistakes, I hope that at UVM at least we'll be more prepared for things if they get bad."