First-year pasta chef kneads and feeds
On weekends in McAuley Hall on Trinity campus, the kitchen is bustling with the anticipation of a home-cooked meal. 
First-year Jack Page uses his passion for cooking to bring the McAuley community together over authentic Italian cuisine. 
Page gently fed his kneaded dough into the pasta machine and caught the finished noodles as they fell, Feb 1. Pasta boiled and sauce simmered in borrowed pots and pans.
What started as an intimate gathering of friends has grown into a significant tradition centered around the celebration of Page's creations. 
"I'm just the Italian Pasta Guy," Page said. "That's just me."
Page said his appetite for creating meals developed at a young age.  
"I wanted to get better at cooking, so I would watch food videos and look up recipes," Page said. "I got interested in Italian food junior year of high school, so I tried [to make] fresh pasta." 
Page's passion for the culinary arts culminated in an influential trip to the birthplace of his signature spaghetti dish. 
"I went to Italy after I graduated [high school] and did a cooking class in a castle in Tuscany,"  Page said. "I don't like to brag, but I'm pretty good at cooking now." 
Page's passion lies not just in the act of cooking, but in the delight it incites in his peers, he said. 
"Making other people happy makes me happy," Page said. "I get fulfillment from that, so giving people good food that they enjoy brings me joy."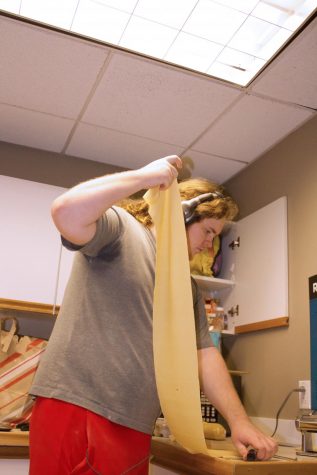 To prepare for the weekend, Page said he goes out to purchase the necessary ingredients for his dish. 
"I work at the front desk, [in McAuley]," Page said. "I get paid, and I go to the store and buy ingredients to cook."
First-year Julia Cohen helps to make the meal complete by baking a dessert. 
First-year Duckie Pelenur said Cohen and Page's teamwork provided a perfectly complementary meal. 
"Usually Julia will also be making some kind of confection," Pelenur said. "Today it's chocolate chip cookies. The Julia-Jack power dynamic is impeccable." 
Pelenur said he appreciates the tradition for its ability to knit their community together.
"It's really nice to have a home-cooked meal every week," Pelenur said. "It's a routine and a lot of us do it. I feel like it brings us together as the McAuley family." 
Page's enthusiasm for the creation and distribution of his concoctions inspired the gathering that is now called Pasta Night. 
"We're part of a bigger community of Arts and Creativity," Pelenur said. "People will wander in here who aren't 'Pasta Night Regulars' and then they come more often and we meet people and bond with people who live near us."
Pelenur said that all are welcome to celebrate this cherished custom, and the founding members have strengthened old friendships and established new ones. 
First-year Annaliese Holden recalled the origins of this well-attended weekly gathering.
"I think it started one night when Jack sent a message to the group and said 'I'm going to make pasta tonight if anyone wants some,'" Holden said. "Now we do this every Saturday, and it's the best part of the week." 
At the center of Pasta Night's allure remains the man whose passion made it all possible. 
"Jack's Instagram bio is, 'I cook for the pleasure of serving others,' and I think that sums him up as a person," Holden said.