Community comes together for chili contest
My parents make the best chili. In fact, I love it so much that it's the meal I ask to eat almost every year for my birthday.
So when I heard Nectar's was holding its fifth Annual Queen City Chili-Cook Off, I knew I had to go.
The showdown took place from noon to 4 p.m. April 15. All proceeds from the event went to the Burlington Fire Fighters Association.
Queen City Brewery was the main sponsor of the event. One-dollar from every Queen City beer purchased during the event also went to the Fire Fighters Association.
After making my donation at the door, I was given a plastic spoon and a ballot. Fourteen teams stood around folding tables, ladling out their best chili from steaming crock pots.
Sean Riehl, Nectar's event coordinator, has been helping to put on the Chili Cook-Off for the last three years.
"There is a lot involved in planning the event," Riehl said.
Advertising, staffing, and finding a band to perform are all part of his job, he said.
The Tenderbellies was the band chosen to perform during the event this year. They are a bluegrass band based in Burlington, according to the Nectar's website.
Maybe it was the music, maybe it was the delicious aromas, but everyone in the room seemed to be having a good time as they walked from table to table trying each chili.
As I made my rounds, I discovered that many of the competitors were home cooks, as opposed to career chefs.
John Gallagher has been making chili at home for over 40 years, and it's a tradition he has passed down to his son, he said.
"This event is for a great cause," Gallagher said smiling. "On top of that, you get to eat real good."
Most of the teams were also repeat competitors, coming back to the Cook-Off year after year.
Eric Gray of 802 Que has entered the competition every year since the beginning, he said.
"I have a competitive barbecue team that competes at events in the summer," Gray said, "This is a great thing for us to do in the spring."
Many of the chilis went beyond the classic meat, beans and peppers.
The Pig Kahuna chili was made by sisters Amy and Melissa Jayne. They were inspired by Hawaiian pizza, Amy said.
"We used pineapple, and coconut bacon bits," Amy said. "It also has chopped up Taylor pork roll because we're from New Jersey originally."
Greg Kitchell went into Saturday's event the reigning champion. Although Kitchell is a DJ by trade, his new passion is cooking, he said.
"This year I added chorizo and brown sugar to the chili," Kitchell said. "I'm always experimenting with new ingredients."
Rene Young and Armina Medic, known together as the Spice Girls, made what they called a "Naughty but Nice" chili.
"The dark chocolate will hit you first," Young said, "but the spice will hit you afterwards."
The spice comes from the ghost peppers which are grown in her father's garden, she said.
My personal favorite was Angela Welch's "Good Buckin' Chili." Her venison and chocolate chili was made without measuring ingredients. Instead, she said, she just "throws it together."
"I like it spicy, but I'm a pastry chef so I have to make it a little bit sweet," Welch said.
The winners were announced by emcee Tim Kavanagh and judge Megan Carpenter at 3 p.m.
Carpenter is a self-proclaimed gourmet food enthusiast, as well as a morning news anchor for Fox on local Channel 44, according to her Twitter.
Paul Hale, the owner of Queen City Brewery, was also a chili judge.
This was his first year judging; in previous years, he had only attended the event, Hale said.
"I am more experienced judging beer," she said. "I tried to approach this the same way."
The award for "Best Overall Presentation" went to team Os Toureirose. The two team members, wearing matching sombreros, cheered and hooted as they walked up to the stage to claim their award.
"Most Creative" went to the Spice Girls, and the prize for "Best Overall Chili" went to Sweet Kickin' Chicken.
Finally, the "People's Choice Award," determined by guest votes, went to the Taco Truck All-Star's Triple B Chili, which boasted bacon, beef and bourbon.
Over 250 total votes were cast throughout the event, Kavanagh said.
"Over the past four years, [the Cook-Off] has raised over $10,000 for the firefighters," he said.
Although after the event was over, my mouth was still slightly on fire as I walked out onto Main Street and into the sunshine, I knew I had witnessed something wonderful: the community coming together around good food for a good time and a great cause.
Leave a Comment
About the Contributor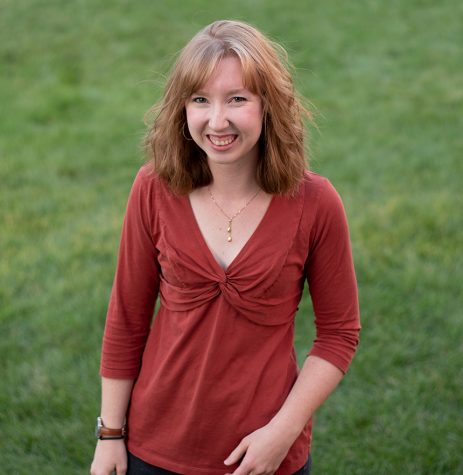 Bridget Higdon, Editor-in-Chief
Bridget Higdon is a senior English major from Sparta, New Jersey. Before becoming Editor-in-Chief, Bridget was a staff writer, the Assistant Arts Editor...