Fleet Foxes' 'Helplessness Blues' remains poignant 10 years after release
Brimmed with enchanting melodies, sweeping harmonies, and vast acoustics, Fleet Foxes' 12 song masterpiece epitomizes everything that's remarkable about the indie-folk genre. 
Fleet Foxes' triumphant, golden-hued "Helplessness Blues" turned 10 on May 3. With "Helplessness Blues," frontman Robin Pecknold achieves a thoughtful balance between consistency and range; between grandeur and simplicity. And the result is spectacular.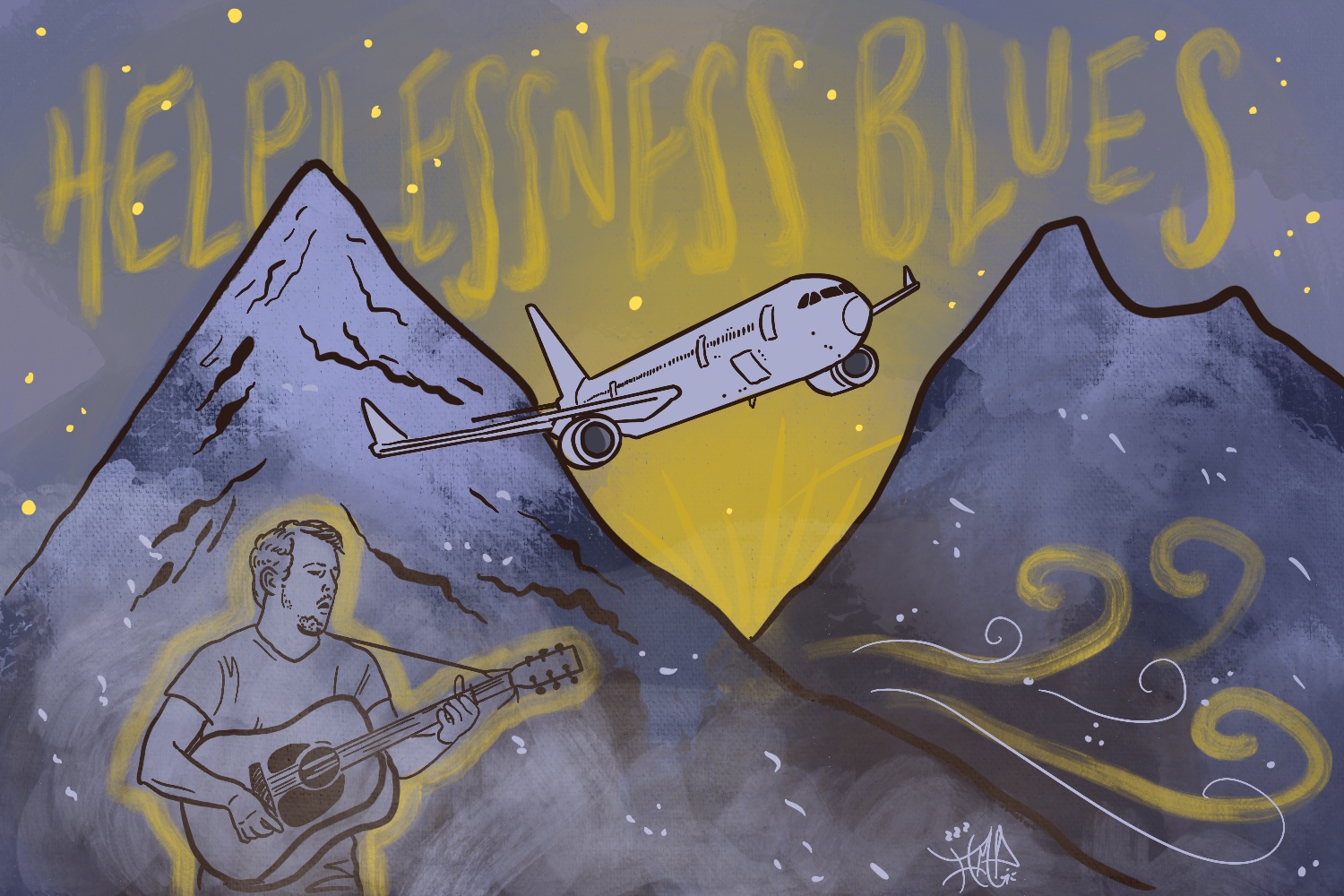 Riding on the high of their critically acclaimed debut, the self-titled "Fleet Foxes," Fleet Foxes reentered the indie-folk game among good company.
Bon Iver's 2007 debut album "For Emma, Forever Ago" was brilliant in its quiet prominence and rainy day ambiance. Although it shares "Helplessness Blues'" knack for consistency and cohesiveness, it lacks its variability. 
2005 saw Sufjan Steven's barrier-breaking "Illinois," an album "Helplessness Blues" is often compared to. 
Both albums enjoyed grand, orchestral qualities and standout tracks, but the lengthy 22 song "Illinois" bordered on self-indulgence, while "Helplessness Blues" felt more succinct at a clean, decisive 12 tracks. 
The world today is vastly different from the one "Helplessness Blues" and other indie-folk greats were born into over a decade ago. 
Defined by technological advancements, a callous presidency, and, of course, a life-altering global pandemic, if there is one word that could sum up this past decade, it would be this: "change." 
Whether positive or negative, change is daunting. "Helplessness Blues" tackles the fear of the unknown and the passing of time with precision, forging ahead towards the end goal of acceptance.
Because of this, it's a steadfast shoulder to lean on in times of uncertainty and personal crisis—even a decade later. 
In the midst of the pandemic, Fleet Foxes dropped their fourth studio album, "Shore." Reflective of the changes of the past decade, "Shore" expresses Pecknold's gratitude for life itself, both in its major-key melodies and hopeful, assured lyrics. 
The title of the album suggests that Pecknold, now thirty-four, has reached a certain contentment in life—he's reached his personal "shore" after many years spent in turbulent waters. Though the pandemic has been cruel in many ways, it's also given people the opportunity to reflect on their lives and decide who and what is really important to them.
Pecknold is no longer the wide-eyed, restless twenty-five year old that wrote the existentialist "Helplessness Blues." Through "Shore," Pecknold makes the conscious choice to take a dark situation and extract light from it. 
"May the last long year be forgiven," Pecknold declares of 2020 in "Featherweight," encouraging listeners to choose grace over resentment. 
Maybe when I'm thirty-four, I'll see more of myself in "Shore." But, being the anxious 18-year old college student I am today, I'm partial to "Helplessness Blues." 
In "Helplessness Blues," Pecknold's introspective, analytical lyrics confront the universal ambiguities of youth. In the melodic opening track, "Montezuma," Pecknold ponders, "So now, I am older/ Than my mother and father/ When they had their daughter/ Now, what does that say about me?" 
That pressing, incessant feeling of being behind in life is something all listeners can relate to in one way or another. 
The buoyant, energized "The Plains / Bitter Dancer" showcases Pecknold's intrinsic musicality. Like so many of the tracks on "Helplessness Blues," "The Plains / Bitter Dancer" is complex, with each layer building upon itself until its rewarding climax emerges. 
"The Plains" segment of the song feels anxious and unsure. Dictated by the ominous beating of a drum, it's fearful of what's to come. But, alas, standing as a sigh of relief, the latter half of the song is bright and joyful, suggesting that after darkness comes light. 
"Helplessness Blues" arguably hinges on its epic title track housed in the climactic sixth spot. The first half of the song presents as a solid, guitar-heavy ballad marked by inextricable folk influence; John Prine and Eliott Smith are alive and well in the moody strumming of Pecknold's guitar. 
Throughout the verses, it feels as if something is bubbling under the surface, building up energy, setting the stage for something great. And then it arrives—like the sun breaking through overzealous clouds—the bridge. 
"If I had an orchard/I'd work 'til I'm sore" Pecknold sings, ushering in a new time-signature and tempo, grounded by the all-encompassing harmonies and orchestrals encircling him. We, the listeners, all have our own "orchard[s]." We all have dreams. And if we're brave enough, we'll chase after them.
"Lorelai" holds personal meaning to me—it was the song that got me into Fleet Foxes about six years ago. I had heard my dad play it once and the melody stuck with me in such an intense way, a testament to Pecknold's firm grasp on melody. 
This prompted me to attempt to hum the unforgettable melody to my dad, and, when that failed, scavenge his entire music library until we found the culprit. Thus, my love of Fleet Foxes was born, and the rest is history. 
It would be criminal not to touch on "The Shrine / An Argument" while discussing "Helplessness Blues." Following a similar, but not identical structure as "The Plains / Bitter Dancer," "The Shrine" section is melodic, but tense. Swelling with anger and might, "An Argument" arrives. 
"When you talk you hardly even look in my eyes" Pecknold shouts, detailing a bitter falling out, his voice breaking in agony. 
In the final minute of the track, Pecknold takes a risk, creating an intense, brassy cacophony of sound, symbolizing chaos, heartbreak, and a loss of self. 
Yet, the next track, "Blue Spotted Tail," seamlessly resolves the dissonance of the prior song with a light guitar plucking. This transition is resemblant of the quiet that follows a harsh thunder storm: peaceful, mellow, mournful. 
Grappling with life's many uncertainties, "Helplessness Blues" asks the questions about ourselves that we are too afraid to. 
What will come next? Will my life be everything I thought it would be? Will I be OK? Pecknold generously takes us along on this sonic journey to acceptance, encouraging us to submit to the chaos and join him on the ride. 
"Sunlight over me no matter what I do" Pecknold sings, affirming that everything falls into place in the end.