Harry Potter fans find the magic once again
Merlin's beard! For Harry Potter fans everywhere, July brought something unbelievable: an eighth installment in the beloved series.
''Harry Potter and the Cursed Child'' is not a novel, but rather the published script of the two-part play currently showing at the Palace Theatre in London's West End. The creative team behind the script includes creator J.K. Rowling, playwright Jack Thorne and director John Tiffany.
In scene one, readers find Harry as the over-worked head of the Auror Department and father of three children. His son Albus is having difficulty fitting in at school, struggling to find himself in the shadow of his famous father. As father and son strive to bond, a much more threatening problem arises: the past refuses to stay in the past.
I found it incredibly fitting that as I prepared to begin an English major, I had the opportunity to re-visit the wizarding world that sparked my love of reading. As I delved into the book, I immediately felt as if I had stolen Hermione's time-turner. Suddenly, I was back in middle school, reading the series for the first time.
Harry Potter and the Cursed Child contains all of the magic and suspense of the previous seven books, if only lacking the vivid detail and insight found only in a  full-length novel. There are charmed bookcases, brewing polyjuice potions and many cameos from familiar faces.
The book, set 19 years after the conclusion of Harry Potter and the Deathly Hallows, has been met with mixed reviews from media sources and fans alike.
Some say that because Rowling shares credit with Thorne and Tiffany, the play reads like poorly written fanfiction. However, script writing is an ideal medium for one of Rowling's greatest strengths: characters that deliver hilarious and often extremely moving dialogue.
For example, a portrait of Professor Dumbledore tells Harry, "those that we love never truly leave us… there are things that death cannot touch. Paint, and memory, and love."
No matter its flaws, Harry Potter and the Cursed Child will forever rest on my bookcase, never to be obliviated.
About the Contributor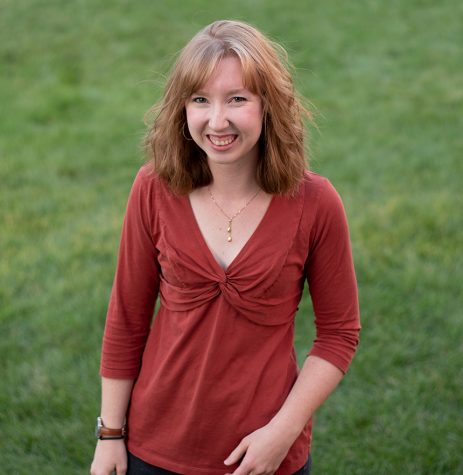 Bridget Higdon, Editor-in-Chief
Bridget Higdon is a senior English major from Sparta, New Jersey. Before becoming Editor-in-Chief, Bridget was a staff writer, the Assistant Arts Editor...