Campus reality show promises love, friendship and fame
Evan Peck, Culture Staff Writer
February 8, 2021
A new reality show created by the University Program Board allows students the chance to find the love of their life, even in the midst of a global pandemic.
"Love is Blind – UVM" is a dating show featuring UVM students that promises both love and fame for its contestants and will premiere on YouTube and IGTV in early February. 
Netflix's "Love is Blind" is a reality dating show that gives contestants forty days to fall in love, the catch being they are prohibited from seeing each other.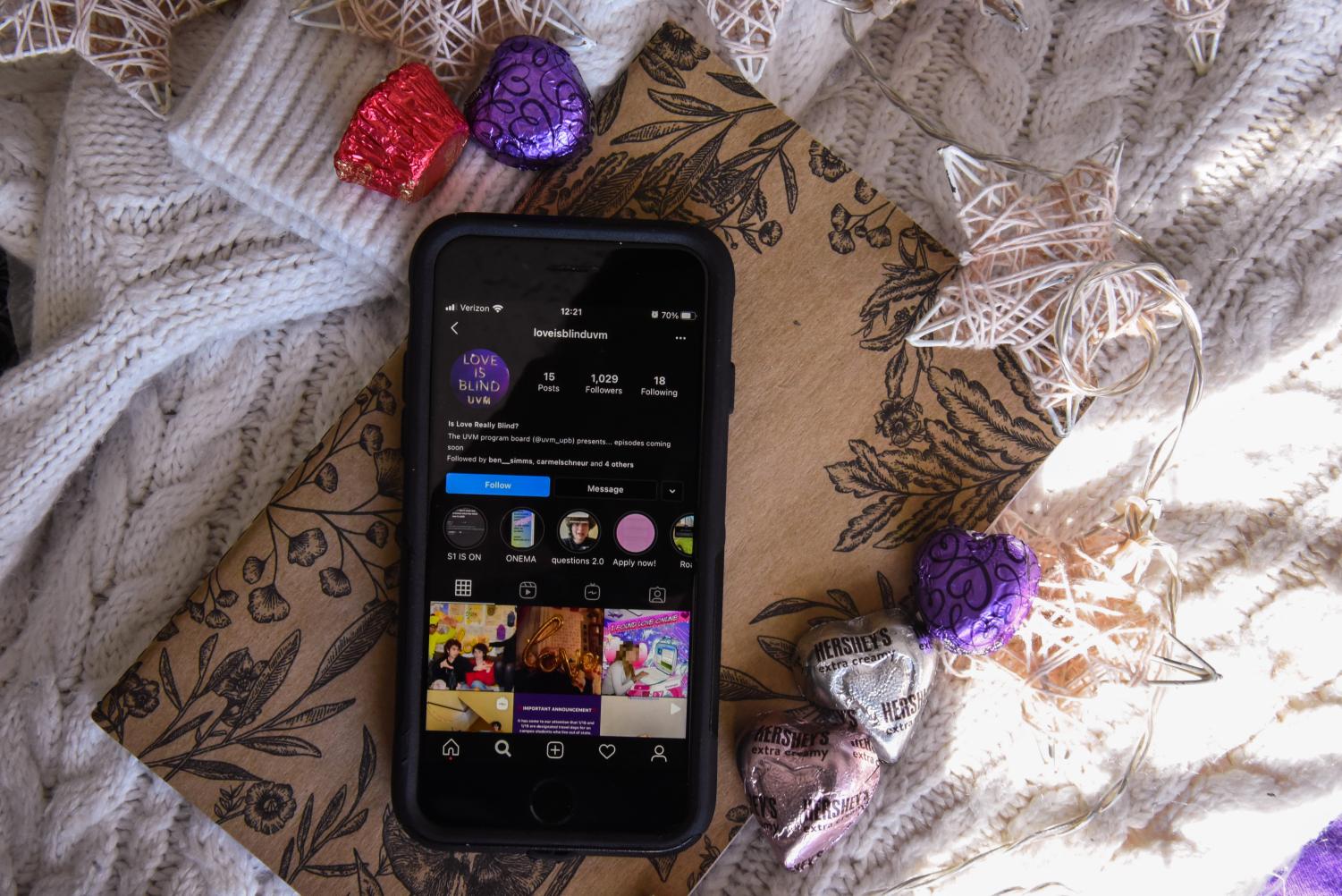 The UVM version is the brainchild of four seniors, Sean Brewer Jr., Izzy Suárez, Indy Jeremy, and Katie Scheck. 
Due to cancelations of the usual semesterly activities like Springfest, UBP had a void to fill in campus programming.
"We were talking about it and having ideas about it because our friend did it at Claremont College, so we said 'let's make it east coast and let's try it our way,'" Suárez said. 
All members of UPB and its "Love is Blind Committee," the seniors credited Jeremy with coming up with the idea late last summer.
But like Claremont and other universities that have taken on the concept for a game show, UVM's version has its own unique quirks. 
"Even though this is named after 'Love is Blind,' it's nothing like it," Jeremy said. 
UPB had to be creative in its approach, with contestants interacting virtually through the chat app, Discord.
"We have challenges that happen every day," Brewer Jr. said. "So, in the morning, one of us will draft-up a quick blurb about what the challenge is and post it, and that has been different every day." 
The contestants film themselves participating in challenges and then submit them to the hosts to edit together. The challenges include bonding activities, personal reflections and question and answer segments.
"All of the challenges happen virtually, so it's basically them sending in things they're doing at home," Brewer Jr. said. "But as we've seen, there are a lot of people that are truly playing the field."
Contestants were also given aliases to address one another when communicating through Discord. 
According to the hosts, the contestants have been eagerly showcasing their personalities within each day's challenges. 
"[The contestants are] comfortable with the idea of being vulnerable, comfortable with opening up to people," Brewer Jr. said. "Nobody can ever really focus on one thing and with this anonymity, it allows people space to just be themselves."
While there were many applicants, only between 10 and 20 students from all over campus were carefully chosen from the pool, in hopes to spread out major and minor concentrations.
Brewer Jr. said that most of the contestants were picked based on the passion they expressed in their application, and as he put it, "their lust for love."
The creators said that it is interesting to experience new connections forming that were completely natural and out of their control.
"We are lucky with the people we chose because they are being really open and themselves, even on video, which is hard," Jeremy said.
The completely-virtual filming of the show holds some advantages over its Netflix inspiration. 
The organization of the Netflix show split the contestants into two communities with about 25 heterosexual men and 25 heterosexual women.
The creators of the UVM show said they hoped that this version of the show would be an environment for people to feel open about their sexuality.
"There are a lot of people who put in their applications that they are questioning and experimenting…maybe they didn't exactly know where they were at, so I feel like this might be an opportunity for people to explore that a little bit," Suárez said. 
The hosts expressed enthusiasm about the outcome, not for just finding love, but finding a new close friend at the very least. 
"Quarantine has really starved people of making friends and having that intimate human connection," Suárez said. "So, I feel that folks are honestly making a lot of friends". 
Brewer Jr. said that "Love is Blind – UVM" is a pivot from searching for love through dating apps, which can be emotionally distant. 
"I feel like a lot of people have focused on Tinder and Grindr and all these apps to find their gateway into love. Too often, people overlook valuing the friendships that come from love," Brewer Jr. said. "People are so gung-ho on falling in love right now. It's like, love your friends." 
While the show was only at the halfway point of being filmed at the time of the interview, the hosts seemed to be quite enthusiastic and excited about what had already happened and what is to come.
"I don't think there's ever been a reality TV show of students managing the chaos of 'Love is Blind.' There's never been anything this weird and wack," said Brewer Jr. "I think people are going to sit in their homes and laugh with us."
Jeremy noted how dense supportive the applicant pool was for the show, and on the possibility of future seasons.
"A lot of people have been asking for season two because they want to be on it, so that's really exciting," Jeremy said.
The hosts said that the application process was a difficult one, due to the amount of campus-wide interest in the show.
"The applications were wonderful and we're glad we got so many. We wanna do more seasons. So, to the disheartened fans who wished they could get on the show, don't worry, we just couldn't find a spot for you this season," Jeremy added.
Brewer Jr. hopes to look back at the show with pride. 
"I think this has been a very fun process for all of us. For me, when I look back in thirty years… I wanna be able to tell my kids that I produced a TV show with some of my greatest friends. That's just a great feeling to have," Brewer said.
In lieu of Springfest this year, UVM Program Board invites everyone to tune in this February by following UBP or @loveisblinduvm on Instagram, turning on notifications, and joining the conversation.