Music, dancing and face painting return to UVM for annual SpringFest concert
UVM students finally got to trade-in their heavy winter coats and knit hats for shorts and sunglasses this past Saturday at the University's annual SpringFest celebration.
After having their tickets checked, students entered the Jefford's parking lot, which had been transformed into a festival hosted by the UVM Program Board.
The festival was centered around a stage and featured many other attractions including face painting, a beer garden and more.
"We try to pick a band that will make as many students happy as possible," said Mikaela Waters, a member of the Concert Committee for UPB.
Attendees swarmed to the stage when the first strums of a guitar were heard. Soon after, they were bumping elbows and hips with friends and peers as they danced to the music.
Navytrain, the winner of UVM's Battle of the Bands competition at Nectar's back in March, performed first.
The band Blossoms followed. They are an indie pop band from England.
"[Blossoms'] music was fun and served perfectly as background music to my game of corn hole," first-year Ben St. George said.
Bibi Bourelly took the stage next. The 22-year-old singer-songwriter sang songs from her EPs "Free The Real" Parts One and Two. Both EPs were released in 2016, according to an Interview Magazine article from July 2016.
Bourelly is well-known for co-writing several songs on Rihanna's most recent album "Anti," including the hit song "Bitch Better Have My Money," according to the article.
"I am originally from Berlin, Germany" she told the crowd. "It's party city. I wrote this song about Berlin." The song, "Guitar," received cheers and hoots from the audience.
Bourelly also sang "Ballin," "Poet" and "Perfect." She moved about the stage and interacted with her guitarists often.
"We gotta stick together, you know, as a society," she said, before performing her song "Riot."
"Bourelly had a wicked nice voice," St. George said, "but her lyrics sounded like a middle schooler being told to use their feelings about boys as the inspiration for an ungraded experimental poetry assignment."
Before exiting the stage in the late afternoon, Bourelly said, "You are the most lit crowd I've played for in the last six months. Thank you Vermont."
While all of the other musical acts had performed under a cloud-filled sky, the sun finally appeared as soon as the main-feature, Two Door Cinema Club, took the stage about a half-an-hour later.
Wearing a Breton-striped shirt, a leather jacket and sunglasses, lead-singer Alex Trimble grabbed the microphone and began to sing "Cigarettes in the Theatre."
Two Door Cinema Club is an Irish indie rock band. Its three members include Trimble, Sam Halliday on lead guitar and Kevin Baird on bass.
The band's set lasted just over an hour. They performed hit songs like "What You Know," "Undercover Martyn" and "Changing of the Seasons."
"Good Morning," from their 2016 album, "Gameshow," was also performed.
"Two Door Cinema Club was perfect as a SpringFest band," St. George said. "The lead singer looked like Bill Weasley disguised in sunglasses. He was a boss and carried the show."
Although the energy of the crowd was still vibrant, the show eventually had to come to an end.
"This is our first time performing in Vermont," Baird told the crowd before beginning the cords to the last song. "We spent the whole day on campus wondering what it would be like to be a student here."
After a loud and uproarious closing, Two Door Cinema Club said goodbye to the SpringFest stage, leaving hundreds of students to wander back to their dorms humming the feel-good tunes to themselves.
"It was a really great turn out," said Waters. "We're very excited about how it turned out."
"I went [to SpringFest] for Two Door Cinema Club, but really enjoyed the other bands," first-year Emma Naprta said. "Some of the songs each of them chose were kind of slow, but who has the endurance to dance for five straight hours of dance-inducing songs?" she said.
Liz Darnell, also a first-year, had a similar experience. "I thought the bands were really nice, and it was overall really enjoyable," she said. "SpringFest is a good way to bring everyone together before finals."
Leave a Comment
About the Contributor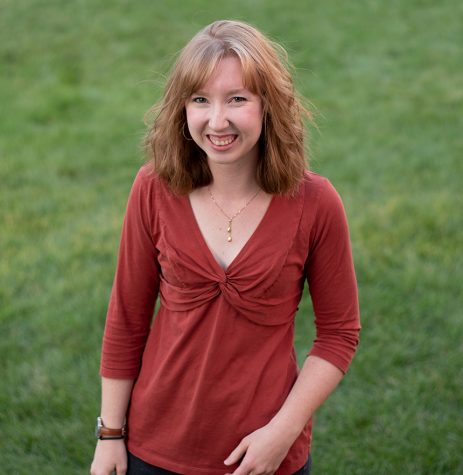 Bridget Higdon, Editor-in-Chief
Bridget Higdon is a senior English major from Sparta, New Jersey. Before becoming Editor-in-Chief, Bridget was a staff writer, the Assistant Arts Editor...