Questioning tradition with Meg Lipke's 'In the Making'
"In the Making" is a fun and funky exploration of the convergence of painting, sculpture and textiles, and centers on Meg Lipke's '91 painting practice over the last five years. 
Born in Portland, Oregon, and raised here in Burlington, Vermont and Cheshire, England, Lipke's transformative and influential paintings are currently gracing the walls (and floor) of Burlington City Arts Center. 
Now living in Brooklyn, New York, Lipke creates paintings that defy artistic traditions. 
Perhaps a bit reminiscent of throw pillows or couches, Lipke approaches contemporary painting in a playful way that strays from the conventions of painting, but explores the possibilities.
"She is really experimenting and pushing boundaries and questioning what a painting can be," Ferrell said. "Her paintings are soft, they are sculpted, there's negative space, they slump on the floor, they don't even hang on the wall." 
The result is exuberant and unique forms painted with bright colors and intricate patterns that are stuffed with not only polyester fluff, but with symbolic familial heritage. 
Lipke is the third generation of artists in her family. Her mother, Catherine Hall, is a well known and respected painter in Burlington and was a professor at Trinity College and UVM. 
Her grandmother, Patricia Hall Sinclair, was a self-taught artist who used leftover textile scraps from her husband's textile factory to create unconventional collaged tapestries.
Lipke spent her summers with her grandmother in Cheshire, England, and continues to carry those childhood memories and experiences with her. 
"My grandmother, my aunt and mother all make things like so many women," Lipke said. "They are makers, and they are painters, and that has been a strong influence in my creative life." 
Woven into the thick canvas of Lipke's paintings is the reclamation of craft tradition. By using craft techniques to create fine art, she is elevating a historically feminine task, one that has been used to perpetuate male-dominated ideologies, and is drawing on the significance of the women in her family. 
This feminist spirit has been in Lipke since she was a student at UVM. She was very influenced by the Guerilla Girls, an anonymous group of female artists dedicated to fighting sexism and racism within the greater arts community through their controversial billboard advertisements in '80s and '90s New York City.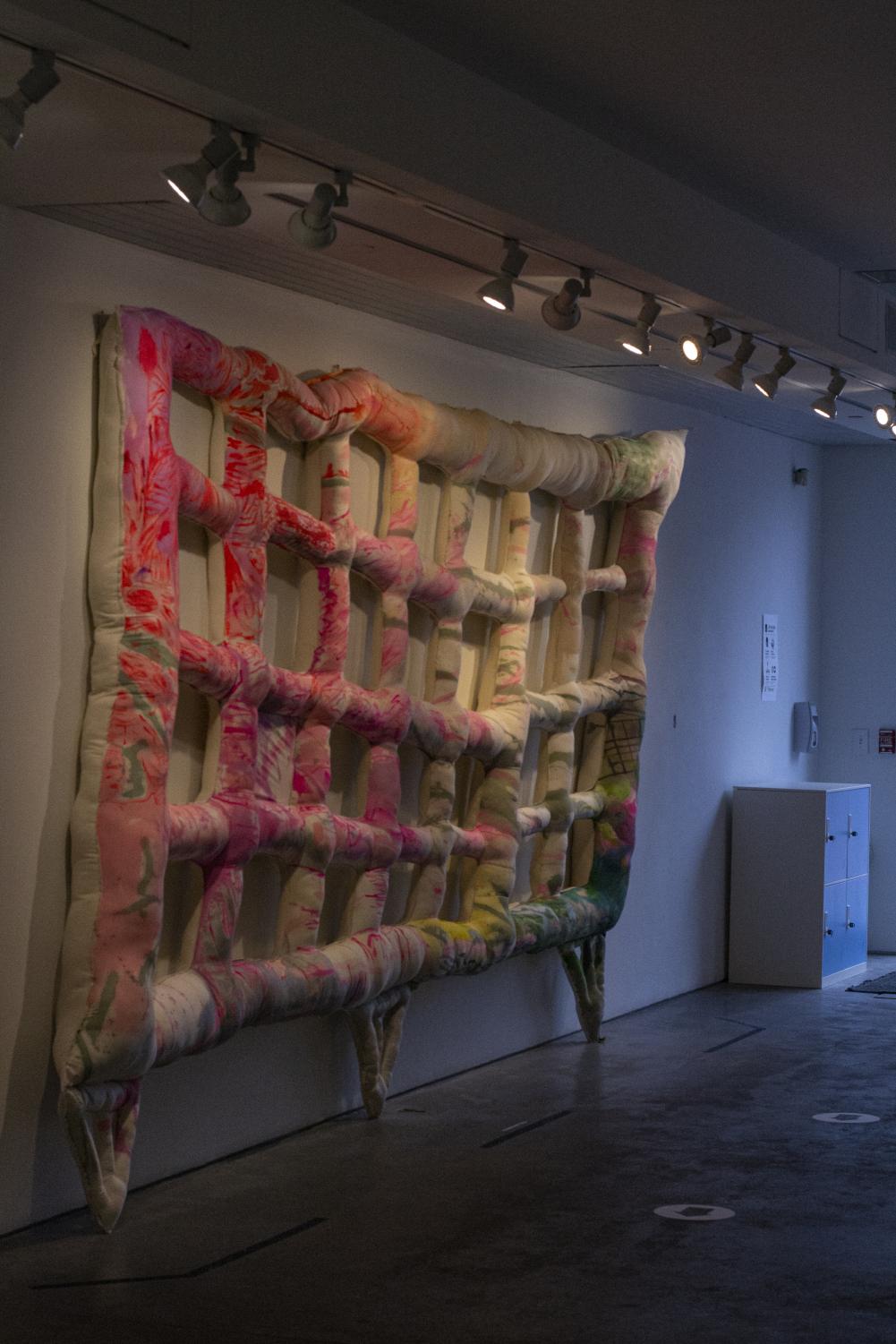 "One of the most formative things that happened was when I learned about the Guerilla Girls, they did billboards and dressed in gorilla masks, but they also did these interventions to show there was a real disparity in terms of who was showing (in museums and galleries)," Lipke said. 
The Guerilla Girls fleshed out uncomfortable gender and racial inequities before the rest of the artistic community really came around. 
"We are so used to saying, 'Hey, if you're not a cis white guy, then you're probably not getting as much privilege,'" Lipke said. "Back then, it wasn't as common for people to be thinking about that. I was very influenced by them."
Lipke brought the Guerilla Girls attitude to UVM when she took over the women's restroom on the first floor of Williams Hall and turned it into an art show. 
"We (hypothetically) painted and changed every stall and had writings and records and information about and for women. One of my friends hung a stiletto and had written a rewrite of the Cinderella story on the shoe. It was really cool," Lipke said. 
Despite the possible consequences she and her friends may have received if their identities were revealed to UVM's infamous administration, she persisted. 
"We should be doing things on our own and not waiting for someone to give us the spotlight," Lipke said. "Especially as artists, musicians or actors, we have to fight for what we want to say."
Lipke has most definitely applied the same rule-breaking concept to her squiggly paintings. 
"If you think about painting since the Renaissance, it's two-dimensional, on a wall, on a panel, on stretched canvas. Over the last 40 to 50 years, we think of painting, even abstraction, in terms of all these rules, it's very rigid, there's a grid," Ferrell said about Lipke's motivations.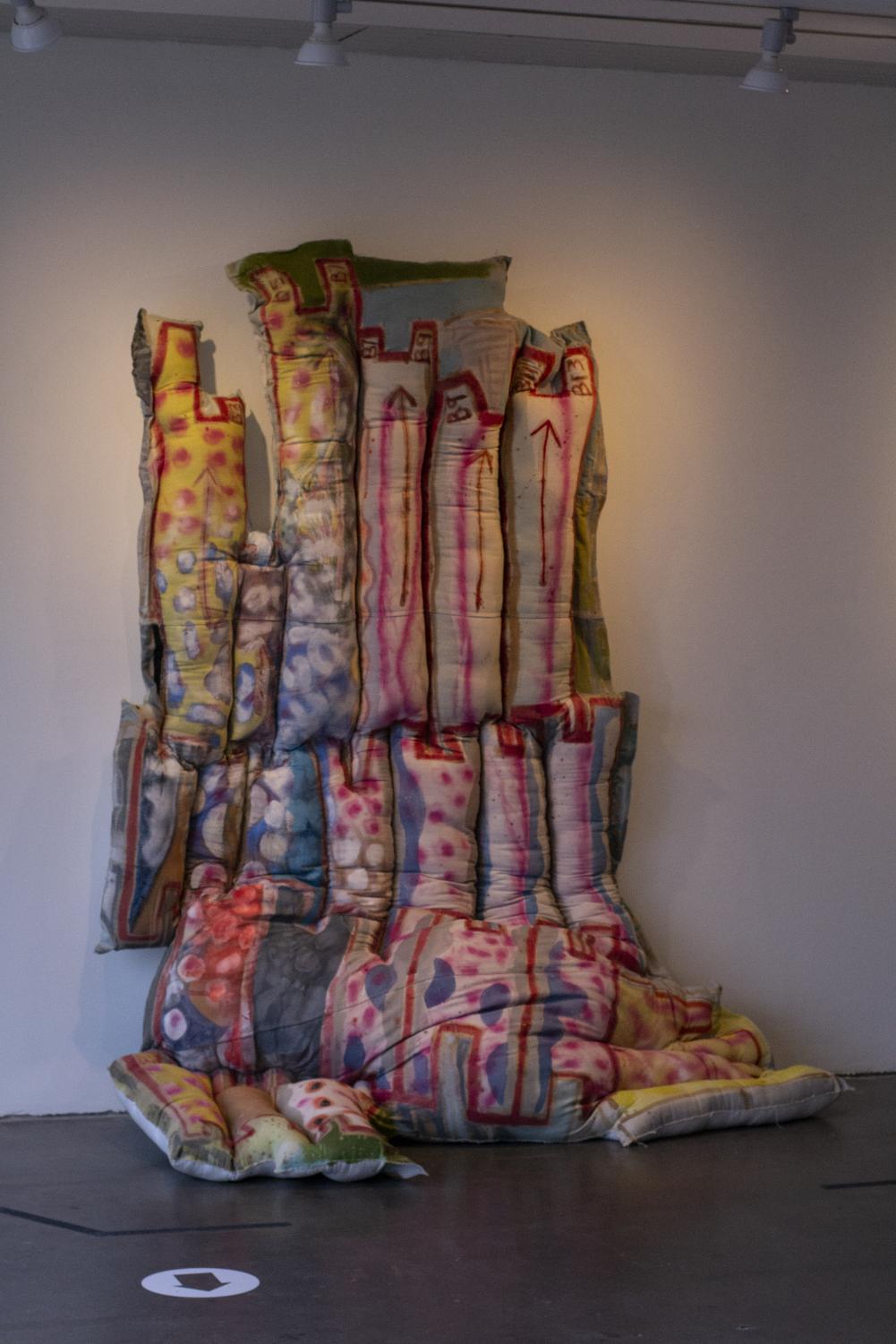 Lipke is riffing off these static histories of painting and creating her own type of process that transcends past what anyone would expect. Luckily, she has brought that same energy to BCA, only a short walk down from campus on Church Street. 
"Slanting Grid" is a colossal 3-dimensional painting that takes the traditional artistic canons to a whole new level. This massive piece fills up an entire wall and the altered matrix appears as if it is stretching off the wall, where we would expect a canvas to be. 
Splattered with neon colors, intricate designs and supported by three triangle legs, "Slanting Grid" is Lipke's way of questioning the grid painters use to plan out forms and space.
 Lipke is deconstructing those artistic rituals that have been used for decades, and raising questions about why artists continue to adhere to the rules of painting if the arts are all about self-expression and exploration. 
"Dream of a Painting" was truly a joyful product of Lipke's artistic exploration. It's loose, rectangular frame plays into the idea of how paintings can be considered a portal into another world. However, instead of a there being something in the center, there is only white space. 
Lipke creates her own portal through this full-bodied painting, but in an extremely unexpected way. The bright oranges, yellows and browns flow in and out of organic and geometric forms, embellishing the supposed portal. 
"I love the painting on 'Dream of a Painting,' and I didn't even think about it," Lipke said. "I was having so much fun making it, and now I look at it and I'm like, 'oh, I was so free when I was making that painting."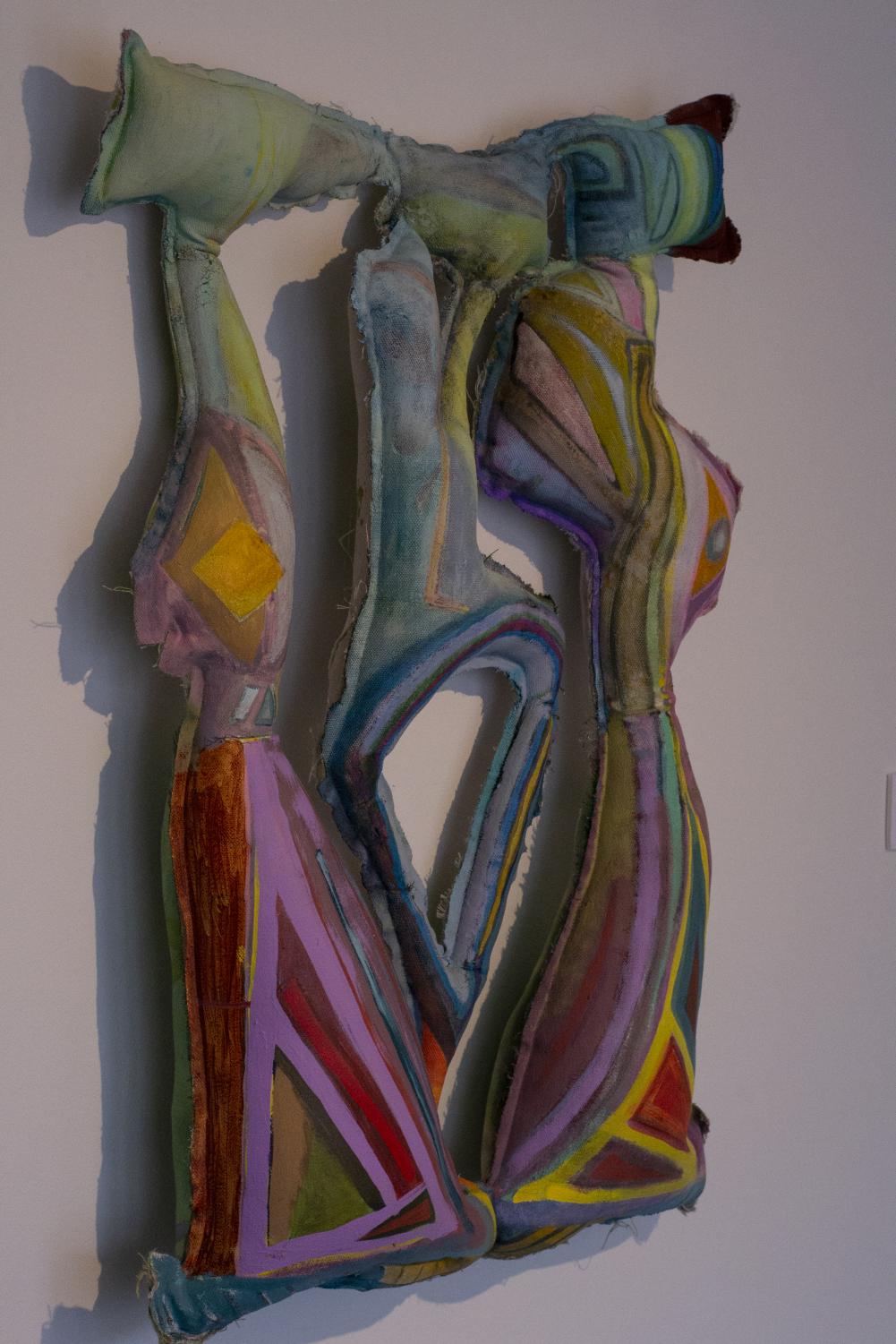 "Loop Hoop" was created by collaging the sleeves of outgrown coats worn by Lipke's children, and for her, represents more than just a technical inquiry into art. 
"I was thinking about my kids and what it is like to be a mom, to be so invested in my children's health, and to be so aware of their bodies and the connection between your body," Lipke said. "When the work itself becomes volumetric, it is like a body." 
Lipke's art appears animated, but also manifests the emotions and relationships she is influenced by. By characterizing the love for her children through "Loop Hoop," it has, in a way, become an extension of herself. 
Many people are tempted to call Lipke's work soft-sculptures or collages, but Lipke is pushing the boundaries of painting by exploring what is considered painting, not sculpture. 
Senior Liz Szulgit visited BCA to see Lipke's exhibition. She was amazed by Lipke's versatility and ability to create illusionistic forms. 
"I really like the piece she had that I thought looked like stained glass ["Ground for Body"] even though it was the complete opposite of stained glass," Szulgit said. "I think it is really interesting to see how people interpret art and how she can make something look like something that it isn't." 
One of the multiple layers of "In the Making" has to do with Lipke exhibiting in the city where she was raised, where she was introduced to art, and where she was inspired to continue to explore and investigate art.
Exhibiting at BCA has been on Lipke's bucket list since she was in Graduate school, so she could come back and make people proud.
"There are people I respect so much and I carry their voices in my head; sometimes they are my critics, sometimes they are pushing me to do better, and I really wanted them to see my work so I could say 'this is how far I've come,'" Lipke said. 
Lipke has made it far. As of 2021, Lipke has shown her work in 44 exhibitions around the world, as well as nine selected solo exhibitions.
Recently, she has expanded past the art gallery world, and has broken into artistic collaboration. 
In 2019, Lipke was chosen to participate in CounterPointe, a Brooklyn-based event for visual artists and choreographers to create a performance by combining choreography and the artist's work. 
Lipke admitted she wished she would have been more curious about exploring her ideas in the past, and now urges everyone to try to explore something new. 
"I realized the peoples' work I like were not people who were following the same ideas as everyone else. They were trying crazy things and taking risks," Lipke said. 
The Burlington City Arts Center is free and open to the public Wednesday through Saturday from 12 p.m. to 5 p.m. Starting in April, private tours will be available every Wednesday between 9 a.m. and 12 p.m.