Students portray complicated emotions in 'Dancing Uphill'
UVM's dance program performed their annual showcase "Dancing Uphill" April 16 and 17. It was a dreamy portrayal of the emotions built up after a year of distance and disruption.
The dancers wore mandatory masks which added to the theme of being silenced and alone when confronted with ample time to fill and thoughts of isolation.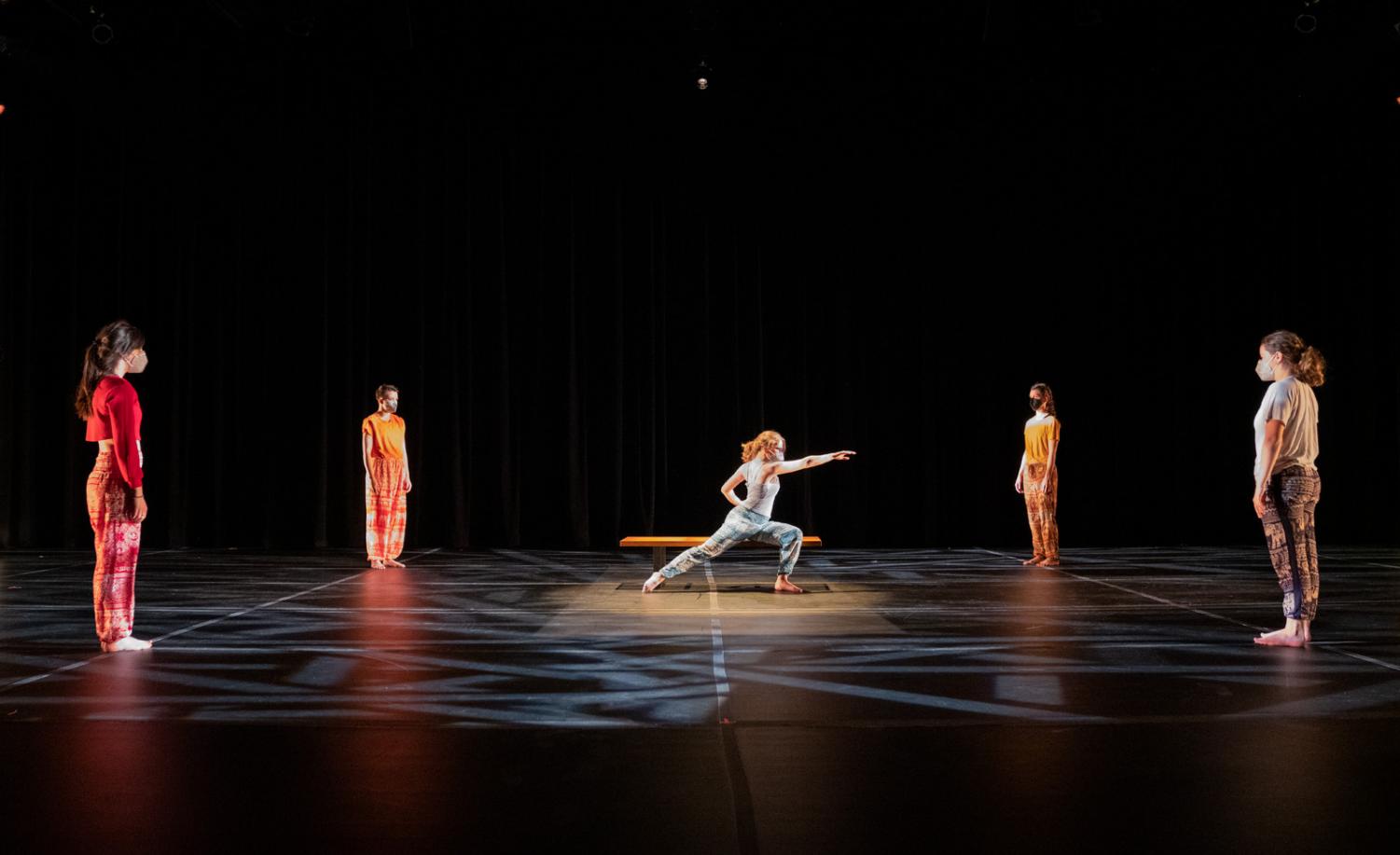 Senior dancers choreographed their own dances, and some have been waiting to present their art for a year or more. 
Senior Chloe Schafer said the performance was a celebration of perseverance and strength, and that the circumstances made it unique. 
"The loss of, or rather, pause of touch in dance has been difficult to navigate, but this show gracefully adapted to the imposed spatial structure of COVID," Schafer said. 
The dancers were cast in deep purple, blue and red lighting depending on the tone and lightness of the piece. 
Long shadows of movement were cast on the dance floor as performers fell into chaturanga and broke out into circular runs, all while keeping six feet apart. 
Choreographer and professor Julie Peoples-Clark said that "Dancing Uphill" was cathartic and a healing experience for her and the dancers that provided reflection on the difficulty of the past few months.
"When I started the process of crafting this dance I felt like I was crawling out of a dark hole of isolation," Peoples-Clark said.
While dancers jumped over a bench in elephant-print pants in "Five," which was directed by senior Jennilee Stocker, moments of restriction, slowness and melancholy were depicted in other pieces.
"Some dances took the loss and trauma of this time head-on," Schafer said. "Other pieces celebrated the joy we still have and hold, even from a distance."
Senior Annabel Diestel based the choreography of her piece, "Some Breathing Room in My Brain and Body," on a mindfulness practice she created.
For one week this past Feb., she instructed the dancers to move through emotions and journal their reaction to the process. She then took their excerpts and crafted them into a poem. 
"I had them dance with a prompt, like dance if you're happy or overwhelmed, as a way to ground yourself and get in touch without having to talk about feelings," Diestel said. "This piece represents that project."
Diestel had a friend record the poetic composition, and paired it with music to guide the choreography.
"My emotions were tired of listening to me but didn't stop. I was a strong tree, growing on the edge of a cliff," a voice said in the audio clip. "My tendency to deal with all emotions was to detach and ignore them."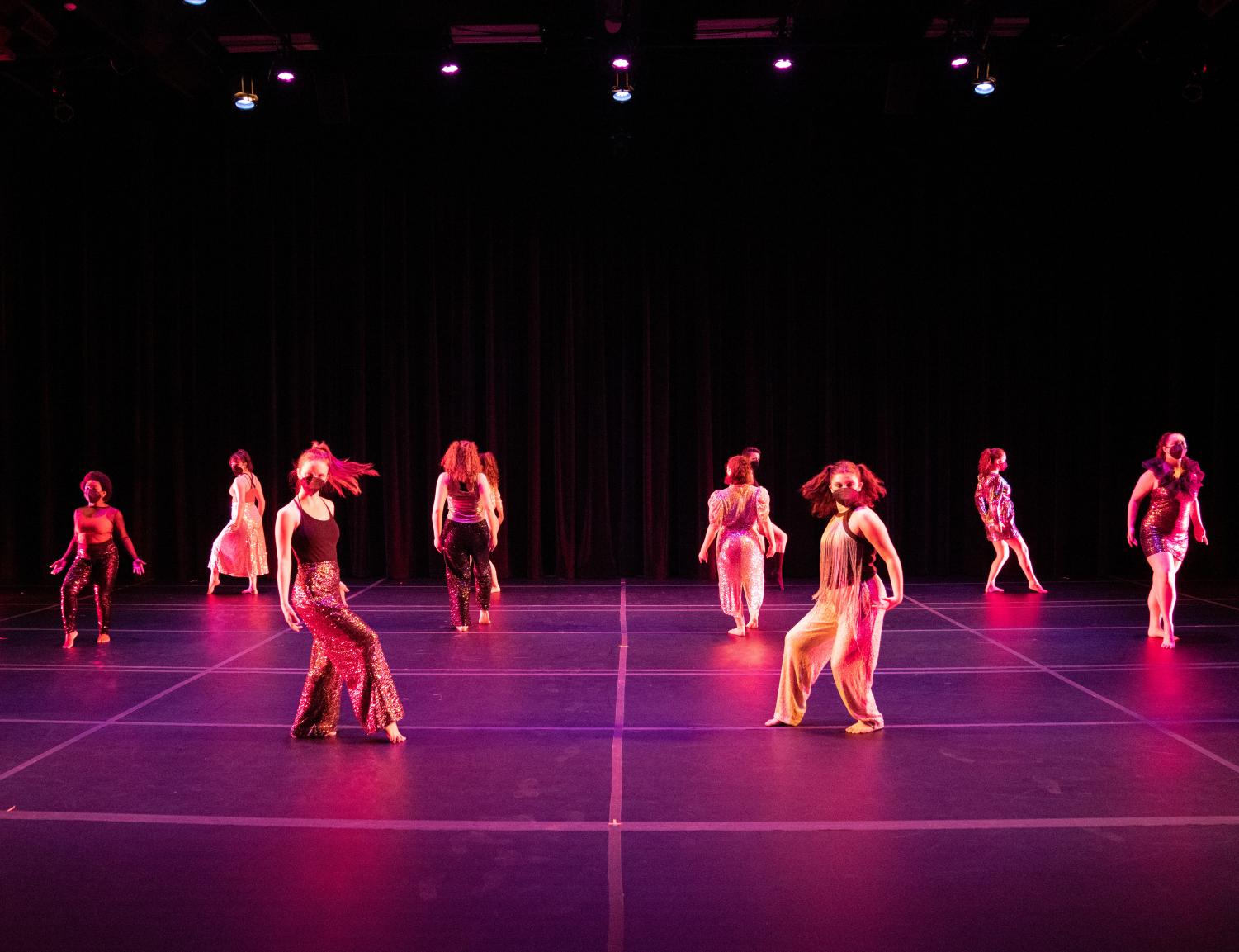 Dancers moved slowly, as if falling or swaying in a gust of wind.
The first part of the dance was synchronized, while the second half was more relaxed and gave the dancers room to flow and breathe as individuals.
"I like for it to be an inclusive process," Diestel said. "The theme was holding emotion, then letting it go."
Similarly, seniors Claire Cook and Gracie Powers, dancers and creators of the duet, "I've Been In This Too Long," reflected on the relationships between proximity, urgency and isolation.
"It wasn't meant to be a COVID themed dance, but it was made in a COVID context," Cook said. 
The piece was about a duo's relationship with internal struggle and yearning for connectedness. It began with an audio of running water and bird calls. 
"We incorporated bird-like movements, like leaning with a flat back, bent knees with arms out, with small undulations of our arms and head twitches like a crow," Cook said. 
Powers described how she and Cook would make eye contact and connect, then break it, close their eyes and ignore each other as they broke out into a circular run.
"The circle, as a shape, informed our original movement and choreography that we made in the fall, and we wanted to translate that symbolism of being trapped," Cook said.
Some pieces incorporated segments of improvisation, where the dancers responded to their emotional and environmental energy, moving without set choreography.
Senior Isabel Hansen, choreographer Paul Besaw and other dancers created the piece, "(Another) Round Dance." 
"My guidelines were to stay on my knees, by playing with what that means, the second element was to create circles with increasing acceleration," Hansen said. 
The dance incorporated segments of improvisation, where dancers practiced personal creativity and autonomy over their final presentation as seniors.  
"I find comfort in improv because the energy that's built on stage guides the improv," Hansen said. "It's mindless yet mindful, but you slip into what feels good to you."
Hansen described how her energy was grounded during Friday's show, whereas she felt pulled upwards energetically on Saturday. 
"I played with the guidelines," Hansen said. "It's an active process considering the information you're given and whether you accept or reject it."
Performers and choreographers said that they were impressed by the dedication of everyone involved. 
Some dancers were quarantined leading up to the performance, yet all dancers were cleared and able to participate in both shows.
"If you care about something, it's terrifying because you could lose it," Cook said. "Everyone was working hard to be responsible and stay safe."
Although this year was challenging, "Dancing Uphill" felt like a commencement for dancers, especially seniors, who had to forgo hugs as they performed at UVM for their last time.