White Fang Album Review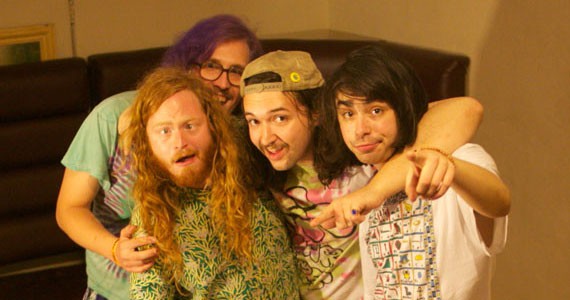 They call themselves the "stupidest band in the world." Their Twitter picture is their band name illustrated as the Taco Bell logo. They are Portland-based rock band White Fang.
The neo-grunge, skate-punk group formed in 2005 and have been incredibly prolific ever since. On Oct. 30, White Fang released their eighth album, "Chunks."
"Chunks" is a wild ride of an album, as a product of the resurgence in West Coast surf rock culture. Their sound is reminiscent of FIDLAR, Wavves and Cloud Nothings, all bands  coming to be contemporary alternative rock staples.
White Fang brings a hearty serving of ridiculousness and the proverbial "gnar" to the surf-rock scene with miscellaneous samples of absurd conversations from the band members themselves serving as preludes to energetic rock songs with real muscle.
The album kicks off with "Full Time Freaks" and "Wrecked," both chock full of classic punk riffs and playfully bizarre lyrics.
In the "Wrecked" intro, two hammered band members brag about kicking down doors and ripping the fridge off the wall… And we're only two songs in.
"Bong Rip," captures the essence of White Fang and their delightful drugged-up hilarity as they chant: "the weed, the lighter, the bong, the weed…" The vocals are laid over an energetic backbeat and roaring rhythm guitar to create one of the grungiest atmospheres on the album.
The album's seventh track ushers in the harder-hitting second half with a gritty lead guitar and even more yelling. "Tear it Up" is a textbook punk rock jam about skating, snowboarding and hating school; refreshingly reminiscent of classic bands Rancid and Black Flag.
White Fang carries the same traditional punk themes of angst and resistance to conformity in "Turning Square," a lighter track that stands out with its playful mood. The track exudes a Brit-rock vibe similar to that of the Rakes or the Wombats with quick, upbeat lead guitar and smoother, more melodic vocals.
"Doing the Damn Thing" and "Pissing in the Driveway" bring back the sheer grunge of "Bong Rip," to the album's second half, minus the sloppiness.
Crisp lead guitar riffs laid over grainy rhythms and angry vocals mix to create a smooth progressive rock song in "Doing the Damn Thing." That is, of course, after a spoken-word sample intro of someone recounting "passing out on Susan's front lawn" and yelling about beef jerky.
White Fang wraps up "Chunks" with the cheerful, crooning "Thank You," followed by slow-jam "Shit on My Shoe." Both tracks are filled with youthful frustration with being broke and sad, but also heartfelt gratitude for the fanbase that have supported them album after album.
Overall, "Chunks" is a massively enjoyable album. It's homemade skate video soundtrack bait, it's emotive and silly, and will hit close to home for many college students.
Even for those without an existing taste for skate-punk, the album's musical depth is likely to impress. Shred on, White Fang.
4.5/5 stars