Cynic Fit Check: Brooke Katz
Brooke Katz is a senior Gender and Women's Studies major. Originally from Massachusetts, Katz moved to Burlington in 2017.
THE CYNIC: Tell me about what you're wearing right now.
KATZ: This shirt is one of my favorites. It's by an artist in California I think. They're a nonbinary artist and they have a website called The Groovy Crew and they have a bunch of different printed clothes, handpainted bags and jeans. I got this belt at Goodwill and these pants are from Pacsun. My slippers my mom gave me for Hannukuh, because I really wanted cow slippers. I got these earrings yesterday from Earthbound, hopping on the train of wearing one long one and one short one. These necklaces I've had for a couple years. This one my grandma got me for my sixteenth birthday and it says "Mimi Heart Brooke."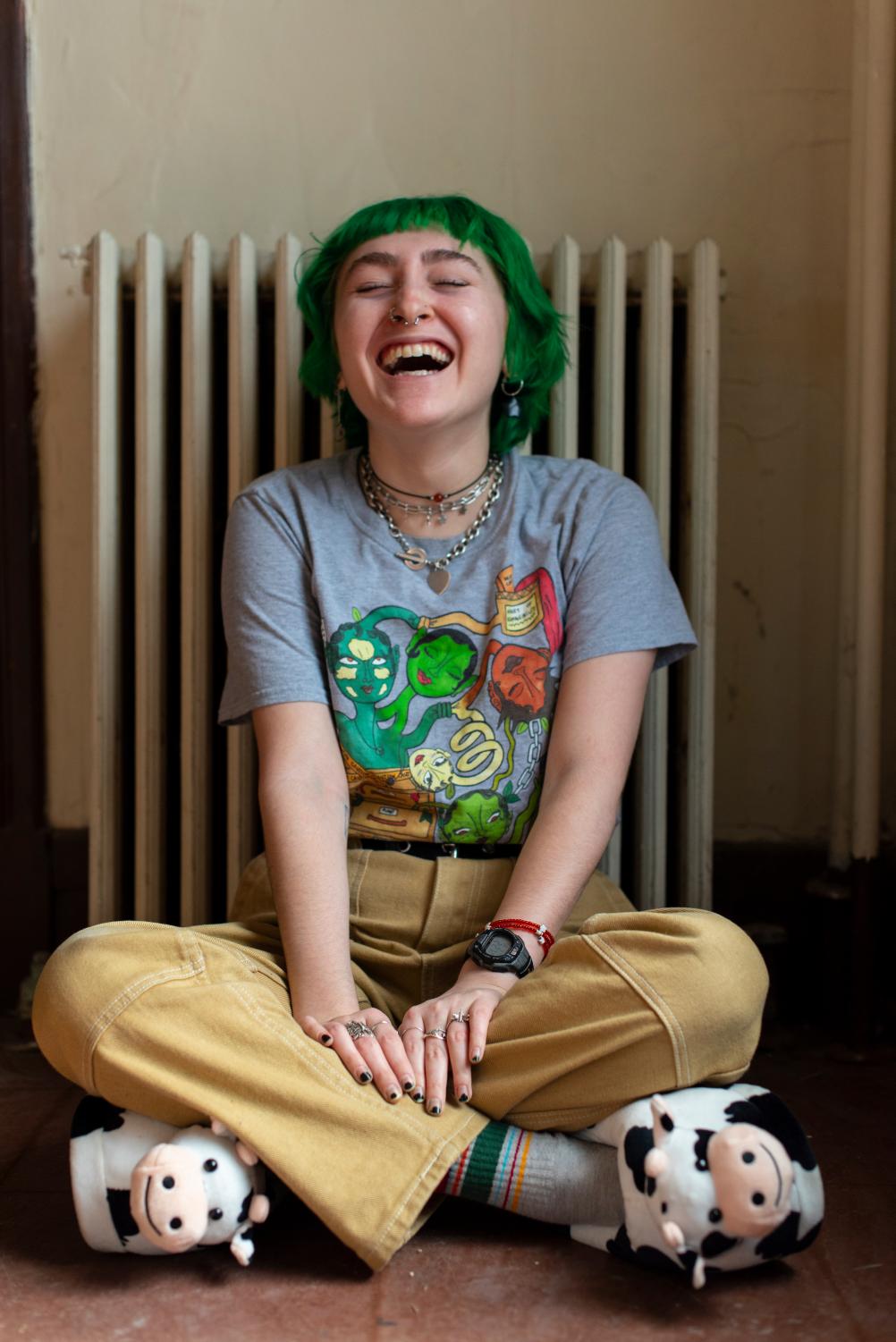 THE CYNIC: How would you describe your general style?
KATZ: It's probably skatery, but I'm a beginner skater so that intimidates me. But I guess I get a lot of my style from looking at skaters and also queer people, because, you know, gotta represent the community. It's changed a lot through my time in college, especially because I came out as non-binary sophomore year, since then and since quarantine my style's gotten a lot more androdynous and maybe less femme, which makes me feel really good about myself. 
THE CYNIC: What specifically do you pull from the skate and queer communities?
KATZ: From skaters, you know I like these kinds of belts and I guess like baggy jeans, oversized t-shirts and vintage sweaters. I like button-ups a lot too, and the sweater vest trend is coming back. I just got some online. I was trying to find a place that was ethically sources but it was really hard because there aren't a lot of sweater vests around I guess, so I ordered from like some fast-fashion brand. But I did get a lot that I loved.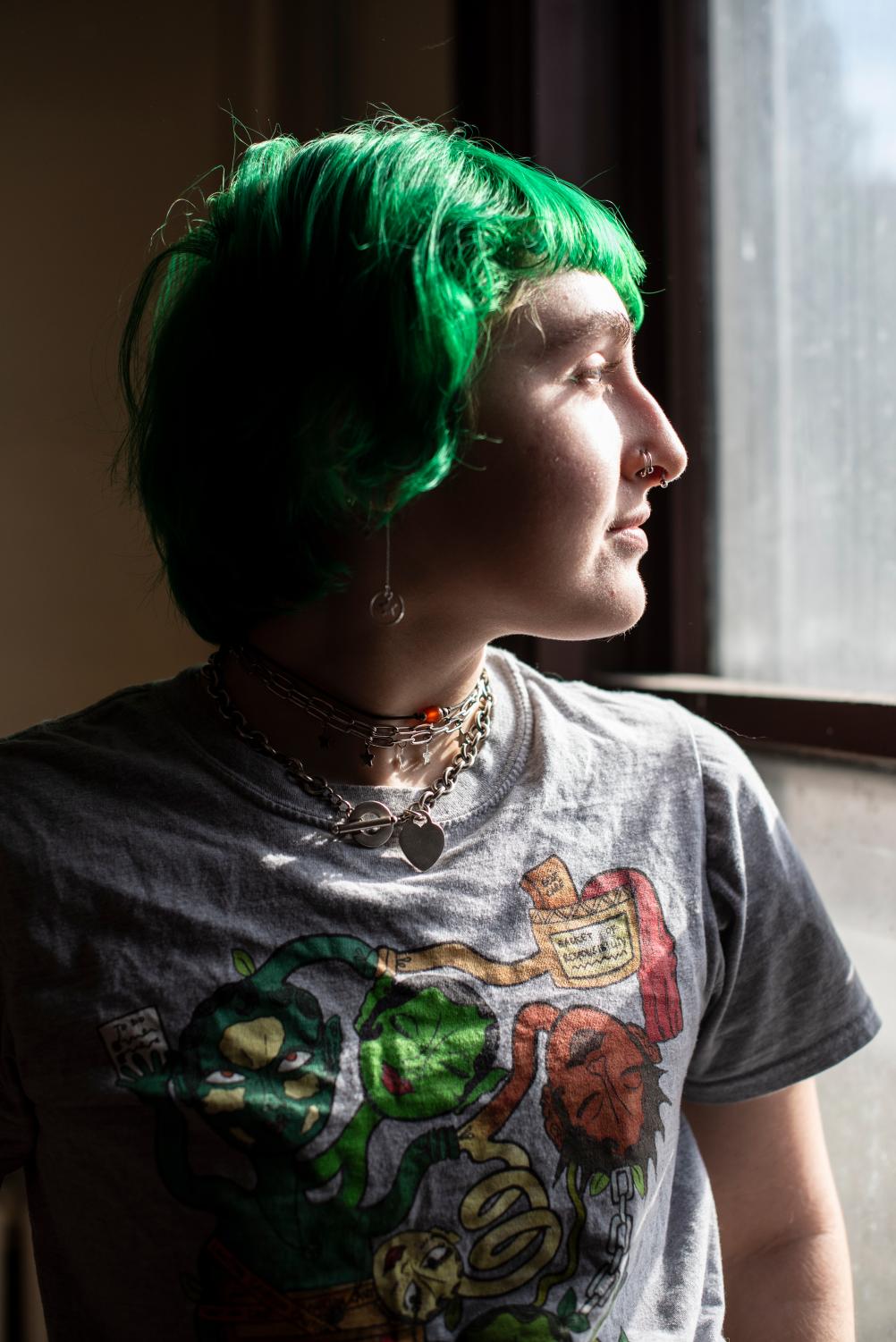 THE CYNIC: What does your personal style mean to you?
KATZ: Style means expressing myself. My style helps to show who I am, and it's always been like that. Like since middle school I've worn tutus and bows in my hair and zebra tights and suspenders. That was crazy. I wanted to be a fashion designer. Not anymore, but it was a phase. Since then I feel like I've really experimented with my style, a lot through high school. I didn't really know what I was doing, then college. Now at this point, I'm happy and feeling good in my style. It definitely really shows who I am.
THE CYNIC: Do you have any style icons or experiences in your life that changed the way you wanted to present aesthetically?
KATZ: I don't think I have any specific people. I definitely would get ideas from media. There was this show I was watching called Betty, it made me want to start skating because it was about these girls in New York City. One of them is queer but they all have these different experiences and it's so cool because they're all girl skaters, and I got inspiration from them because they all have really cool styles. I also get inspiration from TikTok, because my TikTok. . .there's a lot of queer stuff. And obviously I'm inspired by a lot of people at UVM. Everyone kinda dresses the same, but usually I look to see what the skater guys or girls and random non-binary people are wearing.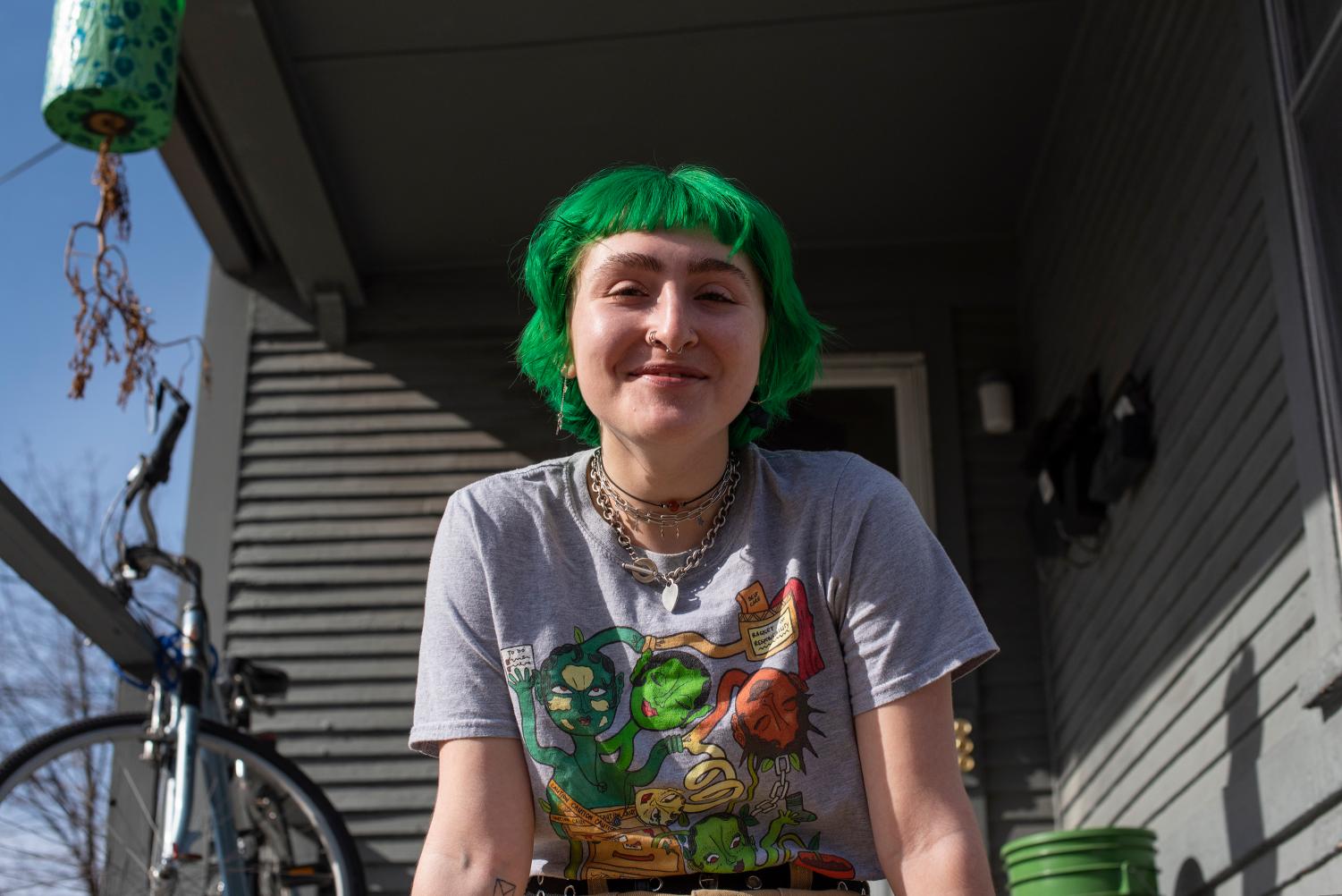 THE CYNIC: How do you think your style has been impacted by growing up on social media and having that hyper-personalized online experience?
KATZ: I think that it's definitely helped. It might be similar to how it is right now, with walking and seeing people, but I guess the internet really helps you find outfits and aesthetics that I really want or like, and the opportunity to see so many different people on different sites. Quarantine really helped me with my style. A year ago today my style was similar-ish to my style now, but my hair was longer and I was definitely more femme. But then probably in the fall I started changing my style more. I stopped wearing crop tops and stuff. I think the way you dress yourself and view yourself has definitely changed for everyone. I feel like it's a good thing — not to say that quarantine is a good thing, it's definitely not — but I think it's definitely helped people figure themselves out more.
THE CYNIC: Was there anything else you wanted to add that we didn't get to?
KATZ: There's been drastic changes in my style throughout the years. It's kinda hard to find your style when you're in high school, but it's kind of different now for people, especially kids on TikTok because I feel like it's really good for them. I feel like there's more and more style icons and definitely better trends. Since I've been in college, I've really just been trying to look at what everyone else is wearing and try to do my own thing within that. I don't really want to blend in, I just want to fit the vibe.