Natural hair and body expo promotes community and Black business
Gold balloons spelling out "WOCC" bobbed around in the hallway leading into the Davis Center's Grand Maple Ballroom, opening into a room full of joyful celebration. 
UVM's Women of Color Coalition hosted their annual Natural Hair & Body Care Exposition April 17. The exposition promoted local Black women-owned businesses and showcased numerous hair and body care brands either owned or marketed towards POC.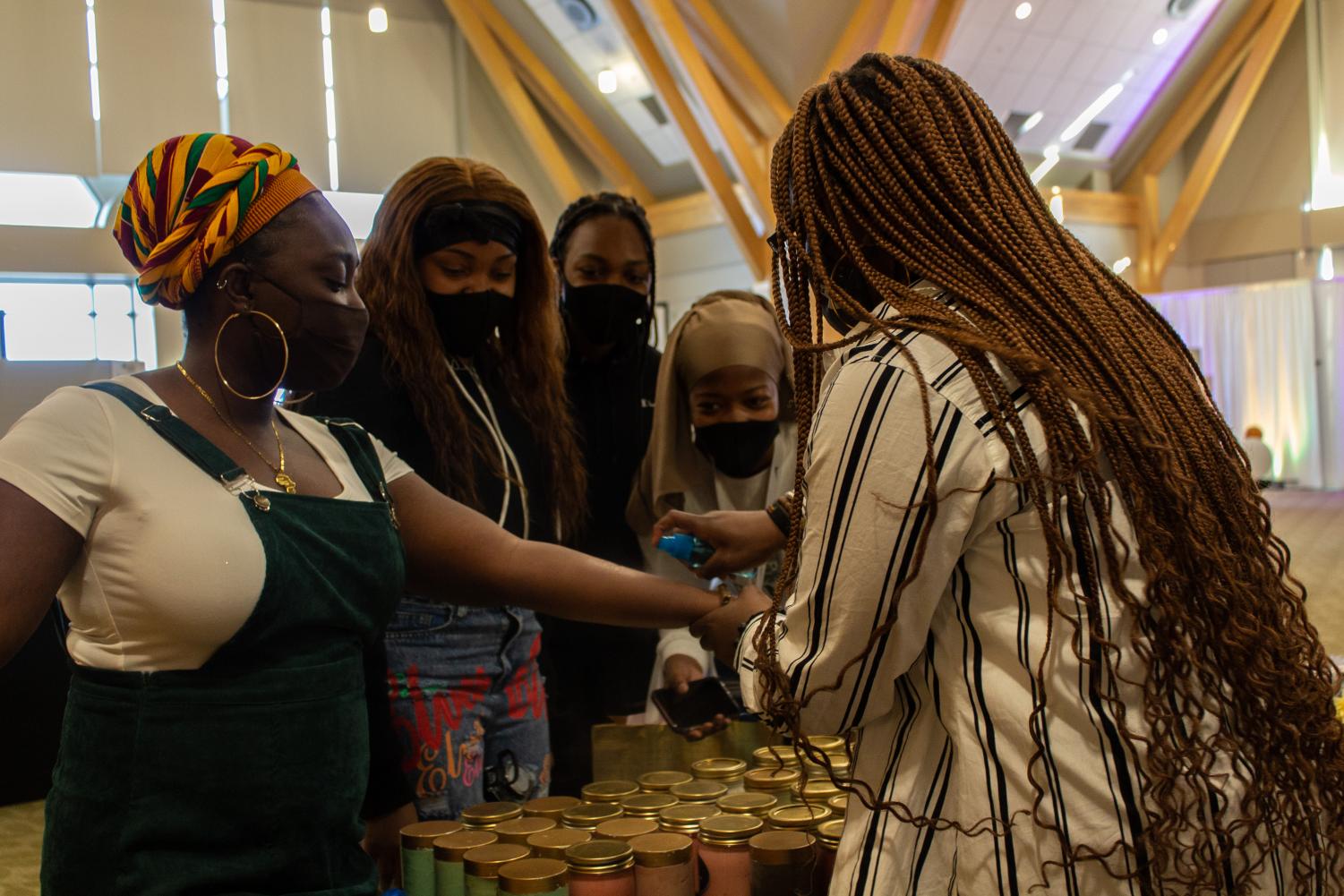 The exposition provides a space for the women of color in the UVM and Burlington communities to come together and celebrate the textures of their hair and promote self-care and wellness while providing resources for Black women. 
Guests received free product bags, participated in games and activities that embraced Black hair and skin, partook in a prized raffle and listened to featured guest speaker Alyce Thompson, owner of Alyson Natural Products, talk about her all-natural skin and body products. 
Guests milled around while SZA's "Good Days" played in the background, reading about natural, Black-owned skin and body care brands like Trapstix, Oyin, Mixed Chicks, and Sunny Isle. 
Dating back to 2016, the Women of Color Coalition has been organizing events like the Natural Hair & Body Care Exposition and UVM Slut Walk in order to engage the UVM community in celebrating Black women. 
President of the WOCC, senior Shania Benjamin, has been working to carry out the legacy of the WOCC predecessors. Despite COVID-19 restrictions, Benjamin and her team created a welcoming environment for POC on campus. 
"Our former presidents wanted to create something like this because it is an event where we can all come together as POC and see products that embrace and help maintain and preserve our hair," Benjamin said.
Senior Ama Sika, the WOCC's treasurer, said the exposition grew from a lack of products available for Black people in Burlington and Vermont. 
"Vermont is really white. There are no products for Black women in stores, so it's very hard to be able to take care of our skin and body," Sika said. "This event is made for reaching out to Black companies that make products for Black hair." 
While promoting and embracing natural hair, the exposition also highlights why it is important to support female Black-owned businesses.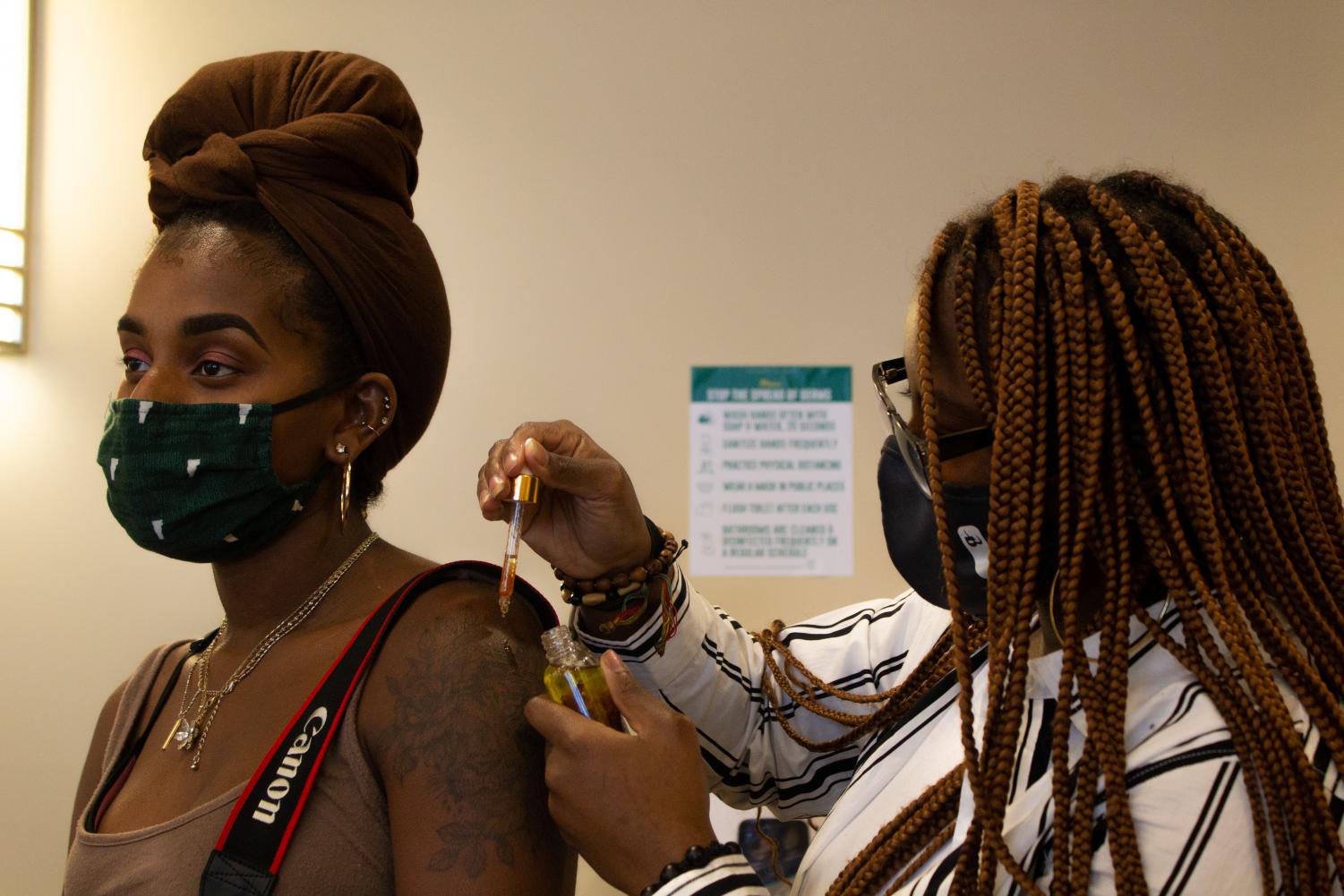 "Black women-owned businesses need to be preserved. We need diversity, and we need to show Black women that they are allowed to have businesses and to be entrepreneurs," Benjamin said. 
Junior Pamela Tettah '22 is the founder and CEO of Melanated Hair & Body Co., and produces homemade Whipped Butté, Suga Scrubs, Glow Tingz Oil, and other body and skin care products. 
Sticking close to her product table, Tettah showed guests how her body scrubs and butter made their skin look ultra moisturized and glowy. 
Tettah recognized the disconnect between the available products for BIPOC in Vermont, and created her company to fill that gap and to promote self-love. 
"Coming from the Bronx, New York to a predominantly white state and school, I found myself wanting to connect to other people that are like me," Tettah said. "With my products, I am able to get our skin to be healthy, moisturized, and glowing and that way we are able to take care of ourselves inside and out."
Junior Thaina Calix, owner of Thaina Braids, brought her braiding skills to Burlington to help Black women take care of their natural hair by offering protective styles. 
"It is so exciting because I get to provide women of color with braids, and although it's only braids, it's a different story for the women whose hair I do," Calix said. "When we support each other and our small businesses, a piece of our culture is identified." 
Guests not only learned about brands great for natural hair and left with a product bag of samples, but they left feeling a part of a cohesive community, one that is based on mutual support and respect. 
Junior Aiyana Hightower '22 and sophomore Ayanna McDaniel were both extremely excited for the exposition so they could discover new products for natural hair and community.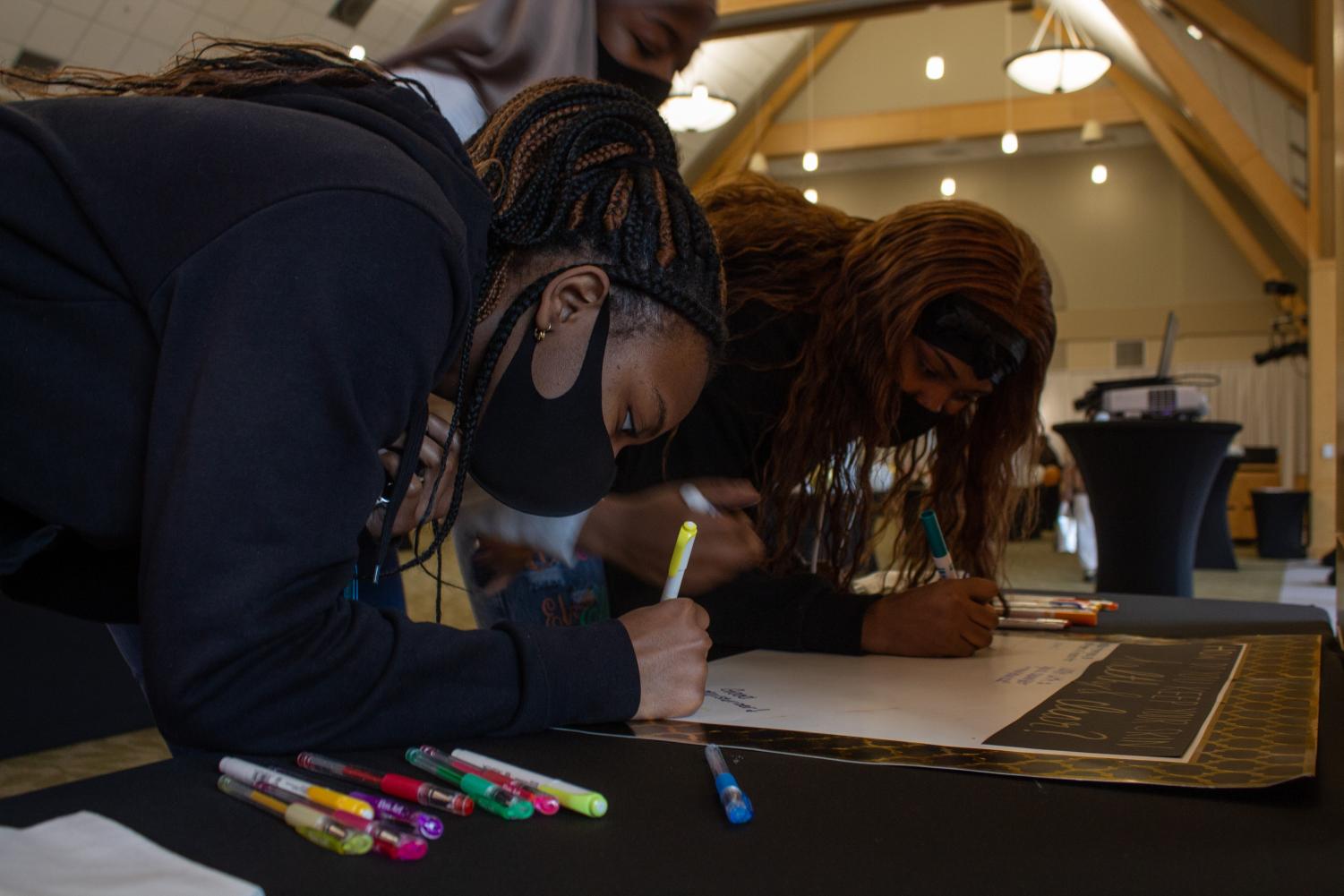 "Natural hair is very nonlinear, and new products are very fun to experiment with," Hightower said. "This event also made me feel really seen, honestly. There's a lot of people here that I don't see on a daily basis on campus, and it is nice to share space with them." 
Sophomore Ayanna McDaniel said she too came to the exposition because it was a great way to embrace natural hair and the community of Black women at UVM.
"I wanted to better connect with other Black women and femmes on campus, it makes me feel really welcomed into the UVM community," McDaniel said. "There's definitely not a lot of people of color and it feels lonely at times, but events like this makes me feel welcomed." 
The Natural Hair & Body Care Exposition is more than just promoting Black-owned businesses to take care of Black hair and skin, it is about creating a welcoming community where all women of color feel included and accepted.  
"I am beyond grateful to have sisters who are coming in together to bring our story to others, to let people know that we acknowledge you, we see you, I know it's white, but we are here for you," Sika said.