"A profound lack of thinking:" History professor Charlie Briggs on UVM and dismissal
History Professor Charlie Briggs first felt inspired to become a professor in college. 
He fell in love with the idea of teaching and researching. Today, Briggs has turned into one of those beloved humans. The only catch is this will be his last semester at UVM.
In a Nov. 23 email sent to the campus community, Provost Patricia Prelock announced cutting the Classics, Geology, and Religion Departments, which employ 23 professors collectively.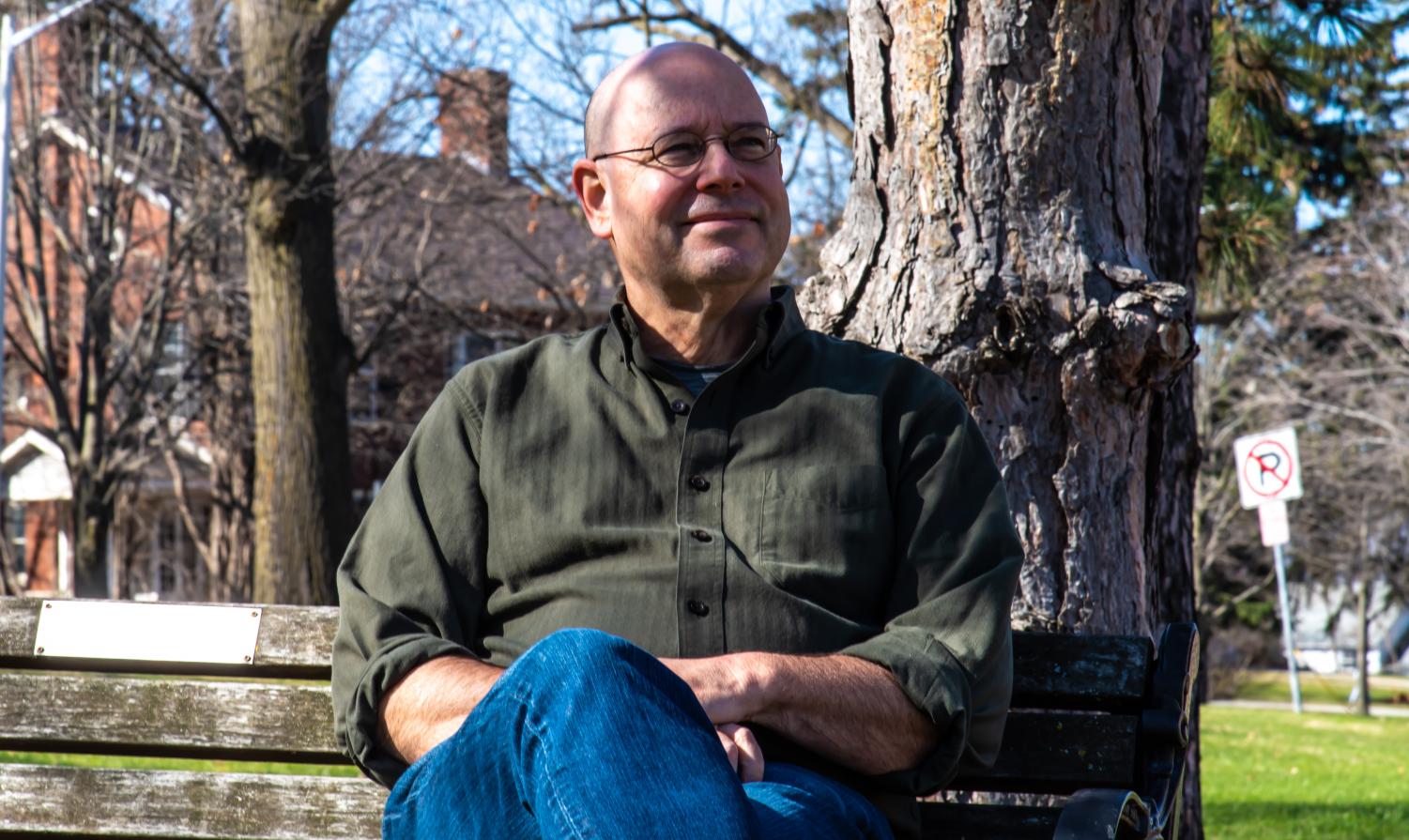 "[Cutting the programs] provides the College with an opportunity to more closely align its resources with areas of high enrollment demand," Prelock stated in the email. 
Briggs was informed of the non-renewal on Dec. 14 while still grading finals from the end of fall semester. 
"It was really a surprise. The more I thought about it, the more kind of kind of angry I got," Briggs said. "I don't make much money. If you take all my salary and you take my benefits, I mean, it's a drop in the bucket."
His base pay salary from the University is $46,642. 
History Professor Andrew Buchanan said Briggs has all the qualities of a great teacher. 
"For very small savings of money is a tremendous loss of expertise, and insight and compassion and care for students," Buchanan said. "For a relatively modest saving, it leaves a big hole."
Alex Collingsworth '17 said as an alumnae, he is not going to send any donations as long as these cuts continue.
"Just from a purely financial standpoint, this decision doesn't make any sense," he said. "It's just crazy that there's no loyalty to these professors that have been part of this community for so long."
History Professor Sean Field said Briggs brings an extraordinary amount of expertise for his miniscule salary. 
"Those kinds of courses are just not going to be offered anymore because apparently the $47,000 was too much for somebody of his caliber to offer those to our students," Field said. "If you're interested in a course on Renaissance Italy, well, it's not going to be offered going forward because the college decided to let go the expert who was teaching in that area."
Briggs is one of three senior lecturers slated to lose his job with the university. Briggs has lectured in the History department for the past 12 years, teaching thousands of students. 
Before coming to Vermont, Briggs was a tenured Professor of History at Georgia Southern University in Statesboro, Georgia. 
Briggs left because had utter disgust for the atmosphere, he said. 
"UVM, even now, is still like a paradise compared to where I was in terms of the kind of really bad administrative culture at my old job," he said. 
English Professor Jennifer Sisk elaborated on Briggs switching schools. 
"This is a full tenured professor, kind of person moving into a lecturer position because he wanted to live in New England," she said. "We had him for cheap, kind of criminally, really, that he was only hired at the lecturer level when he is performing as a senior level scholar all the way."
Briggs got his bachelor's degree from Grinnell College in Iowa and went on to receive his M.Litt. from the University of Edinburgh in Scotland and Ph.D. from the University of North Carolina at Chapel Hill. 
Briggs currently teaches courses in late medieval and early modern European history, global history, and historical methods. He also teaches in the Honors College. He's teaching a senior and graduate seminar about pandemics, society and culture.  He has also authored and edited five books.
Briggs said that over the years, he has loved to see his classes spark the intellectual fire inside students. 
"When I see students really engage in that enterprise of thinking, and discover the pleasure and rewards of really using their heads, that's pretty cool," he said. 
He said that engaging his students' minds with the world is part of his work. 
Graduate student Maria Carriere is a teaching assistant for Briggs. Carriere said Briggs has been a wonderful person to learn from.
"He has us be so involved with the process. He's really good at teaching and showing us how to teach effectively, get things done, present in the classroom and lead discussions," she said. "It's been a very instructive experience."
"I think a lot of the problems we're facing right now comes from a profound lack of thinking and a profound indiscipline of thinking and an inability to think. If I can have made a few people a little more aware that thinking is an option then maybe I've done my job," Briggs said.
Engagement in the classroom is where some of Briggs' research is sprouted from. 
"I'm always finding that my research questions end up being generated not just by the research I do, but also by my teaching and the kinds of questions that my teaching raises," he said. 
Carriere said it is devastating for students to not benefit from his great scholarship.
"They're losing both a brilliant scholar and a fantastic teacher," she said. "They're losing a great historian. They're losing a great scholar who knows a lot about the discipline and who is published and really knows his stuff in the field."
Carriere said taking Briggs' Books and Readers class her freshman year was one that she won't forget.
"That was such a hands on experience that it really made me excited to continue with the field of history," she said. 
One aspect of UVM Briggs said he will miss is the collegiality within the History department. 
"I really, really, really like my department," he said. "I think they're really a fine bunch of human beings and peripheral thinkers and great teachers"
Buchanan said Briggs' importance goes beyond just teaching.
"He's a scholar who really thinks that what we do matters, what we do in the humanities matters, that it matters to have people think about the world to their capacity to analyze and to understand," he said. "There's a sense of mission, there's a sense that this is more than just interesting in its own academic stances."
Sisk said Briggs is a brilliant, well-rounded individual. 
"He's a very likable down-to-earth person. You meet Charlie and there's something about his personality that immediately makes you comfortable, immediately makes you feel like he would be someone that you could have a really stimulating intellectual conversation with, or you could go to lunch with and have a really good time," Sisk said.
Sisk continued that she admires his intellectual generosity.
"He's really good at engaging with other people's ideas in a way that reminds us how learning is communal," she said. "We all kind of are going to become our best selves, as scholars and students, when we're in dialogue with each other, he's just so good at fostering that kind of conversation. And I'm going to miss having his presence so much for that reason."
Briggs said if he were to predict the future of the university, it would be very technologically focused. 
"There's going to be no commitment or investment at all by this university in humanistic inquiry and humanistic teaching. And I don't know what this place is going to look like," he said. "If that's the case, in some ways, I'm glad to be getting out of it."
The History department at Dartmouth College has offered Briggs a visiting scholar position. 
"My life of engaging in research and teaching is not over," he said. "I'm going to be a little poorer but my scholarly life is not going to be diminished in any way."
Sisk said her favorite memories with Briggs include when the medievalists would get together and discuss the profession and its future.
"It's really in those kinds of contexts that are simultaneously social and intellectual, where Charlie's warmth really just shines through," she said. "I hope that I get to have as much as possible of that even after this academic career here."
With this new position, Briggs is going to have more time. He said that most of that newfound free-time will be used for research on his upcoming projects. He is also going to spend more time outdoors hiking. 
Briggs has a daughter California and a daughter in Scotland so he said he is going to spend more time visiting them. 
"My wife and I are thinking about getting a flat over there, [in the UK]" Briggs said. "And spending more time there once COVID decides to loosen its grip."