Burlington's Hierarchy of Needs
Bagels, attention and therapy.
Those are what I'd consider my three most potent needs to be.
When Glenn Walter, owner of Three Needs Taproom & Brewery in downtown Burlington, saw the sign that is currently hanging above Three Needs in a dream, he hadn't anticipated the significance of those words for the local community.
"The name was a sign above a door in a dream," Walter said. "I woke up. I drew it. I wrote it out and many years later when I had a bar, well… boom."
It's common practice for those entering the establishment to ponder their own 'three needs." So much so that Monique Ford, operating manager and bartender, has compiled notebooks filled with customers' own needs.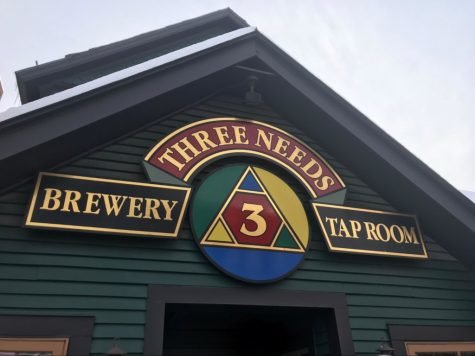 "For years I've been keeping notebooks where people write down what their three needs are, and I have probably 10 notebooks," Ford said. "I like to tell people that they can come back and add new ones because needs are always changing."
Though there is no explicit algorithm, Ford has come up with categories which most people's needs fall under.
"Most of them can be broken down into a variation of a theme of sex, drugs and rock n' roll," Ford said. "So it's the type of sex they like, the type of way to like to vibe — even if it's camping or a natural high — and what type of music they're obsessed with at the moment."
These needs aren't inherently American, either — although, upon the inspection of one of Ford's books, one patron may have actually predicted the Eagles' Super Bowl win back in 2016. "There was a group of British guys who came in, and between them being tipsy and their own jargon, I didn't understand what some of their needs were," Ford said.
Ford was reluctant to share her own needs, but if someone can figure them out, she'll buy them a drink.As for Walter, "at the moment… vacation. Vacation, vacation and money for vacation," he said.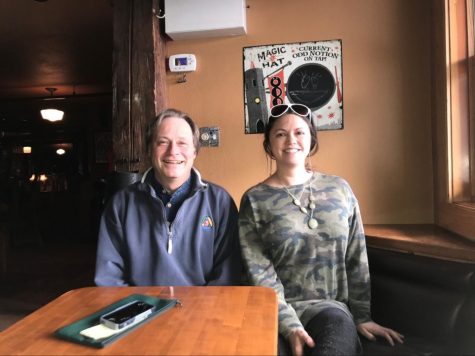 In addition to providing a space for pondering deep desires, Three Needs has another special attraction: Duff Hour.
Every Monday through Friday beginning at 4 p.m. Three Needs sells $1 pints of beer from a freshly tapped keg. Called Duff Hour, the $1 dollar beers lasts as long as the keg does.
There's a lesser-known reason behind Duff Hour's name, Walter said. When Three Needs was a smaller bar at its initial College Street location, the TV show "The Simpsons" used to come on everyday at 4 p.m., Ford said. Thus, the hour was fondly named after the fictional beer on the show.
"People would just watch while drinking the dollar draft," Ford said. "And when they were on commercial, we would play music. Otherwise, we would have the sound on the TVs cranked up and you could hear a pin drop because people would be so focused unless they were laughing."
Duff Hour was a tradition in the early days of Three Needs.
"It was much a part of the attraction as the beer honestly," Ford said.
Walter said he holds the hour near to his heart.
"People from out of town would be coming in and you'd have fifty people in a bar totally silent watching the TV," Walter said. "They were reciting the lines because they had seen the episodes so many times."
Although "The Simpsons" isn't on a constant loop at Needs anymore, the Duff Hour we've grown to love today abides by the same rules: cheap beers until the keg kicks; and there's a "Simpsons" memorabilia wall hiding behind the bar to remind us of the origins of the hour.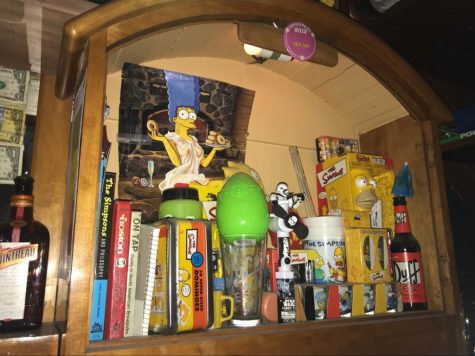 Despite all the talk of buzzing patrons, televisions blasting and roaring laughter, walking through the grand entrance of Needs felt entirely different during off-hours.
I began to notice all of the memorabilia, photographs and small details in the design and decoration of the building that I was not conscious of  before in my adventures within those great wooden walls.
It was quiet except for Ford, Walter and I chatting away at a booth near the pool table. The light was seeping through the window, creating beautiful shadows on my glass.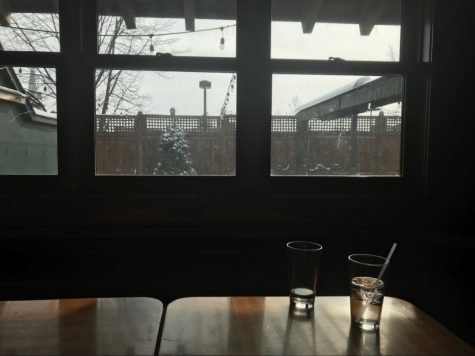 There is one last aspect that puts Needs above the rest: their homemade pizza.  It was missing during my twelve o'clock visit  – I longed for the smell of pizza wafting throughout the downstairs section of the bar.
As for the reason behind it, Walter said he wanted to give back to the community by creating an establishment that has affordable food and beverages.
"When I was in college I would always go to bars like this that have the free tacos and that's sort of how I fed myself," Walter said. "It's for the benefit for the college kids who don't have a lot of money. They come and can get two beers, a slice of pizza, and still tip for cheap."
Senior Pablo Murphy-Torres, a frequent customer of Three Needs, has only praise to offer about the Burlington establishment.
"I think Needs is just a great community spot. Sometimes in the early afternoon, I like to get a booth and spread out to do work and grab a beer or two and a slice of pizza," he said, "The university and 'townie' populations can congregate and enjoy quality pizza and beer, and that's why it's so invaluable and integral to Burlington's personality."
Senior Caroline Shea says "it's cozy and feels like you're chilling in a friend's basement but with better drinks and lighting."
In his desire to make the bar a part of the community, Walter has begun a collection of artwork patrons have drawn on pizza plates.
"This is honestly some of the best artwork I've ever seen," Walter said.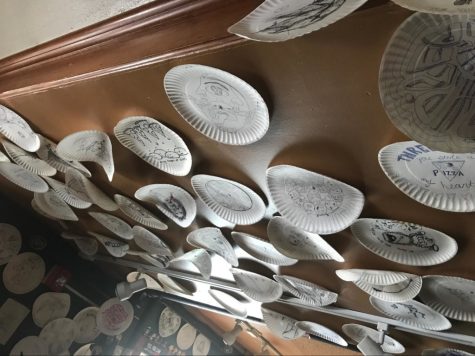 Both Walter and Ford said they love being located in a college town.
"[The college kids] keep things up and vibrant, with a lot of energy and a lot of intellect, good conversations always occur," Walter said.
Whether those conversations are truly intellectual or not, I'll have to investigate further during normal business hours. I can attest to having incredible friends who are willing to share their three most important needs.
"Frosted Flakes, Ramen, gold four loko" – Daniel B.
"Twisted Tea, sex in weird places, pop punk" – Amanda L.
"Yoga, sleeping in late, fuzzy animals" – Julia O."Mac n' Cheese, Pepcid, my phone" – Alison C.
"Humble bragging, bougie groceries, laughing at my own jokes" – Bridgette M.
"Nature, Katherine Heigel, my dog" – Garrett C.
With our ever revolving lives, Ford suggests writing your needs down so you can look back and see how  you have changed throughout your life.
Leave a Comment