English, geology, philosophy, physics and aliens
Extraterrestrial Life course takes influence from multiple disciplines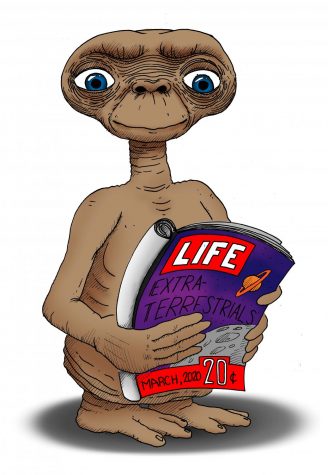 A class of nearly 240 students leaned intently towards the muffled rhythmic beating of a radio telescope recording, a radio used to
detect frequencies from extraterrestrial life. 
Geochemistry professor Nico Perdrial paused the enchanting buzzing to continue his lecture of the day: "False alerts: when we thought we made contact." 
Halfway through its first semester, the new class "Extraterrestrial Life" is a multidisciplinary exploration of aliens. Perdrial, English literature professor Sarah Alexander, physics professor Juan Vanegas and philosophy professor Michael Ashooh team up to dissect the many facets of extraterrestrial life.
Perdrial said the class was his idea. 
"[A class] related to extraterrestrial life allows us to talk about the science of other planets and the physics and chemistry of it, and bring this popular [extraterrestrial] culture out of the fog," Perdrial said. "I love it. That's the class I wanted to take when I was a student."
The goal of the class is to explore the limits of knowledge on extraterrestrial life and what it can teach us about ourselves. A diverse range of fields merge to answer one fundamental question: are we alone? 
"I think I've probably wondered about this question my entire life," Ashooh said. "Are we alone in the universe, are there other people, are they having a pandemic?" 
In an age of climate change and economic unrest, some may question the importance of understanding extraterrestrial life, a concept that quite literally seems galaxies away. 
"Understanding how we fit on the scale of the universe is a really important thing because it allows us to understand how vast everything is, whether you think about it from the perspective of a bacterium to an entire organism," Vanegas said.
Like Vanegas, Alexander finds a correlation between the curriculum she teaches and exploring new perspectives about the world around her. 
"It's a way to explore our own culture," Alexander said. "When we think and talk about aliens in fiction and film and TV, it's a way to think through how we understand ourselves, and that's important." 
"Extraterrestrial Life" aligns with the College of Arts and Science's 2018-19 call for multidisciplinary courses that combine science and humanities, Bill Falls, dean of Arts and Sciences said.
"We've been doing a lot of that thinking and communicating to try and help students and families understand that liberal arts education is absolutely relevant," Falls said. "STEM is wonderful, but it's even better when it's wrapped in the context of liberal arts education." 
The idea is to take an issue that people have inherent interest in and use it to help students understand how various liberal arts disciplines can address the same problem in many different ways, Falls said.
First-year Maggie Talty,  a global studies and anthropology major, believes the course guides students to ponder new perspectives about the world around them. 
"This class specifically is a really good way to facilitate different understandings and different ways of approaching problems,"she said. "It's something so unknown and really pushes the boundaries of our basic knowledge that we get in other classes."
Falls said the class is as valuable for the faculty as it has been for the students.
"As individuals we often think that everyone thinks the way we do, and of course, that's not the case," Vanegas said. "It is very useful and illuminating to see how people in the humanities approach topics we do in science from a very different perspective."
Perdrial also finds importance in the multidisciplinary aspect of the course. 
"We have a philosopher who is teaching about philosophy of science, and I never took a class like that when I was a kid," Perdrial said. "Now, as a scientist, I'm realizing I should have taken a class like that because now I can actually reflect about my way of doing science, which I should have done much earlier in my life."
As classes have become virtual due to the recent COVID-19 outbreak, "Extraterrestrial Life" has faced some sudden changes, Ashooh said.
"You really have to think about what kind of life people are living," Ashooh said. "Everybody's dealing with all sorts of stuff, so how well prepared or even motivated are they gonna be to engage in the online format? That's a real concern."
The class is shifting to screencast lectures on Blackboard. Though in-class discussion won't be a possibility, a 250-person lecture hall was never the setting for intimate conversation anyway, Ashooh said. 
"Online learning requires the student to meet you halfway, so I think that if the students invest, we can do a lot of good learning," Ashooh said. "It won't be like the in class experience, but it will be a valuable experience if they want it to be."