Allison, King debate for Ward 8 council seat
Two candidates debated Feb. 23 at the Davis Center in the race to represent student-populated Ward 8 in Burlington's City Council.
Democrat Hannah King '22 and Progressive Rhone Allison, a junior, participated in Thursday's debate ahead of the annual city election March 7. Topics of debate included housing and labor.
Role of City Councilors
The role of a city councilor is to work for the working class and create class consciousness, and Allison would represent workers, tenants and students, they said.
One of the main roles of a councilor is passing the annual city budget, as well as providing constituent services, King said.
Differences on Business
Allison said that while they would support labor interests, King would support business interests, citing her work at Lake Champlain Chamber, a chamber of commerce in Burlington.
"I'm not going to defend how I make a living," King said. "The chamber of commerce is not a business lobbying firm—the chamber of commerce is a nonprofit."
King said it would be important to look at fighting business interests on the council.
"I'm the labor candidate," Allison said. "When I go to City Council, I listen to the voices of organized labor."
King said that while it's important to consider everyone, business shouldn't have the most say in policy decisions.
"I do not care about business owners," Allison said.
King agreed with Allison on minimum wage and housing policy, she said.
"The main difference between me and Rhone is that I don't have to scream and shout to be listened to," King said.
Both candidates said they were in support of a $20 minimum wage in the city.
Question 7
Both candidates said they supported Question 7, which would create an "independent community control board" to review incidents and complaints related to the police department with the power to make discipline and removal decisions, according to the ward's sample ballot.
While Allison supports the initiative, the selection process for the board is indirect, they said.
The members of the oversight board would be appointed by a committee made up of seven representatives of community-based organizations, the director of racial equity, inclusion and belonging, and a city councilor, according to the sample ballot.
"I don't know why we can't elect police oversight commissioners directly," Allison said. "But, you know, it's the best we're gonna get."
King believes there are flaws in the language of the initiative, and favors local over state decision making on the charter change, she said.
Housing
Both candidates said they supported the building of high-rise residence halls on Trinity campus. A rezoning plan proposed by UVM would increase the maximum building height on Trinity from 35 feet to 80 feet, according to the plan.
King plans to address "exclusionary" zoning policies in the city rooted in racism, she said.
"Right now, the city council and UVM are in this 'will they, won't they,' with Trinity campus," she said. "We absolutely need to hold UVM accountable, and we also need to hold the city and the state accountable for the role that they played in the housing crisis."
Allison said they would try to pressure UVM into increasing the voluntary payments the University makes to the city in lieu of taxes. They also mentioned City Council not allowing discussion on Trinity zoning changes.
"Well, you might not be allowed to talk about it on City Council, but I will be talking about it off City Council, everywhere I go, because we need to build high-rises there because we are running out of space," Allison said.
Candidates' ties to UVM
Allison is a junior at UVM. King, a former UVM student, ran unsuccessfully for the seat in 2022 against Progressive Ali House, according to city election results.
Burlington's Ward 8 encompasses parts of UVM's Athletic and Redstone campuses, as well as an area north of Main Street and east of South Winooski Avenue, according to the city ward map.
House resigned from the council October 2022, according to an Oct. 5, 2022 VTDigger article, leaving Ward 8's city councilor seat vacant, according to the city's website. 
For sample ballots, polling locations and more information for the March 7 election, visit the city's election website.
About the Writer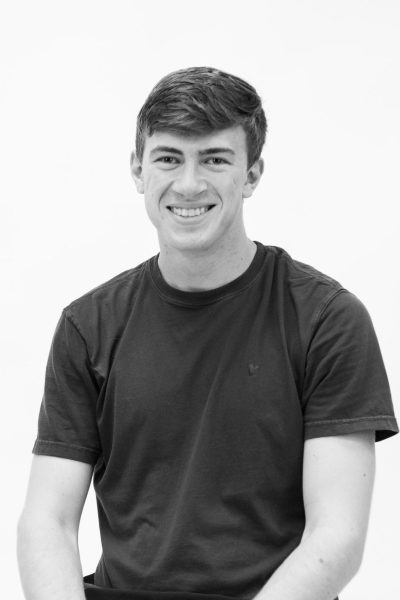 Andrew Gould, News Editor
(He/him)

Andrew Gould is a sophomore mechanical engineering major from Springfield, VT. He started at the Cynic as a news reporter. In high school,...