Black Student Union celebrates blackness in annual fashion show
Lights, camera, fashion: black pride hits the stage at UVM to top off celebrating Black History Month.
During a night full of fashion, music and spoken word, the Black Student Union Fashion show topped off Black History Month by celebrating black pride at UVM.
The Black Student Union's annual fashion show took place Feb. 25. This year's show, "Black Orgasm," was a celebration of Black beauty.
"Black orgasm is about a feeling. It's not about a physical thing. It's about a feeling that you get," said senior Rob Parris, former president of BSU and creative director for the 2017 fashion show.
In the past, any student could participate as a model. This year, for the first time in the show's history, the models were all students of color.
"The fashion show has always just been a way for students — students all over campus, but especially students of color — to feel included, to feel beautiful, to see themselves represented," Parris said.
Ivonne Headley, current BSU president, stressed the importance of having all models of color representing the community.
"Being at a predominately white institution can sometimes be draining, so we really wanted to focus on representing positive images of ourselves as students of color," she said.
According to BSU, this year was the first show which included all designer-made clothing, as opposed to shopping around Burlington retail establishments in search of appropriate pieces.
"AtariaNYC," a company based out of New York City, presented a collection that blended West African culture with American, European and Asian clothing styles. It aims to create pride in global culture through their designs, according to its website.
"Our entire product offering utilizes African fabric made in Africa," said Chinasa Nwokocha, CEO and president of the company."We utilize African fabrics to bring our art to life."
The company's main base of production is located in Queens, N.Y. and has an additional studio in Nigeria.
Models wore clothes that stated "Don't kill our dreams."
Another jacket had the words "Black Panthers." First-year model Manza Campez raised his fist in solidarity with Black Lives Matter while walking down the runway.  
"Mario&Lee," a company based out of Brooklyn, N.Y.,  got on board with the show through the recommendation of Nwokocha and made direct references to black pride and its historical roots through the collection.
"BSU helps me because they bring me back home," said sophomore Daniel Whyte, first-time model and Jamaica native. "It reminds me of where I came from, which is a very comforting feeling for me."
Whyte experienced a different adjustment, coming from Jamaica, where the country is completely integrated, to a predominately white university, Whyte said.
First-year models Ariel Tubbs and Kalsang Dolkar shared their experiences in the show and with BSU.
"Our BSU is holding a fashion show that defies white-focused standards of beauty," Dolkar said.
Tubbs said the show allows others to see the "other side" of UVM that isn't always so prevalent in everyday University life.
"Black pride for me means being a voice, and using my platform as a designer to speak the universal language of fashion to uplift our people," Lionel Nichols, one of the show's designers, said.
In addition to showcasing clothing, the evening also exposed the audience to music that celebrated African identity, such as Nigerian artists like Mr. Easy and Malik Berry.
"A lot of people do keep up with mainstream black artists, but there are a couple of other artists who people don't know about," Headley said.
Models strutted their stuff to the beats of African tunes, R&B, hip-hop and soul, but the evening also included a rap performance featuring juniors Nkosi Edwards and Max McCurdy.
The show drew so many students that chairs had to be added to the Grand Maple Ballroom to accommodate the size.
Manny Duran, a student at Middlebury College, said BSU's fashion show is an event that many colleges, Middlebury included, don't do for Black History Month.
In order to prepare for the show, Headley contacted designers in November and finalized the contract around the beginning of the new year.
BSU spent more than a semester working out the show in their minds and thinking about how to make it come to life, Headley said.
"I'm so happy with the turnout," she said. "No words can describe my feeling right now."
Disclaimer: Max McCurdy is a Cynic staff member.
Leave a Comment
About the Contributors
Healy Fallon, Oddities Editor
Healy Fallon has been writing for the Cynic since the fall of 2016. When not writing for the Cynic, Healy is probably listening to Kate Bush in the woods,...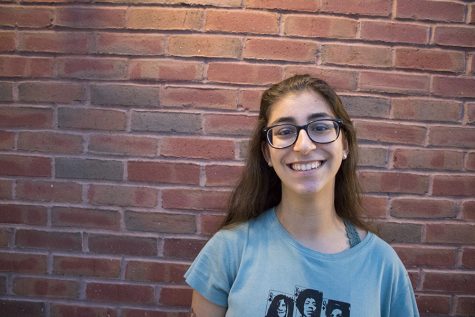 Chloe Chaobal, Podcast Editor
Chloe Chaobal is the podcast editor of the Vermont Cynic. She joined the Cynic as a news writer in her first semester of UVM. She also created "Cat Chat",...