Course And Textbook Descriptions To Be Avaliable Before Registration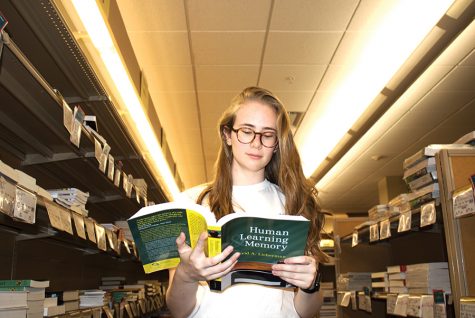 Alek Fleury
Students will have access to detailed course and textbook information before registering for classes this semester.
The faculty contract was updated this summer and now requires professors to provide an extended course description with information about textbooks two weeks before course registration, said junior Jamie Benson, chair of the SGA academic affairs committee.
Last spring, SGA passed the legislation that asked for language be added to the faculty contract that requires professors to provide course information before registration, he said.
The purpose of the policy change is to make it easier for students to gain access to information and to help them make better decisions when choosing their courses, Benson said.
"Historically at UVM, there's been a bit of a disconnect between the information that students really should have available and what's been provided at the time of course registration," Benson said.
A problem that Benson and other students have found is that it's difficult for students to find detailed information about courses when figuring out what classes they want to take, he said.
"I know for myself, most of the time all I have is the title of the course, and if I'm lucky maybe a one sentence description of what it will generally be about," Benson said.
SGA has been working with faculty, University registrar and the UVM Bookstore to work out the best system for getting course and textbook information out to students, he said.
"It's an evolving conversation," Benson said. "I would say that by the end of the fall semester, in time for course registration, we'll have an idea of where we stand right now in terms of the information that's accessible to students and where we need to go."
The previous faculty contract had language encouraging professors to provide expanded course descriptions, but it wasn't mandated, said Bill Falls, dean of the College of Arts and Sciences.
The issue for faculty is that they often make changes to how they've structured a course between registration and the start of classes, bringing into question whether the new mandate removes that flexibility, Falls said.
"If I have a faculty member say [they're] going to use this book, ISBN such and such, in March, are they precluded from changing their textbook [over the summer] now that they've communicated it, or can they go ahead and update that expanded course description during the summer to use a new textbook in the fall?" he said.
Professors often view their syllabuses as their intellectual property — especially when a course is based on their research, so there are some concerns that information could leak the more public it becomes, Falls said.
"In our field, we're concerned about how our ideas are referenced and acknowledged," he said. "I think the concern around that is not so much that other people would steal the ideas, but more that in doing research and doing scholarship your ideas evolve."
Though it's a good thing that students want more information, there are better ways for students to figure out their courses than using syllabuses, like talking to other students or going to office hours, said professor Tom Streeter, president of United Academics, the faculty union.
"Chatting someone up is also an excellent way to kinda get a feel for what a professor is like and whether you as a student can find something that's worthwhile to you in that professor's course," Streeter said.