New president marks beginning of an era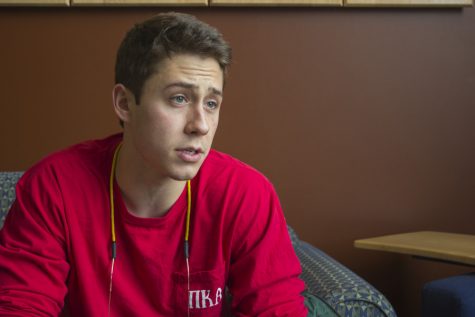 Junior Chris Petrillo took off his baseball cap and pushed up the sleeves of the longsleeve shirt bearing the Pi Kappa Alpha fraternity logo as he sat down.
Petrillo leaned forward on the couch located in the back corner of the SGA office, placing his elbows on his knees, avoiding looking at the camera with apparent discomfort.
"If I had known there was going to be a photographer, I would have dressed up," Petrillo said with a laugh.
Petrillo, a Williston native, wore shorts and sunglasses on a 30 degree day in March.
UVM is part of his family: both Petrillo's father and sister attended the University, and his mother is a professor, he said.
Last week, Petrillo was elected president of the UVM student body.
"I distinctly remember being a kid in some of my mom's classes and all her students would look at me funny because I was a five year old playing with legos in the corner," he said with a smile.
Petrillo left Vermont after graduating high school for Johns Hopkins University in Baltimore, Maryland, he said. Two years later, Petrillo transferred to UVM.
Since then, he has been working as an EMT at the Williston Fire Department and said his time there has helped him understand the state of mind and feelings of people at their worst.
"You don't call 911 on a bad day," Petrillo said. "You call 911 on your worst day."
The position had also taught him to be patient, to communicate effectively and cultivated an aptitude for empathy within him, all of which are skills that will come in handy as president.
Improving student health services is his first priority once he gets into office and he aims to shorten wait periods for mental health consultations, Petrillo said.
"Mental health is something that is incredibly serious and something that you want to address as soon as possible," he said.
Current SGA President Jason Maulucci said he is confident in Petrillo's abilities and has no concerns leaving the administration in his hands.
"He's got all the right ideas, the right platform, the drive, the motivation and he essentially does have SGA experience because we've been meeting weekly since December," Maulucci said.
Petrillo had never been an SGA senator. After deciding to run in January, he began working with Maulucci to prepare, he said.
SGA Sen. Zachariah Merson said he is not concerned that Petrillo is an outsider to SGA.
"My biggest concern with the president is whether or not they can clearly formulate goals and are open to input from senators which he has shown he can do in the debate," Merson said.
Some students who supported Chris' opponent, Junior Niko Wu, are disappointed by the outcome of the election, including senior Matthew Segil.
"Knowing Niko's character, I know he would have given his all to the presidency," Segil said. "Considering this, I am disappointed he lost."
However, Segil said Wu's support for both Chris and his running mate, junior Nicole Woodcock, following their victory speaks volumes about the new administration's character.  
Petrillo said he hopes to continue projects the previous administration have begun, such as bringing back reading days, supporting the movement to bring back varsity baseball and the SafeRide program.
He looks forward to his time in office to be able to give back to the University that has given so much to him, Petrillo said.
Leave a Comment