Senator elected to Vice Presidency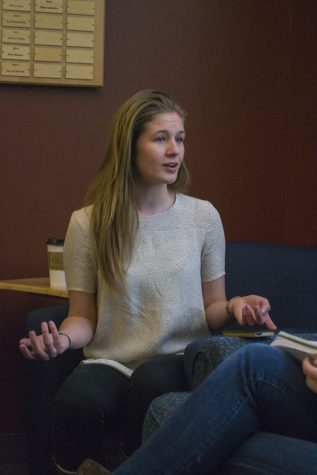 Junior Nicole Woodcock waved to one of her fellow senators before sitting down in an armchair tucked in a back corner of the SGA office. From her time on senate, she knows everyone in this office.
Woodcock will serve as SGA vice president for the upcoming year. She said her road to engagement didn't just happen her overnight, and her experience getting here will propel her in her new role.
"I didn't come here and just immediately blossom into this really engaged person," she said. "I was really struggling to find a place, and I know that if I didn't have the encouraging people in my life to keep me going that things would have been so much different.'"
Not all students know where to go or who to talk to when they first get to UVM, and that is an important resource she wants to provide in her role as SGA vice president, Woodcock said.
Woodcock grew up in Barre, Vermont. Attending UVM as a Vermonter,  she is closer to home than a lot of her out-of-state classmates, she said.
"I had this moment where I felt very lucky to feel safe where I am, and I know that a lot of people don't have that here," she said.
Woodcock has been serving on the Committee for Academic Affairs and is looking forward to being able to continue working with SGA senators in her role, she said.
Woodcock's fellow senators, including first-year Jamie Benson, are excited to see her take on the role of SGA vice president.
"Having worked extensively with Nicole, I know that she has the drive and ability to serve the student body and guide the development of new initiatives for the Senate," Benson said. "Nicole is a consistently kind, genuine and reliable presence both in and out of the office."
Woodcock's responsibilities will include ensuring senator's  health and wellbeing and creating the academic calendar group. Her role is to be the internal manager of senate.
Incoming president, Chris Petrillo, will work with more external matters, she said.
"Chris is more external, but I feel very passionate about a lot of the projects, so it's going to be a real team effort," Woodcock said.
Current SGA President Jason Maulucci is confident in Petrillo and Woodcock's ability to lead the student body, he said.
"I think they're going to be a fantastic team with the perfect balance of fresh perspectives and institutional knowledge," Maulucci said.
The current Senate and executive board have set a very high standard for her time in office, Woodcock said.
"I know that if I want to do something, it's going to need to follow through," she said.
Woodcock's goals for her time in office are to uphold the atmosphere of productivity, openness and communication that Maulucci and current Vice President Tyler Davis have set during their time here, while also reaching out more to other clubs and organizations.