UVM basketball programs both go dancing for second time in school history
The UVM women's and men's basketball teams made historic appearances in the NCAA Tournament, according to Jeff Schulman, director of athletics. 
2023 marks just the second time in UVM athletics history in which both the women's and men's teams have made it to the NCAA Tournament in the same season, and the women's first tournament appearance since 2010, according to a March 14 Burlington Free Press article.
"We're incredibly proud of both these teams and our student athletes and our coaches and the staff that support them," Schulman said. "It was a really special season at Patrick Gym."
Schulman said the dual tournament appearances are a milestone accomplishment not just for the teams, but for the UVM community as a whole. 
"I think it's really special, certainly for the athletic department, but really for the whole University and the state of Vermont, to have both men's and women's basketball win conference championships and have the opportunity to compete on a national stage in March Madness," he said.
Schulman said he attributes the teams' success in the postseason to the hard work of players and coaching staff.
"It's just a real credit to our student athletes and our coaches and staff to have that kind of success and just to see the way it galvanized the community," he said. "To have back-to-back, sell-out, packed championship games within 24 hours of each other is really, really amazing and special."
The 15-seeded UVM women's team lost to 2-seed University of Connecticut 90-52 in the first round of the NCAA tournament. 
Women's head coach Alisa Kresge said that despite their loss, appearing in the tournament was a remarkable experience for the players.
"To see this group who've dreamt of it work so hard to get there is just so special, a lot of players can't even get to that opportunity," she said. "Our goal was really to give this back to the community who has given so much to our players and our program over many years." 
Kresge, who was the women's team's interim head coach before being promoted to head coach in 2019, said the current senior class cultivated a team-first mentality that propelled them to their first NCAA tournament in 13 years. 
"It just felt like we were going to get it back at some point," she said. "I think it was pretty special that it was within five years, and that's a credit to our senior class that bought in early, committed to an interim coach […] and changed a culture that was kind of used to losing there for a minute." 
Kresge said her team's hard work was critical to their success, but that it was also a testament to the growing environment of athletic success in the women's program.
"This group worked harder than any group I've seen here under us," she said. "That comes with a winning culture. It comes with really being passionate about what you do and [a] not-wanting-to-let-your-teammates-down kind of mentality."
Being in the locker room with the team after their loss to UConn is a moment she will long remember, Kresge said. 
"When you're in the thick of it, you don't really take a step back because you're always worried about the next thing you have to do," she said. "I took a second to realize [not only that] this group is incredible on the core, but [also] how much fun they've been to be around and how special this group was."
Kresge said winning non-conference games during next year's regular season is critical for replicating the kind of success her team had this season, but another focus is moving up in the tournament's seeding to give themselves a better chance to upset. 
"How can we put ourselves in a chance to maybe be a 14-seed or a 13-seed," she said. "There's not many 15 or 16 seeds that upset a first or a second seed in the women's game, especially now going to home sites."
Schulman said he attributes the women's team's success in part to Kresge's talent. 
"She and her staff have done a great job of developing our players and really establishing a championship culture, which can be really difficult," he said. "I think that program is poised to continue to elevate our competitive success and to continue to compete at the top of America East and on a national level."
Sophomore guard Catherine Gilwee said in a March 18 press conference that her squad's regular and postseason success speaks to their resilience and grit as a team. 
"I'm just so proud of this team and the UVM program as a whole," she said. "The fact that we were able to bounce back and go on such a long win streak just shows what we're made of."
Senior guard Emma Utterback said in the same press conference that she recognizes the significance of their season and that she believes their success will continue.
"I think this is a historical group with a bunch of special girls," she said. "A lot of people in our community are now big UVM women's basketball fans. We made that happen. We brought the Madness back to Burlington, and we're going to keep bringing that back."
On the men's side, 15-seeded Vermont lost to 2-seed Marquette University 78-61 in the first round of the NCAA Tournament. 
This year's tournament marks the ninth-ever appearance by the men's team, after having last made the cut in 2022, according to a March 14 Burlington Free Press article.
Men's head coach John Becker, who has now coached UVM to five NCAA tournament appearances, said the excitement of playing in March Madness never wears off. 
"For me, every year is really exciting," he said. "For those players that are experiencing it for the first time this year, I'm really happy for them."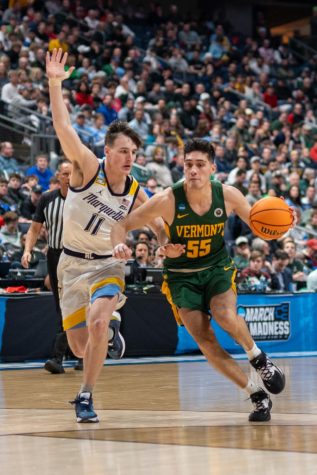 Becker said the crowd atmosphere during the game against Marquette was especially memorable.
"I was impressed with the crowd," he said. "I mean, every seat was sold out. It was just an electric atmosphere, you could feel the energy."
Appearing in March Madness also aids recruiting efforts and the growth of the basketball programs, Schulman said.   
"Student athletes are drawn to our program because they want to compete for a championship and they want an opportunity to go to March Madness," Schulman said. "That's one of the many benefits of the success we've had."
Schulman said the basketball programs' success speaks to the environment of the entire athletic department and how it plans to grow. 
"This is a championship culture here and there are high expectations," he said. "That's what we've been able to instill in the men's program over many years and it's fantastic to see the same thing happening now on the women's side."
Becker said that while there is no monetary reward for just appearing in March Madness, doing so gives UVM important exposure. 
"Being in the NCAA tournament is synonymous with winning, obviously, which makes your university a great place to be, so I think there's a huge admissions benefit to it," he said. 
Becker said that while UVM cannot provide the amenities other Division I programs can, its postseason success makes it an appealing destination for potential recruits.
"We don't have nice facilities here, we're in a remote location," he said. "But if you want to win, we have a proven track record of that."
Fifth-year guard Dylan Penn, who transferred to Vermont from Bellarmine University with his last year of eligibility in hopes of making the tournament, said in a March 17 press conference that he was grateful for the opportunity despite losing to Marquette. 
"Although the result wasn't what we wanted, it was still a blessing to get here," he said. "I'm just thankful for all the memories and connections I made. College is one of the most special times of your life. And I'm glad I was able to play basketball at a high level and do it with great friends and make some lifelong bonds."