UVM men's hockey coach to retire at end of season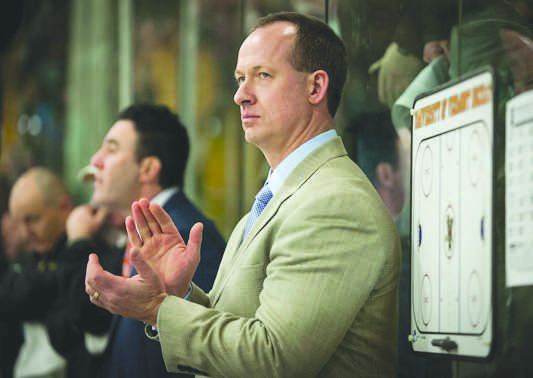 UVM athletics announced that men's hockey head coach Kevin Sneddon is retiring after this season.
Sneddon announced he will not be returning for the 2020-21 season Feb. 4 at a media press conference.
"The decision to retire from college hockey coaching and announce this now has been a difficult one, but I truly believe it is in the best interest of the program," Sneddon said.
In his 17 years at UVM, Sneddon's teams have had six seasons with a winning record in conference play. He coached the team to the Frozen Four in the 2008-09 season.
Additionally, his team had three NCAA appearances, according to UVM athletics.
"I know you join me in wishing [Sneddon] well both personally and professionally as he moves on from UVM," said athletic director Jeff Schulman in a letter to the UVM hockey community.
UVM men's hockey assistant coach Jeff Hill took to Twitter to say his goodbyes and express his gratitude to Sneddon. As a graduate from 2008, Hill played for Sneddon, according to UVM athletics.
"Can't thank Kevin Sneddon enough for all he's done for this program & for opportunities he's given me as a player & coach. One of the best people I know who deserves nothing but the best for his future," Hill's tweet stated.
Hall also tweeted about Sneddon's retirement. "Can't thank Kevin Sneddon enough for everything over the last 10 years working with @UVMmhockey. From an intern in 2009 who asked way too many questions on the bus to today it's been an honor [to] help tell the stories of his student-athletes," the tweet stated.
Sneddon said, "I will continue to love, care and teach our student-athletes daily and compete with everything I have for the remainder of this season," according to Hall.
The men's hockey team has nine regular season games remaining, with their next game scheduled for Feb. 7 at the University of New Hampshire, according to UVM athletics.