Collective work drives divestment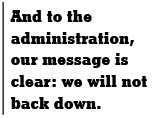 By Sara Klimek '21
In a recent Cynic article, UVM's newest leader of sustainability, Richard Cate, said UVM was not planning to divest from fossil fuels under President Suresh Garimella's administration.
Cate's reasoning? The same "drop-in-the-bucket" argument we've heard from our political leaders and past UVM administrations alike.
Initially, I was surprised that a school that claims itself to be one of the "Greenest in America" would still be funding environmentally and socially exploitative fossil fuel industries.
Surely, a school that boasts about its Leaders in Energy and Environmental Design certified buildings and composting during campus tours would mention how UVM's institutional commitment to global change extends far beyond the reaches of Burlington?
From the beginning, we, as students and stewards of global citizenship, have called for transparency and action from institutions, only to be met with roadblocks from powerful leaders who are concerned with making green, and not the environmental kind.
Despite the sinking feeling in my stomach after reading Cate's recommendation for students to "transition towards bikes" to reduce UVM's carbon impact, I have new hope in the student body.
The Rally for Climate action, led by SGA President and senior Jillian Scannell, and subsequent climate rally in front of Burlington's City Hall only a few weeks ago shows what can be possible with collective action.
Our lives, and the life of the planet, are dependent on our ability to educate, rally and raise our voices against injustice and inaction.
Although Garimella's administration can afford to stay quiet, we cannot.
And to the administration, our message is clear: we will not back down.