Engage to fight back against hateful speech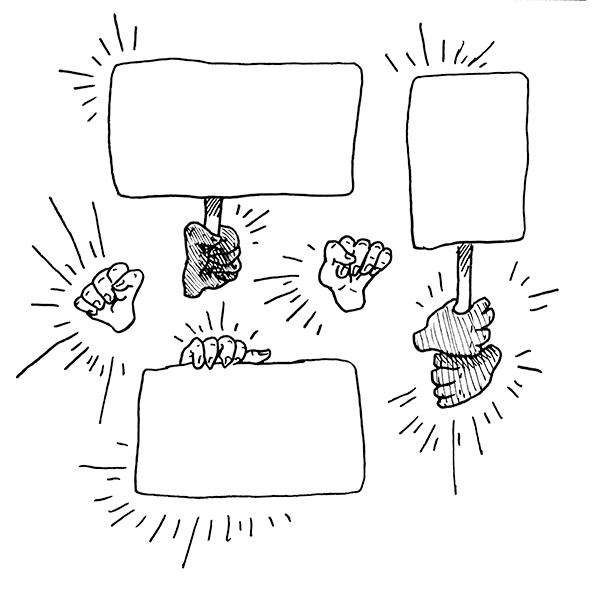 It was a crisp, fall day on UVM's campus. It was hard to ignore the crowd starting to form in front of the Davis Center.
On Oct. 1 from 12:30 p.m. to 3 p.m., a preacher spewed racist, misogynistic and homophobic statements on Andrew Harris Commons.
The man was identified as Keith Darrell, who is part of a radical Evangelical Christian group, Whitefield Fellowship, that travels around the country to preach to college students.
This wasn't about expressing what he believed in. Darrell was attacking students and harming those who are a part of marginalized groups.
Student leaders from Queer Student Action, Bread and Roses Collective, Student Arab Association, Womxn of Color Collation, SGA and others led counterprotests to steer people's attention away from Darrell.
Andrew Harris Commons, where Darrell was standing, is a public venue under UVM's solicitation policy.
The UVM solicitation policy states UVM will support and protect freedoms of speech, expression, petition, peaceable assembly and association.
Technically, Darrell was on a free speech area on campus, although a lot of what he was expressing to the public completely goes against UVM's Common Ground.
On Oct. 2, SGA President Jillian Scannell, a senior, stood in the same place as the preacher. She reminded students of UVM's policy that speech can only be restricted when it poses a clear and present danger, urging students to counterprotest.
These remarks pose a clear and present danger to our students. Darrell was not educating the community, but attacking students with homophobic and racist remarks. He made our campus unsafe.
According to Our Common Ground, UVM rejects all forms of racism, bigotry and oppression of members of our community.
We need action, whether from UVM Police Services, President Suresh Garimella or the UVM administration as a whole.
If they truly care about the safety of students, they would take steps to prevent such a hateful person from coming onto our campus.
If this happens in the future, they should remove Darrell from campus, or even better, have him banned. The issue here is hate speech. This should not be tolerated.
On Aug. 27, stickers that read, "Keep America American" and "Better Dead than Red" expressed messages of white supremacy. In an email from UVM Police, the administration condemned these messages.
"The police do not protect people, they protect the law. And in this case, they were protecting Darrell's freedom of speech. This man invoked violence and nothing was done," said senior Carter Shapiro, an organizer for NoNames for Justice and Queer Student Action.
We as students need to get involved to prevent this hate from occurring on our campus in the future.
Stage a counterprotest. Don't allow yourself and others to listen to these detrimental messages. Drown hateful messages out with music, with your voice.
Show your support for student groups such as Queer Student Action, Black Student Union, Explain the Asterisk and NoNames for Justice.
Exercise civil disobedience. Speak out against injustices. Speak up against hateful preachers like Darrell. Never stay silent.