UVM is destined to close over COVID-19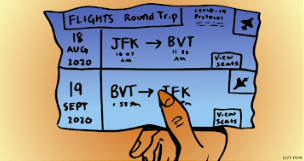 UVM's reopening policy in the face of the coronavirus pandemic puts money before anything else.
In a July 2 email to all students, Provost Patricia Prelock said that all on-campus students would be required to participate in coronavirus testing twice a week for the entire fall semester.
Since then, UVM has scaled back that testing policy. According to UVM's reopening website, the university will test students once a week for three weeks, until Sept. 18. The website does not specify why the policy was changed, or how often or whether students will be tested after that point.
I wondered at first why UVM chose to only test students until a specific date. 
Then I remembered that Sept. 18 just so happens to be the last date on which students can withdraw from classes, meaning the last date on which students can leave the university for the semester without paying full tuition.
First-year and sophomore students are still expected to live in residence halls on campus. 
When students are expected to stay inside their dorm rooms unless leaving for class or the dining hall, it is a recipe for disaster.
It is also not reasonable to expect that all students will follow social distancing guidelines. We have already seen local evidence of this.
On Aug. 21, Burlington Police fined a UVM student $100 for hosting a party with over 75 guests in the Old North End, according to an Aug. 22 WCAX article.
For some UVM students, a $100 fine is simply a fee they can afford instead of another reason not to throw parties during a global pandemic.
The coronavirus has taken less than three weeks to spread at universities that have already opened.
Two days before Garimella's press conference, the University of North Carolina at Chapel Hill shut its campus down due to a spike in coronavirus cases during its first week of on-campus classes, according to an August 18 CNN article.
UVM students and community members have taken notice of the danger UVM's current plan poses, and taken action to oppose it.
According to the August 18 Cynic article, UVM's Union of Students sent a letter to UVM administrators on August 17 criticizing UVM's current policy in detail and outlining a list of demands to ensure student safety and well-being.
However, UVM's only response to this letter so far was a vague reference to "uncertainty… anxiety and fear" during Garimella's press conference.
The university is on a crash course to create another coronavirus outbreak in Burlington, and their actions to this point have shown they don't care at all.
It's genuinely cruel of this administration to keep students on campus until after the withdrawal deadline, putting families in even more student loan debt and worse financial situations and exposing students, staff, and faculty to coronavirus, just to ensure that they get as much money as they can out of this semester.
UVM, put your greed aside and shut down campus before it's too late.