UVM athletics acts on drug prevention
Hang on for a minute...we're trying to find some more stories you might like.
In college sports, athletes strive to perform at the highest level possible. Performance-enhancing drugs exist, but UVM has resources to prevent their use.
UVM employs several strategies to prevent athletes from using performance-enhancing drugs,  as well as alcohol and recreational drugs.
UVM Team Physician Dr. Matt Lunser said the University employs a program that is based on one-on-one conversations with athletes, and also uses the Behavior Around Substance Use in College Students.
The BASICS program is designed to help students explore alcohol and drug use in a supportive and non-shaming environment.
The program not only helps athletes, but also is available to all UVM students at no cost, according to UVM's website.
"BASICS is run by Tom Fontana at the Center for Student Health and Wellbeing," Lunser said. "He does a couple different things, like meeting with teams on an individual basis."
The program offers a range of information, including personalized blood alcohol content, according to a February 2018 Cynic article.
University groups including varsity sports and Fraternity and Sorority Life are required to follow the BASICS program, according to a February 2018 Cynic article.  
Lunser said that he feels the program is well-received.
"It gets people thinking about why we're doing the things we're doing, and how do we compare to other universities?" he said.
But to junior Stina Sickmueller, club field hockey captain, BASICS may fall short of getting the whole truth, she said.
"Honestly, I think it's a good approach, but when it comes to this stuff you'll never get the whole truth," she said. "It's a tough topic that people aren't comfortable talking about because there's so much risk associated with sharing."
Sickmueller said that the University has a lot of information sessions and that as president, she needs to know all of the University drug and alcohol policies.  
Athletic Director Jeff Schulman said he feels that BASICS has been successful.
"It's effective to have a conversation," he said. "[Student-athletes] are eager to have an impact."
BASICS received an award for program of the year for 2017, according to a February 2018 Cynic article.
Sickmueller said it is more difficult because the program is student-run.
"It's harder to make it serious because it's your peer, not an adult," she said. "Fitness is not a big thing, you aren't trying to outcompete people."
Schulman said that these conversations have expanded over the years.
"These strategies have been in place for about 25 years, but they are constantly being updated and altered to stay relevant," he said.
Lunser said that all athletes fill out a questionnaire regarding drug use, alcohol use and mental health in September before starting their respective programs.
"If flagged positive, we  follow up," he said. "If athletes need and are open to making changes, then we can get them to the right services early."
Although these strategies don't prevent drug and alcohol use, the University trusts its athletes, Schulman said.
"We aren't naive to the fact that drug and alcohol use does happen," he said. "We trust that when we give our athletes information, they use it to be more responsible students and more responsible athletes."
About the Writer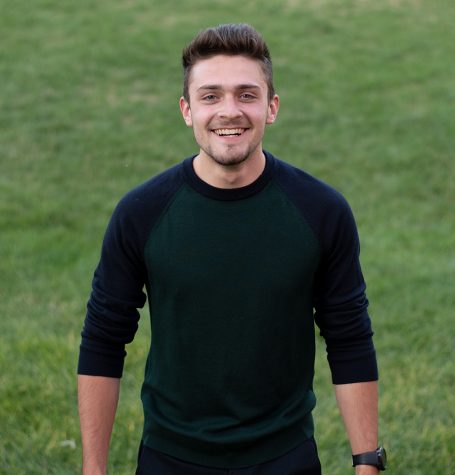 Stephan Toljan, Photo Editor
Stephan Toljan is a sophomore English and Spanish major. Before being elected the Photography Section editor, Stephan was a sports reporter and photographer....