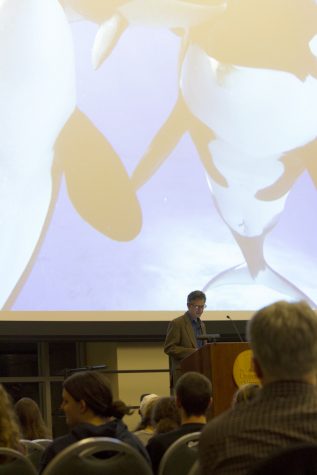 Writer shows bleak view of SeaWorld" />
November 17, 2015

Filed under Campus Life, Life
"I am impressed," Tim Zimmermann said. "This is the biggest audience I've seen for a 'Blackfish' talk."UVM students and community members came together to hear Zimmermann, co-producer and writer of the 2013 documentary Blackfish, speak Nov. 11 in the Grand Maple Ballroom.Zimmermann's present...
October 13, 2015

Filed under Campus Life, Life
"We are counting on you," said former vice president Al Gore to Vermont residents, the fifth-graders from the Sustainability Academy and UVM students in the Ira Allen Chapel Oct. 6.Gore's lecture, "The Climate Crisis and The Case for Hope," was a part of UVM's Energy Action Seminar Series. "When someone as historically and politically relevant as Al Gore is g...