Art Hop fashion show displays local designers' work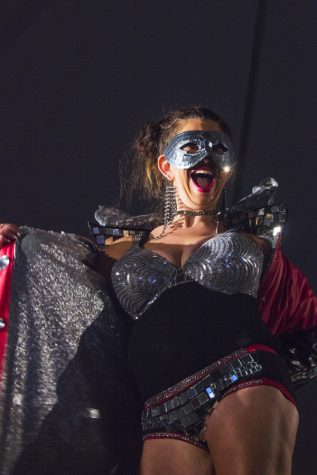 On Saturday, models traipsed down a gleaming runway to the DJ's beat as cameras flashed and spectators swooned.
The glamorous, high-energy atmosphere could have been found in any fashion capital– New York, Paris, Milan. But this was no typical fashion week show: this was STRUT!
STRUT! is a fashion show put on during the South End's annual Art Hop. This was STRUT's 13th year and was organized by the show's director, Gina Tron.
Tron worked for several months to coordinate everything to create the best show possible, she said.
The wide variety of styles, textures and models at this year's STRUT! reflected the inclusive and eclectic diversity of the Burlington fashion scene.
The show featured 13 collections made by 15 local designers of various ages. Some of the designers are high schoolers with plans to develop their portfolios in order to get into a fashion school, Tron said.
Senior Zoe Crane made sleek, abstract art-inspired garments. She taught herself to sew from YouTube videos.
"
"It's all about our community, showing real people wearing real clothes and having fun with it."
— Gina Tron
Many of the other high schoolers' designs looked like clothing UVM students wear on campus: sophisticated blazers, trendy off-the-shoulder tops and high-waisted denim skirts.
Other STRUT! designers have careers in fields unrelated to fashion and create their collections in their spare time.
Lillian Dean works as a speech pathologist at a local high school and has participated in STRUT! for two years.
"It took me a few months to put together this collection because I love to hand sew," Dean said. "I make thematic, high concept collaged costumes you wouldn't really find on the street."
She said that her designs are for sale and that she also makes garments upon request.
Some models wore the whimsical designs of Katarina Lisaius, who works in education for Bernie Sanders. Her designs were decked out in pom poms, bright colors and tutus, and were accompanied by a parade of bubbles.
There were also several other established designers, such as hat maker David Melech and menswear designer Lee Cornell, whose pieces are sold in local boutiques and online.
Tove Ohlander, the designer behind a brand called T by Dem, assisted the Burlington High School men's soccer team in creating a line in memory of one of their teammates who passed away this summer.
Their touching designs and on-stage backflips had the crowd on their feet applauding.
From haute couture gowns to ready-to-wear outfits to menswear, the show featured a diverse set of styles and body shapes.
"We're not trying to compete with New York Fashion Week at all," Tron said. "Pretty much everyone can be a model, there are no gender or size limitations."
Young girls, teenagers, adults, soccer players and a dog were just a few of the models who strutted down the catwalk with their heads held high.
Each model strutted to upbeat music, applause and cheering from the audience. Most models grinned as they walked.
"It's all about our community, showing real people wearing real clothes and having fun with it," Tron said.