Community curates annual art show
This year, hundreds of artists will congregate in the South End of Burlington for the 24th year in a row to display their artwork and promote their businesses during the South End Art Hop.
The event, which occurs annually, will last Sept. 9 to 11.
This year's Art Hop will feature attractions including the STRUT! Fashion Show, in which local fashion designers showcase their work, as well as an artist market where vendors can sell their creations.
Art Hop sets itself apart from other Burlington events because it's not only free, but also is beneficial to the community said South End Arts and Business Association executive director, Adam Brooks.
"Visitors get to see what happens down here, find that unique studio and get connected to creativity," Brooks said. "Residents love the fact that Art Hop brings the vibe that makes living in the South End unique and improves quality of life."
Although Art Hop serves to unite the Burlington community and draw visitors who may not be locals to the South End, it also provides an opportunity for artists to come together and celebrate each other's work.
Sage Tucker-Ketcham, an artist and teacher who serves as executive director of the Shelburne Craft School, said she looks forward to seeing her "art family" at this year's event.
"[It's] a great time to see old friends and celebrate what we do: art," Tucker-Ketcham said. "Art Hop is a ton of work for artists to participate in and prepare for, so the actual event is like 'phew, now let's enjoy all the hard work we have done.'"
Over 30,000 visitors attend the event each year according to the Art Hop website. However, it wasn't always such a popular attraction, Brooks said.
The first Art Hop took place 1992, he said, and "there were only about fifteen studios and businesses that participated with about 200 attendees on that Friday night."
SEABA and Community Economic Development Organization gradually occupied the then-vacant South End, Brooks said. "Companies like Lake Champlain Chocolates, Conant Metal & Light and others began to make things and their businesses started to grow," he said.
The event creates an opportunity for discussion and different perspectives in which all can participate, Photographer and Art Hop volunteer Sarah McGarghan, who received last year's People's Choice Award for the juried portion of Art Hop, said
"I feel that art really forms a connection, something that everyone can enjoy, contemplate, and discuss," McGarghan said, " it doesn't create barriers and actually can break them down."
"Everyone can stand side by side and discuss art, regardless of race, creed or color," she said.
About the Writer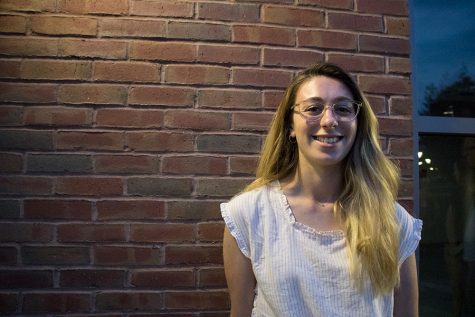 Greta Bjornson, Editor-in-Chief
Greta is a senior majoring in English with a concentration in writing and a minor in art. She joined the Cynic as a first-year after transferring to UVM...