Crowds fill the gym to hear Ta-Nehisi Coates
In the middle of the Patrick Gym tennis courts, a college drop-out stood in front of a crowd of thousands.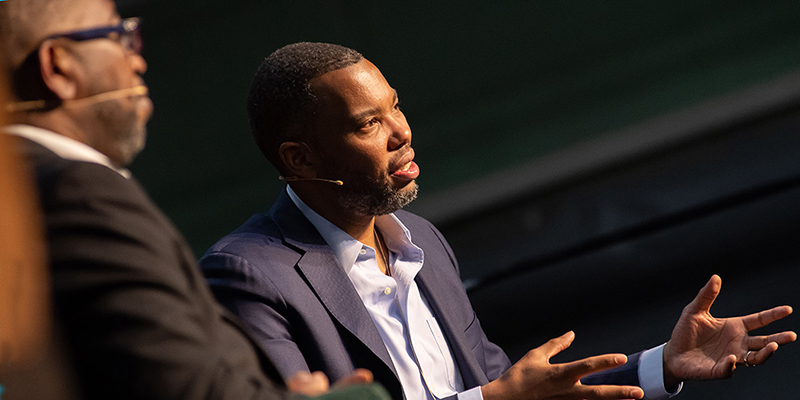 UVM brought Ta-Nehisi Coates to campus Nov. 6 as the speaker for the first-year read. Coates was asked questions by English Professor and poet Major Jackson. 
Coates' novel, "Between the World and Me," was the book selected for the incoming first-years to read before arriving at UVM. Written in the format of a letter to Coates' son, the book tackles issues like racism and the construction of race.

Coates is a correspondent for The Atlantic and a professor of journalism at New York University. He won the National Book Award in 2015 for "Between the World and Me."
Despite all of his success, Coates never actually finished his undergraduate studies at Howard University.
"I try to get them to call me Ta-Nehisi," Coates said about his students at NYU. "I didn't make it through Howard, and I don't do the whole 'professor' thing."
History Professor Abigail McGowan was part of the selection committee that chose to assign Coates' book.
"The process started in February 2017, and it was long and thorough," McGowan said. "We look for something that can speak to students no matter what college they're in."
Coates' book was chosen because of its relevance and ability to start a conversation about difficult issues, McGowen said.
"In the discussion about this book, there were several things that were striking," McGowan said. "It's beautifully written. It's a stunning example of how you can deal with complicated, difficult issues in ways that words matter."
Honors College Interim Dean Lisa Schnell also added that the book was chosen before student protests took place on campus. Last spring, hundreds of students protested socail justice issues on campus.
"The book had actually been taught in D1 classes for awhile," Schnell said. "All of us on the [First-year Read] committee really love it, and we decided on it in winter 2017."
Coates' talk focused on the ideas he had written about in his novel, such as the treatment of students of color in schools and the fear present in African American communities.
"It's a book about fear," Coates said. "There was a lot of talk about anger when people talked about African American communities, but they forget about fear."
Sophomore Sarah Obimba thought that the discussion that Coates delivered was much needed.
"It made me realize just how systematic the inner city really is," Obimba said. "I never knew kids in predominantly white schools weren't as policed."
In addition to discussing his book, Coates imparted advice about how he manages his growing fame and how he protects himself from those that want to tear him down.
"I stay off of Twitter," Coates said. He laughed. "It became really important to control what was coming. Some things are worthless. Sometimes people are obviously lying. My mind is too sacred to me to subject it to that."
First-year Genevieve Rossi said she loved the book.
"When he was speaking, I could tell all of these things really affected him," she said. "It really expanded my own world view."
After the conclusion of Coates' talk, the crowd gave a standing ovation once more.
"He is a voice of a generation," McGowan said. "He, as a public intellectual, has been incredibly powerful and speaks to the power of ideas."