FallFest brings students and music together
The last time the Patrick Gym was as filled with cheering crowds was during last spring's March Madness tournament.
But this Saturday, instead of erupting after a three-pointer, the crowd of students in the center roared for the strum of a guitar.
FallFest, UVM Program Board's annual first semester concert, took place at 8 p.m. Oct. 14.
"We sold out before the doors opened," sophomore Taylor Magda, a UPB concert committee chairs, said.
By 8:30 p.m, over 1,000 students were already inside Patrick Gym, she said. Students arrived wearing flannels tied around their waists, and boots perfect for dancing.
Seventeen UPB volunteers were on site along with UVM police and rescue services, Magda said.
Before running off to one of her many tasks of the night, Magda took a moment to praise Kudu Stooge, the UVM band that was the first group to take the the stage.
"They just crushed it," she said.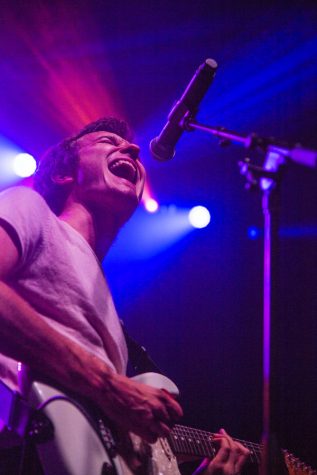 The band of five upperclassmen played several bluesy songs that got the crowd warmed up.
Vundabar was the next opener of the night. Brandon Hagen, the lead singer, played guitar while Drew McDonald rocked the drums and Grayson Kirtland the bass.
Their plain t-shirts glowed under the bright, colored lights. All three band members howled and growled into the microphone between songs.
Vundabar's music was hard-core rock and caused several students to toss their hair and conjure air guitars.
Junior Kevin Wu said this was his second FallFest experience.
"I came last year and knew it would be fun again," he said.
Finally, at 10 p.m, the headliner, Oliver Lee of Snakehips, bounced onto the stage to the beat of the crowd's enthusiastic whoops and hollers.
Not a singer himself, Lee brought to the stage the voices of other artists. From behind his Mac computer, he remixed the lyrics of Rihanna, Sam Smith, Nicki Minaj and others.
His remix of Chance the Rapper's "All Night" had students singing along to every word.
"UVM, you are f–king cool as hell," Lee said towards the end of his set.
Snakehips played track after track of vibrating, bass-dropping electronic rhythms.
"We came for Snakehips," junior Carrie Weisheit said, gesturing to herself and her friend. "I've been a fan for two years now."
But for other students, the musical acts didn't live up to the hype.
"I had a really fun time with my friends, but overall the vibes just weren't all there," sophomore Erin Richmond said.
FallFest ended after more than three hours, leaving students to walk back with their hips still moving.