'Lady Bits' brings practicality to punk
Look no further for your new favorite collection of headbangers. 
Lady Bits, a Brooklyn-based, femme-punk, trio, released their latest album in Dec. 2020. Written and recorded over the past year, "Lose the Thread" is purely electrifying and a must-listen for all punks. 
Lady Bits is made up of lead vocalist and guitarist, Krishanti Daryanani, drummer and backup vocalist, Adriana Torres, and on the driving bass and vocals is one of UVM's own, Emma Sklar '10. 
The current incarnation of Lady Bits was formed by pure luck and a little bit of New York City magic.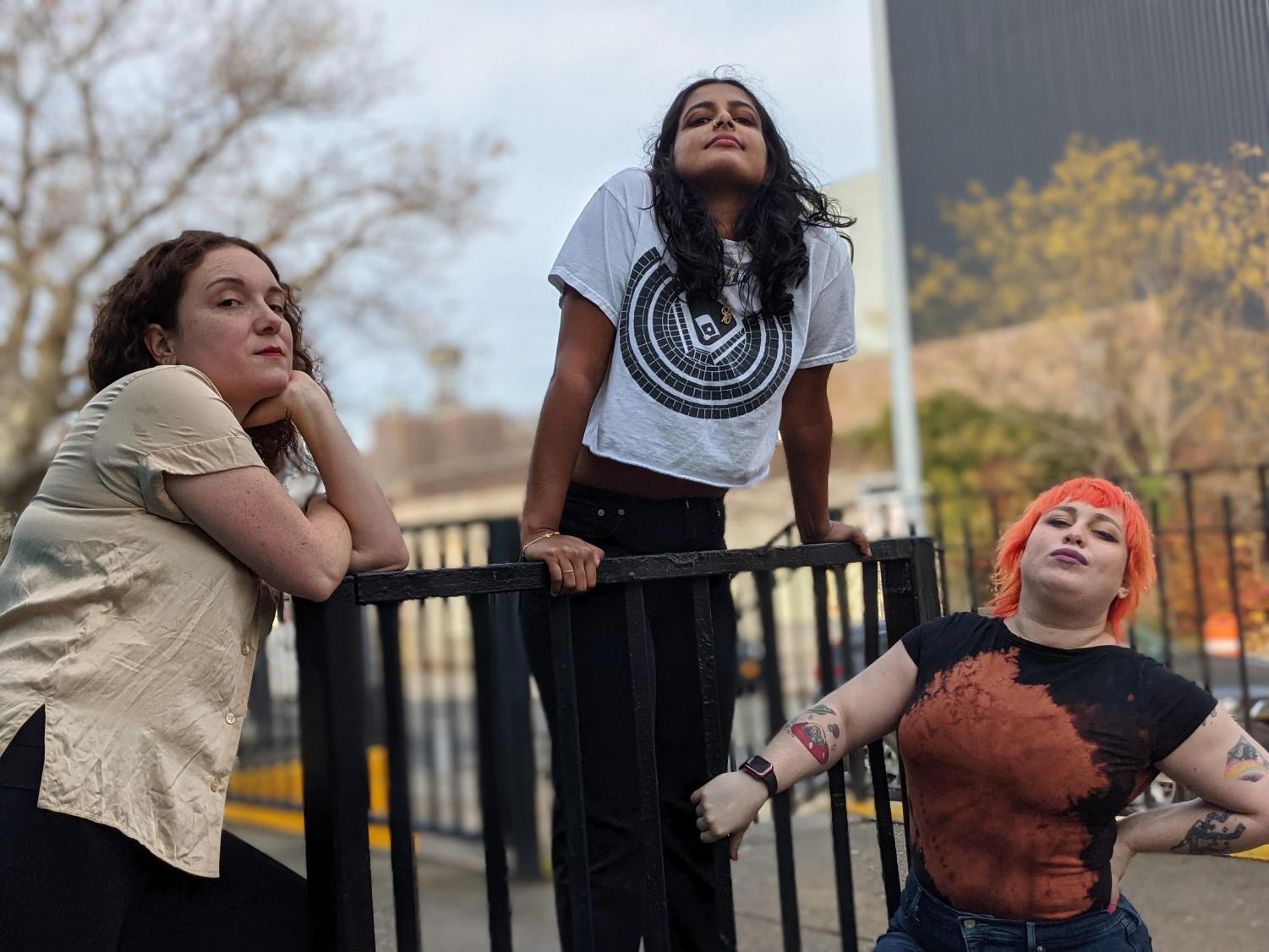 In 2017 while waiting for the L train at the Jefferson stop in Bushwick, Daryanani spotted a "girl with curly red hair and drumsticks sticking out of her tote bag," she said. 
Daryanani happened to be looking for a drummer and Torres, the girl with curly red hair, had been taking lessons for the past year and was ready to take the next step in her percussional journey. 
"I was to the point where I knew the basics but I felt like taking lessons just wasn't enough any more… the stars totally aligned, it really felt like fate," Torres said. 
That same magic led Sklar to Lady Bits in 2018. 
Sklar was trolling Craigslist for a band to join and discovered Lady Bits' listing for a bassist. 
Perhaps putting a bit too much trust in a Craigslist post with "Lady Bits" in the title, she reached out.
"I saw their post and all of their influences that were listed, they were bands I really like, and I was like, 'Oh I really like this,'" Sklar said. 
Thankfully, fate brought her to a Lady Bits rehearsal, not the black market. And so it was, Sklar brought her jazzy bass edge and the femme-fatale trio was complete. 
Despite their playful and empowering sound, the members of Lady Bits consider themselves to be a special type of punk. 
"Our uniting thing is that we are all kind of type-A punks," Daryanani said. 
The femmes created this unofficial moniker to describe their responsible punk lifestyle, and even though they may have early bedtimes and respond to emails faster than some professors, their punk-ness lives in the music. 
The band is heavily influenced by Riot Grrrl and other punk and post-punk artists including Sleater-Kinney, The Coathangers, Savages and Priests. 
Yet, the beauty of Lady Bits is not their lush and evocative sound, but their musical journeys. The lax music scene in Brooklyn supports even the bands that aren't looking for fame, and this allowed the bandmates to jump into the world of musical exploration with little pressure.
The femmes channel their creative energy through their love of music and performing while juggling full-time jobs, a lifestyle that they said is completely supported by the Brooklyn community.  
Sklar said the band falls into "the DIY ethos of bands who live and play…people are just living their lives."
Raised by a professional musician (Bruce Sklar for any '90s funk fans out there, keyboardist for Pure Pressure and the Grippo Funk Band), Sklar played electric bass in her middle school jazz band. 
"I ended up going to a high school that didn't have a music program and I held onto my bass through high school and college," she said. 
During her time at UVM, Sklar majored in English and minored in music, both of which were influences. 
"Most of my classes that were up to me were in writing," she said. "That sense of self-expression is the common thread between having been an English major and writer and just running with that and then making music the more primary creative outlet for me."
After moving to New York City, Sklar found herself heavily inspired by the Brooklyn music scene.
 "My favorite thing about the city was going to live shows and watching people get up there and do it," she said. 
Her desire to get back into music finally came to a head, which led her to Lady Bits. 
"Part of the reason why this band has been such a life-changing experience was that I did always struggle with the feeling of like 'well, I'm not going to be the best or I don't have mastery over this so I don't really deserve to take up space,'" Sklar said. 
The self-expression that was fostered through her education combined with her musical talent has allowed Sklar to absolutely flourish. Coupled with her zesty bass riffs and jazzy vocals, Sklar hit her stride when she took a chance. 
She had to find the courage to "take that step to say I belong on stage and I have something to say and people are going to want to listen," Sklar said. 
Daryanani has been playing guitar since middle school, and like most tween-agers, wanted to do her own thing.
"I took guitar lessons for a year, and then I was like, 'I don't wanna learn classical shit, I wanna learn how to play punk,'" Daryanini said. "I started a band in high school with a few girls I was friends with. We were very into Riot Grrrl." 
It has been seven years now since the inception of Lady Bits. 
"It has been various iterations with different band members, but there's definitely a heavy femme focus," Daryanani said. 
But they're not just a femme punk band playing loud music; they are inspiring younger generations, namely women of color, to take up space in a male-dominated genre. 
"If I had grown up seeing more brown women on stage, I probably would have made more of an effort to play music," Daryanani said. 
Her and the band's current efforts are truly making waves in the music scene. 
"Brown women and girls come up to me after shows and be like 'I've never seen that before, that really inspires me to try to do something like that.." 
Lady Bits started recording their album in February of 2020. When the COVID-19 pandemic hit, the recording process was put on pause.
"We moved into a new practice space in February, and it was a really great space with good vibes and we were like 'yeah, this is our new home…'" Torres said. "I didn't even go to the practice space even though it was right by my house for months because I felt so creatively zapped." 
With instrumental tracks and lyrics left to mellow for eight months, the trio found it interesting to revisit those songs and lay lyrics on top. 
"We put down vocals after having listened to those songs over and over again and really analyzing what they meant… it sounded a lot different than we originally intended because of the time we had to reflect on our sound" said Daryanani. 
When discussing their new record "Lose the Thread," it is no mistake that the femmes have transcended traditional punk and moved towards a truly self-expressionistic sound. 
The album's concept explores time and how it passes in different ways, an ethos that was uncovered and analyzed because of the pandemic. 
"Some of our songs are about mood, but also the lyrics are meant to evoke experiences that people can relate to," said Sklar. 
The opening track "Plastic Furniture" recounts a lazy summer evening and all the drippy nostalgia that accompanies those memories. 
"Color of Time" is a transportation into a powerful dream state with groovy undertones and is complemented by the jarring, intense instrumentals and smooth vocals of "Look Out." 
"C'mon Baby" is about how sharp and oppressive heartbreak is when you are experiencing it, but is juxtaposed with "New," an eerily beautiful story of perseverance. 
The result is a dynamic, energizing album that has a piece of each of their souls. 
"I want listeners to feel energized because any given song has a specific emotion that it's supposed to convey," Sklar said. "Any song that hits the part of your brain that wakes you up and sparks some recognition that makes you feel creative or feel like you want to do something."
If any advice is to be taken from the femmes, it is to just do it. 
"Fuck what everyone thinks, even yourself sometimes," Daryanani said. 
"Lose the Thread" is available on Spotify, Apple Music and the Lady Bits Bandcamp. 
Follow their Instagram at @ladybitsband and check them out on their website, ladybitsband.com