Local poets inspire students to experience UVM arts
First year Keira Subanas said her world opened up when she attended the reading. 
The evening of Sept.12, the Painted Word Poetry Series was hosted in Fleming Museum. The event featured two published poets: Burlington native Sue Burton and former UVM student Sara London.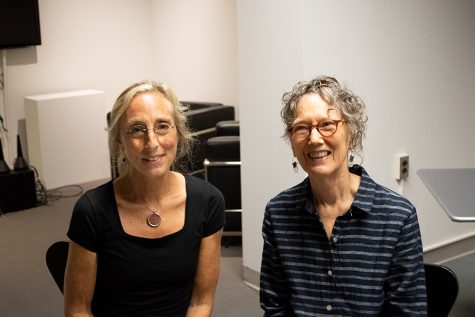 "I never really thought something like this would be so accessible to me," Subanas said. "I really like how my professors encourage us to get involved in these things." 
Subanas said that she has always had an interest in poetry and is excited to dive deeper through similar events offered by UVM.
Both authors read from their books at the event. 
Burton's collection of poems, "Box,"   won the Two Sylvias Press Poetry Prize and is a finalist for the Foreword INDIES award for best poetry book of 2018. 
London has two published poetry collections. "The Tyranny of Milk" published in 2010 and just this month, "Upkeep." She is also a creative writing and poetry professor at Smith College.
Junior Andrea Smith was in attendance as part of professor Major Jackson's advanced writing and poetry class.  She said she enjoyed hearing the author's read their poetry after reading both of their respective books. 
"Being in a poetry class and being someone who wants to pursue that and have it be my life, it was really inspirational to see people who have made it their life," Smith said.  
In hopes of inspiring students like Smith and conveying that anything is possible, Burton shared her past experience with the Vermont Women's Health Center. 
Though she has an MFA in writing from Vermont College, she spent 25 years as a physicians assistant through an apprenticeship training, Burton said.
"It was the era that people believed that they could do anything and anyone could learn to do anything and I still believe it today," Burton said.
Both poets shared brief explanations of how their backgrounds and experiences have shaped and fueled their writing.
"I tend to write a lot about personal experiences and my transformation through those," Burton said. "As I have different life experiences, the thing that makes the most sense to me to process them is imagery and poetry."
When presented with the question of why she chose poetry as her form of writing, London shared her a similar relationship with the genre. 
"The very intent focus on language, and sound, and rhythm, and meter and voice; all of those things have appealed to my senses and imagination and given me access to expressing myself in a way that no former genres have allowed me to do," she said. 
Burton's had  words of advice for those looking to follow in her footsteps.
"Just keep at it. If you are continually writing, even if it is short pieces, just keep putting it out there. Your world will open up," she said.  
For all aspiring poets, especially students, London had a final piece of wisdom for their journeys through the world of writing. 
"I think it's important to understand that with creative work there are hills and valleys that you experience. Don't be discouraged," London said. "Have perseverance about it. Be bold and brave and enjoy the pleasures and successes."