Muslim girls use spoken word to tell story
Four girls stand at four microphones. Even though they are only 16 years old, their voices and words reverberate with power.
Hawa Adam, Kiran Waqar, Lena Ginawi and Balkisa Abdikadir make up the poetry group Muslim Girls Making Change.
MGMC was formed in March 2016 when Adam asked her friends to join her in entering the Brave New Voices slam poetry competition.
After winning at Vermont's Young Writers Project, MGMC was selected to represent the state at Brave New Voices in July, Adam said.
"We wrote our first poem in just one week," Adam said.
The poem, "Wake Up, America," asks Americans to change how they see and treat Muslims, she said.
"Wake Up, America" is their trademark piece, their coach Rajnii Eddins said.
As a coach, Eddins helped the group with their choreography, public speaking and writing, he said.
"Their poetry is unifying for all human beings, and especially resonant with today's political concerns," he said.
Since Brave New Voices, MGMC has had to balance being full-time high school students and performing their poetry across Vermont, they said.
"Performing was scary at first," Abdikadir said. "We used to forget our lines, but as time goes on, it's become easier. It helps to pull out the emotions I felt when I first wrote the poem."
MGMC's poetry is sometimes written collaboratively, other times individually, Ginawi said.
"I write when I'm emotional," Ginawi said. "When I'm angry or upset, the words come out in a stream, and I have to go back and organize them later."
MGMC performed at the Women's March in Montpelier Jan. 21.
"All of us agree that it was our favorite performance ever," Adam said. "It was the exact platform we needed to share our work."
"We chose not to talk about politics, but rather to share our experiences," Adam said.
For example, their poem "Hijab 101" attempts to educate listeners on why the girls wear the traditional garment. Their poem "Women's Roles" challenges the idea that women can only perform domestic duties, they said.
"The beauty of poetry is that people can't interrupt or argue with you," Ginawi said. "With poetry, people don't have a choice but to listen."
"They are strong, compassionate young women," Susie Merrick, the Healthy Schools Coordinator at South Burlington High School, said. "They have ignited my own activism and my life is better because they are in it."
MGMC is performing at 3:30-6:30 p.m. Feb. 9 in the Grand Maple Ballroom of the Davis Center. Admission is free.
"Hear us. Know us," Adam said. "Learn what we deal with on a daily basis. That's all we ask."
Leave a Comment
About the Writer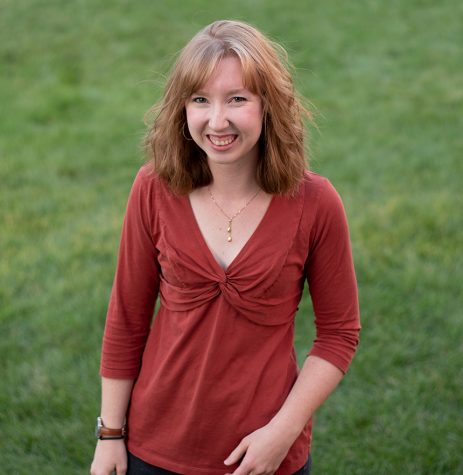 Bridget Higdon, Editor-in-Chief
Bridget Higdon is a senior English major from Sparta, New Jersey. Before becoming Editor-in-Chief, Bridget was a staff writer, the Assistant Arts Editor...