New Kendrick Lamar album is DAMN-good
The self proclaimed king of both the east and west coast is back with a brand new album.
Kendrick Lamar, the Grammy award winning rapper from Compton, California released his 4th studio album entitled "DAMN." on April 14th. He is also the man behind previous albums "Good Kid M.A.A.D. City" and "To Pimp A Butterfly."
Lamar released two singles in anticipation of the album, the first of which was the "Heart Part IV." Lamar has released a single entitled "The Heart Part (whatever number album is about to be released)" before each of his new albums signifying that the album is on it's way.
The second single was "HUMBLE" which quickly reached number two on The Billboard Hot 100 making it Lamar's highest charting single yet, according to the Billboard website.
The album itself has been highly anticipated from fans and students alike after Lamar's previous record "To Pimp A Butterfly" received praise from multiple sources across the music industry ranging from Pitchfork.com rating it a 9.3/10 to Rolling Stone magazine calling it "a masterpiece of fiery outrage, deep jazz and ruthless self-critique."
First year Isaac Grossner said that "I'm a big fan of Kendrick and I've been looking forward to his new album for a while now," first year Isaac Grossner said. "When 'HUMBLE' dropped I knew it was going to be solid and my anticipation just grew even more."
"DAMN." differs from Lamar's previous works, though, as he chooses to look further into the life he lives than he ever has before. Lamar uses his signature storytelling skills over much of this album to simultaneously discuss the complexities of being a popular artist and to depict various scenes that connect back to his life and the way in which he lives it.
Lamar chooses to do this by covering broad and heavy topics or emotions on tracks such as "LOVE" "GOD" "BLOOD" and "FEAR". He make his emphasis on each of these topics very clear by allowing each topic to be the namesake of the track that covers it.
From a musical standpoint "DAMN." also stands out by drawing heavily from the music of the nineties.
"I always feel the need to approach it in the aspect where I'm not only thinking about right now, this record has to live and teach the same way Talib, the same way Jay, the same Common, the same way Ice Cube taught us back in '91," Lamar said when asked to compare "DAMN." to To Pimp A Butterfly in a recent interview. "I went back fifteen years later and I've learned from it."
"DAMN." has been extremely successful for Lamar charting at number one on the Billboard 200 list and selling to date around 610,000 equivalent album units, according to the Billboard website.
Leave a Comment
About the Contributor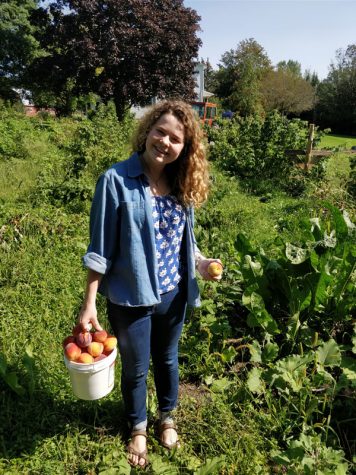 Genevieve Winn, Illustrations Editor
Genevieve has been illustrating for the Cynic since Fall 2016 and became the Illustrations Editor in Fall 2017. She also loves to write, but spends most...