"Norman Fucking Rockwell" sets this autumn's mood
Look no further for the complement to your full-stop fall melancholy. 
On her sixth studio album "Norman Fucking Rockwell," Lana Del Rey is born again from the ashes of reckless abandonment and offers a meditation on her life through stripped down production, gentle piano and guitar driven melodies.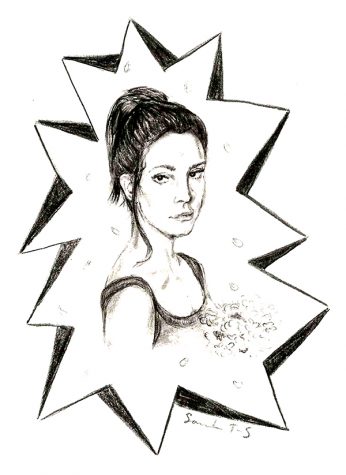 On "NFR," Del Rey maintains her trademark pensive demure while switching up production styles and using it to claim space and time, persistantly reasserting a harmony she strikes between themes of self-actualization and the "fuck it" attitude that defines the record.
Tracks like "Venice Bitch," drop into a psychedelic interlude with reflective late-summer blues, whereas "Cinnamon Girl" churns out the essence of cool and mystery that Del Rey seems to bleed.
Amid the lulling tonality of "NFR," we witness Del Rey lean casually yet ardently into her own dominance both personal and professional.
On title track "Norman fucking Rockwell," Del Rey opens the record by mocking, as she puts it, the "self-loathing poet" that her earlier works sometimes saw her pine for. 
And on "Love song," a gloomy piano lullaby, she doesn't concede to her partner and defends her self worth. 
Singing "In your car, I'm a star and I'm burning / Through you." And on "The Next Best American Record," she crafts an ode to her own merits as a poetic songwriter.
In the title of "NFR," she reclaims the identity of the American artist and forges it in her own image. Who could care about Norman Rockwell when we have "Norman Fucking Rockwell"?
On closing track "hope is a dangerous thing for a woman like me to have – but I have it," Del Rey flips the coin, spelling out the fear, pain and risk that comes with being a creative woman. "I've been tearing around in my fucking nightgown/24/7 Sylvia Plath/Writing in blood on your walls," she sings.
Although she serves the audience a healthy slice of poetic justice on her own behalf, Del Rey seamlessly blends those triumphant assertions with a familiar theme: romance. 
The appeals to love and intimacy give the work an underlying empathy for its subjects and glistens it with a distinct sense of hope. On "Mariners Apartment Complex," she tells us flat out "You can see my heart burning in the distance." 
Each track on the record flows evenly into the next, dispelling any threat that pressing shuffle may pose to the more casual listener. 
Even on track five, a cover of Sublime's "Doin' Time," Del Rey's stone cold performance makes it an anthem all her own with a distinct "NFR" sound.
"NFR" reminds us that even for the boldest and brightest among us, old habits die hard. It renders the comforts of homecoming and at the same time, the violent instinct to bolt the other way. 
"Norman Fucking Rockwell" centers Lana Del Rey as the true canary in the coal mine of pop. Del Ray deserves a genre distinction all her own when considering the dreamy, post-rock American storytelling that she proves herself a master of on this record. 
"NFR" is a triumphant capstone to Del Rey's early discography and is required fall listening for anyone who has a heart and lived half a life.