Poet reads and reminisces at Fleming event
Light chatter echoed in the marble halls of the Fleming Museum as audience members trickled in, but the sound diminished as the rhythm of poetry filled the room.
Both UVM students and Burlington residents came to see Matt Miller perform his original poetry as part of the Painted Word Poetry Series at 6 p.m on April 22.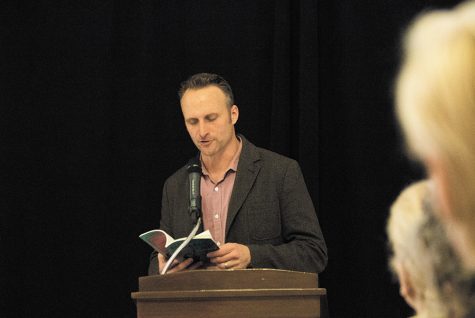 The four rows of identical white chairs set up at the bottom of the staircase were half full.
His poetry strayed from a traditional rhyming scheme and was reminiscent of a stream of consciousness, set apart by the distinct beat of his words.
Matt Miller has published several works such as "Club Icarus" and "Cameo Diner: Poems" and has appeared in various journals. He also had a fellowship at Stanford University for poetry.
The Painted Word Poetry series was organized by the English department. Some classes offered extra credit or required attendance at the event.
Sophomore Cameron Marrelli came for her creative writing class.
"I have no idea what to expect. I haven't read any of his work," Marrelli said.
Miller stood at the podium where he read from his book of poems "Club Icarus" in a clear, passionate voice.  His work covers a variety of topics from family to coping with life struggles.
Miller described childhood and adolescence in a lighthearted way in his poem "Tuggin," where he explained the experience of being dragged through the snow by a pick-up truck after a winter storm.
His work showed his progression from adolescence to adulthood.
Miller's poetry came mostly from a parent's perspective. He spoke about the horror of losing a child, the need to protect your kids and the happiness of parenting. Gun violence and tragedies like the Sandy Hook shooting affected him deeply, he said.
Before reading a poem, Miller offered context, allowing for a unique look into the meaning of the work.  
At one point, Miller read a poem about his mother and began with a comment that got a chuckle from the audience members, particularly from older women.
"A lot of my poems are about moms. Moms don't get enough credit," he said.
Miller's work can be found on his website, along with books that are available for purchase.