Senior curates art event to showcase black creatives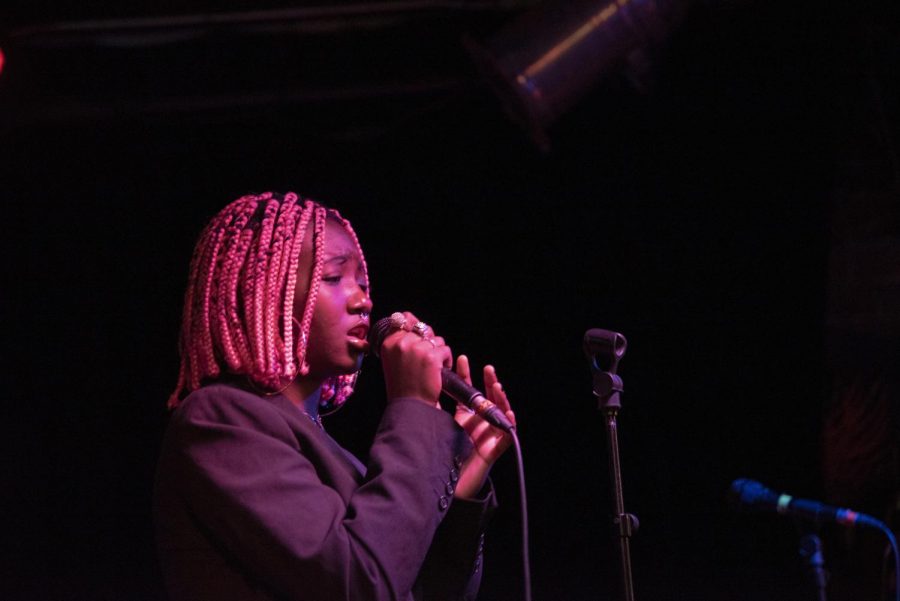 Booming notes of energetic hip-hop mixed with R&B rhythm echoes from Nectar's each week.
Every Thursday night, Burlington bar and music venue, Nectar's, hosts an event called First Taste. 
It is an artist curated event that showcases live performance, visual art and $2 PBRs. 
For the month of February, senior Ivana Djiya was asked by Nectar's to put together the event.
She decided to pursue the opportunity and use it as a way to deliver a greater message.  
"I wanted to give black artists and performers a platform to showcase their art and display their talent," Djiya said. Djiya said she chose February specifically because it is Black History Month. 
The event showcases only black artists and performers in honor of this, she said.
A musician herself, Djiya took the stage and performed music she wrote. 
She describes her style as alternative blues. 
Miyel Brown, 2019 Champlain College graduate, displayed her deconstructed clothing collection. 
Pursuing her passion for fashion and creativity, she recycles old teddy bears into festival wear style tops. 
Brown said she thought it was important that so many alternative black artists share their work in one shared space. 
"Our art may not be accepted in a lot of shows," Brown said. "It's not typically what people think about when they think of art but it is cool to express your own creative capacity in a different way." 
Burlington resident Charlie Mayne, who goes by the stage name Chyse, was a recurring performer for this month's events. 
Growing up in Los Angeles surrounded by musical influences, Chyse said he recognizes the power of music. He incorporates a fusion of styles ranging from R&B, acapella and hip-hop. 
After the release of his new album Feb. 17, Chyse has one overarching goal: to save the world. 
"You have to have people's attention and the only way to get people's attention is to be in a position to grab people's attention," Chyse said. "Once I start getting out there I want to use that in a way to make change, a lot of things are backwards nowadays." 
Contemporary hip-hop artist and Champlain junior Ben Martin, whose stage name is Cyrus performed at the event as well.
He saw this event as a way to usher in change at a local level. 
He said the Burlington community is vocal about supporting cultural diversity, but Martin sees a gap in the support when it comes to being supported as artists. 
"I hope that this event inspires more people in Burlington and beyond Burlington to feel more power in expressing themselves authentically,"  Martin said. "Having this platform to be heard without conforming to the expectations of other people will help." 
The turnout and feedback from the community was overwhelmingly positive. 
For Djiya, this caused a realization that she wanted to pursue similar work and use it to benefit others. 
"I want to help artists who may be feeling a little nervous about showcasing their work," Djiya said. "Every artist is unique and that is important to share."