Theater department opens fall season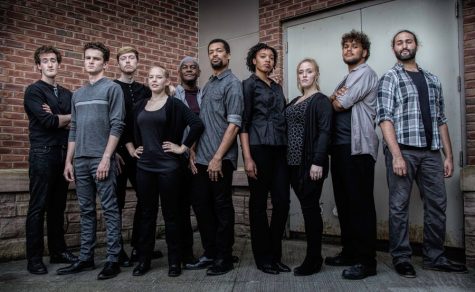 "The Exonerated," is a play telling the true story of six people wrongfully convicted of crimes and sentenced to death before the were found innocent.
"The Exonerated" will run from Wednesday, Oct. 4 to Sunday, Oct. 8, with performances at 7:30 p.m. from Wednesday to Saturday and two additional matinees on Saturday and Sunday at 2 p.m.
The play is directed by Gregory Ramos, a professor and chair of the UVM theater department. The play stars eight UVM students and two additional actors, Randall Harp, a UVM professor of philosophy and Jolie Garrett, an actor from New York City.
"The theater department wants to use theater not only as entertainment but as a means of looking at the world we live in today," Ramos said.
"The Exonerated" uses fictional dialogue as well as transcripts from the real legal proceedings of the six subjects of the play.
It is done in a style of theater called documentary theater, which the journal American Theatre describes as "performance typically built by an individual or collective of artists from historical and/or archival materials."
"We're less actors in this show than storytellers," said Jolie Garrett, a member of the cast and actor from New York City, referring to the play's departure from traditional theatrical realism. "I am just trying to be a vessel," he said.
The play includes material about sexual violence and murder and provides commentary on the American justice system from the perspective of the people within it.
"I had an experience myself," Garrett said, referring to an incident he had with a police officer who went through his bags.
It was an illegal search and seizure," Garrett said. "It was very humiliating and insulting. There was a black guy in a car, so it must be something illegal."
"This happens every day," he said. "This is how what happens in the play happens. A lot of these characters had nothing to do with these crimes."
To supplement the performances there will be talk-backs or discussions with the cast and audience afterwards on Thursday and Friday.
On Thursday, the talk-back will be moderated by Randall Harp, professor of philosophy, as well as a guest actor; and on Friday by Associate Dean Kathryn Fox of the UVM sociology department.
On Friday there will be a talk prior to the performance at 4 p.m. with Ashley Lucas, a professor at the University of Michigan and a playwright who has written about the experiences of inmates and their families as part of the university's own Burack Lecture Series.
Tickets are $10 for students, $22 for adults, and $19 for seniors, faculty and staff, and non-UVM students. The Royall Tyler Theatre box office is open Tuesday to Friday from 11 a.m. to 4 p.m.