Student Life has new leadership
The office was bathed in sunlight. A house plant and tea pot sat on the window sill.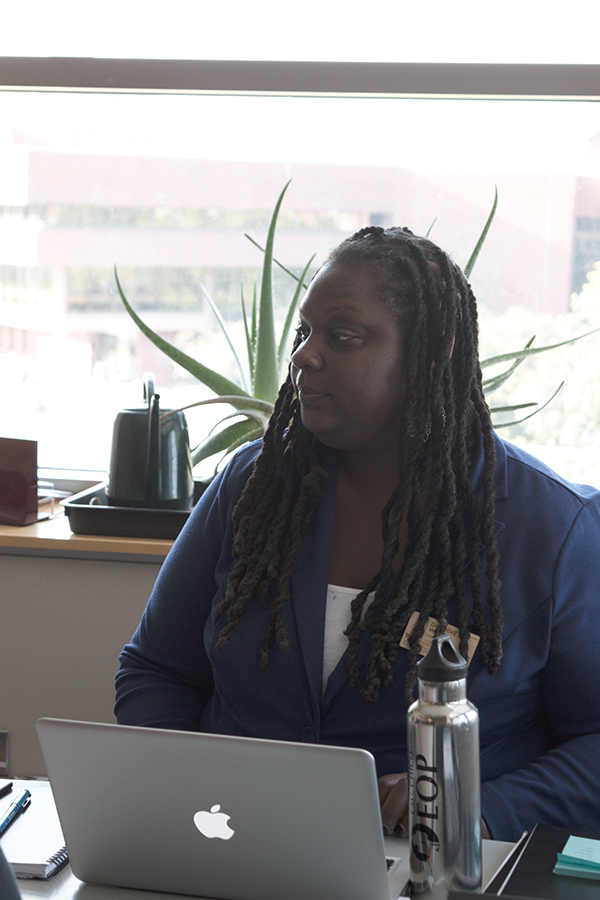 This summer, Daphne Wells '06 took the office of Pat Brown as the new director of Student Life.
She has over 13 years of experience in Student Life and graduated from UVM's Higher Education Student Affairs Master's degree program, according to a July 9 email from Dennis DePaul, associate dean of student affairs, and Annie Stevens, vice provost for student affairs.
Her previous affiliation with UVM influenced her to apply for the position, Wells said.
"I wasn't really fulfilled in the position I was in and I was wondering if higher education management was really for me," Wells said. "I had a very candid conversation with a friend of mine about when I was most fulfilled, and I decided that it was here when I was a hall director."
Wells has always felt that the student affairs division really cares about its staff, she said.
"The department is always offering opportunities for professional development and is current on what is happening in the student affairs field," she said.
In addition to the benefits of the position, Wells had to consider other factors, such as how her identity would be received, she said.
"I was thinking about how it might be difficult to come back to Burlington as a black woman," she said. "But I decided that I really wanted to focus on my professional fulfillment rather than personal, which will eventually come."
Ultimately, Wells decided it didn't matter to her if she was scrutinized due to her minority status, she said.
"I feel like beyond the scrutiny, my presence is a positive thing, because representation matters," she said.
Being a person of color in an administration that is mostly white is a big deal, Wells said.  For her, making sure all students feel represented is of the upmost importance, she said.
Wells' focus is on her job, and any scrutiny she might receive would be white noise compared to the work she is doing, she said. "I want to  learn the lay of the land, which comes with learning about the culture here."
She revealed plans to potentially expand the student government by hiring new staff. She stressed the fact that since she has a fresh set of eyes on the department, she could change how things were done.
"What does a year look like here? How can I make it better? Part of what I'm looking at is that there's so much agency given to students here, so it's about figuring that out," Wells said. "But ideally, it's about providing students with opportunities to get involved on campus and stay connected."
Part of Wells' mission involves looking to see how Student Life can meet the demands of No Names for Justice, as well as fraternity and sorority life.
Sophomore Charlotte Looby was optimistic about the change of leadership at Student Life while expressing concerns about club funding, she said.  
"I think it'll be great to get a new set of eyes on club budgeting," Looby said. "I'm a part of the Black Student Union and we only get a quarter of the amount of money we ask for which isn't enough for what we're expected to do."
Diane Fenner, who is on a gap year, but is a cofounder and president of the Creative Writing Group, had her own worries.
"My main concern is that the system to set up new clubs isn't inviting because the process is so long and bureaucratic," Fenner said.
Wells encouraged students to engage with SGA.
"If students have concerns with the club application process, they can talk to SGA," she said. "We can mitigate these issues, it's just a matter of coming to see us."
Sitting in her sunlit office, Wells said she is committed to making the role of Student Life clearer to students.
"We want to get involved in the other areas of campus to let everyone know that student life is for everybody."