Comedians joke about family and identity at comedy show
The Grand Maple Ballroom buzzed with excitement as a tall comedian with long, curly hair and a Hawaiian shirt jumped on stage to announce himself as the night's host.
UVM Program Board hosted comedian Rachel Feinstein for the annual April Fool's Day Comedy show April 3.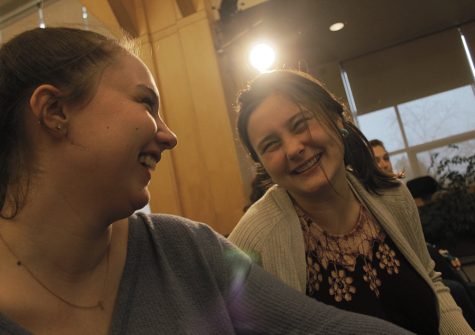 Feinstein is best known for her three Comedy Central stand-up specials, appearances in Amy Schumer's film "Trainwreck" and Judd Apatow's TV show "Crashing."
The April Fool's Comedy Show began with a stand-up routine by Kendall Farrell, the show's host and winner of Vermont's Funniest Comedian.
Farrell cracked jokes about his experience as a gay man, poking fun at himself and his life.
"I went to my high school reunion recently, just to see who else is gay now," Farrell said. "It's never who you hope it's gonna be. It's never a football or soccer player. It's the entire ultimate frisbee team."
Farrell also related about the struggles of online dating, and how hard it can be to get a good photo.
"I recently lost 20lbs, and I feel like I'm taking nudes with a sense of urgency," Farrell said. "It's like, how long will this really last you know?"
Farrell warmed the audience up with his commentary,and then introduced the second comedian of the night, Irene Bremis.
Bremis' related to the struggles of college students when she joked about having to eat terrible dining hall food.
"In college I ate Mitsubishi tuna fish," Bremis said. "You know what Mitsubishi is? It's a car manufacturer, and I'm pretty sure it was packaged in car oil."
Bremis also had the audience in stitches with her stories about her Greek family, her hatred of the Kardashians and her life on Staten Island, New York.
After her set, Farrell came back on and introduced the night's headliner.
Feinstein has also been on "The Tonight Show," "Conan" and has two specials on Netflix. A self-described "semi-famous Jewish jokester," Feinstein took to the stage, poking fun at herself and her habits.
"I got married a while ago, and being a wife hasn't made me any more responsible," Feinstein said. "I'm still an animal. I lose a debit card a week."
Feinstein did impressions of her mom, grandmother and husband while telling stories about their most embarrassing moments.
She captivated the audience with her honest humor, talking about her mom's habit of befriending everyone while wearing a cape with excessive jewelry.
Senior Anna Renzi said she knew about Feinstein before coming and found her set to be as good as she expected.
"I knew she would be good, but I was really impressed with her jokes and how funny she was," Rezzi said. "It was pretty funny overall, and my favorite part were the jokes about her husband."
Junior Claire Drouillard said she didn't know anything about Feinstein before the show, but found the show thoroughly engaging and amusing.
"I wasn't sure what to expect when coming, but she turned out to be super funny," Drouillard said. "I really enjoyed it, and I'm glad I decided to come."
At the end of the night, the room echoed with laughter while Feinstein was given a round of applause as she thanked the audience for coming.