PIKE wins national contest for the fourth time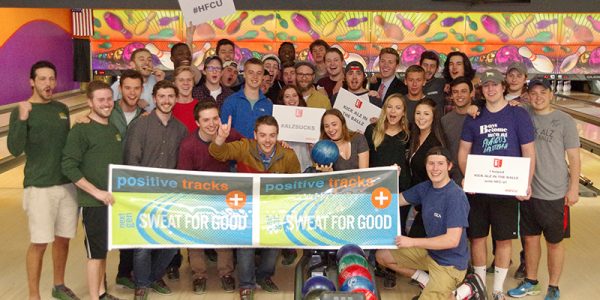 For the fourth year in a row, the iconic laughter of comedian, actor and charity organizer Seth Rogen echoed through halls of the Pi Kappa Alpha house.

PIKE welcomed Seth Rogen as a new brother of their fraternity April 17, after winning the Hilarity for Charity fundraising competition for the fourth time.

Teaming up with sorority Alpha Chi Omega, the fraternity raised more than $30,000 for HFC.

Seth Rogen and Lauren Miller Rogen formed the organization in 2012 to raise awareness, increase care and fund research for Alzheimer's disease, according to the Hilarity for Charity website.

Now, groups across the country are provided with tools and ideas to host their own fundraising events, such as the Kick Alz in the Ballz kickball tournament, Dance-a-Thon or talent shows, as the HFC website suggests.

According to the HFC website, each year Rogen visits the school which raises the most money.

Having gotten to know the Lambda Delta chapter over his last four visits, Rogen tweeted, "I joined a fraternity today and it was amazing. Proud to be a PIKE," in response to being initiated while on campus.
Melanie Levene, a senior in Alpha Chi Omega and marketing liaison for UVM Program Board, said that both Rogen and his wife helped her cope with her grandmother's own Alzheimer's diagnosis.
"My grandmother continues to suffer from a similar story as Lauren's mother," Levene said. "It meant a lot to me when Alpha Chi Omega got involved with this cause my sophomore year, because it doesn't get a lot of national attention."
Rogen's arrival at UVM was well timed for a bit of celebration with his new brothers.

According to one anonymous PIKE brother, Rogen was giving his new frat family the low-down.
"He told us he hasn't missed a day of smoking since the '90's," the brother said.
On the other hand, Rogen's inclusion in the fraternity was trumped by overwhelming praise. The chapter received recognition not only from UVM, but also nationally, since USA Today College published an article about PIKE's fourth win.

"It's pretty freaking cool," first-year Jackie Balter said, "not just that they get to hang out with Seth Rogen, but also the enormous amount of money they raised for such a worthy cause."
Levene said Rogen and his wife are down to earth, and bring a sense of humanity to a very serious issue.
"I'm really happy I was able to thank them in person," Levene said, "even if it was at a sketchy bowling alley in Vermont."

In winning again, PIKE raised more money than 250 participating college organizations.
About the Contributor
Izzy Siedman, Life Editor
Izzy Siedman is a sophomore at UVM with an English major and a writing concentration. She joined the Cynic in September of 2016, starting as a writer for...