"On a human level, this is the most disrespectful way to go about things:" English professor reflects on time at UVM, dismissal
UVM English Professor James Williamnson is one of three faculty members slated to lose his job with the University, sparking questions from community members and students who have described his unique skill set, expertise and ability as an educator. 
Williamson has lectured in the University of Vermont English department for 31 years. As part of a suite of CAS program cuts, his contract with the University has not been renewed past the 2021 spring semester. 
Williamson has been an instructor in the Burlington community for almost 40 years, starting in 1983 with a part-time gig at Burlington College teaching Vietnam War veterans and working odd jobs around town at bookstores, music shops.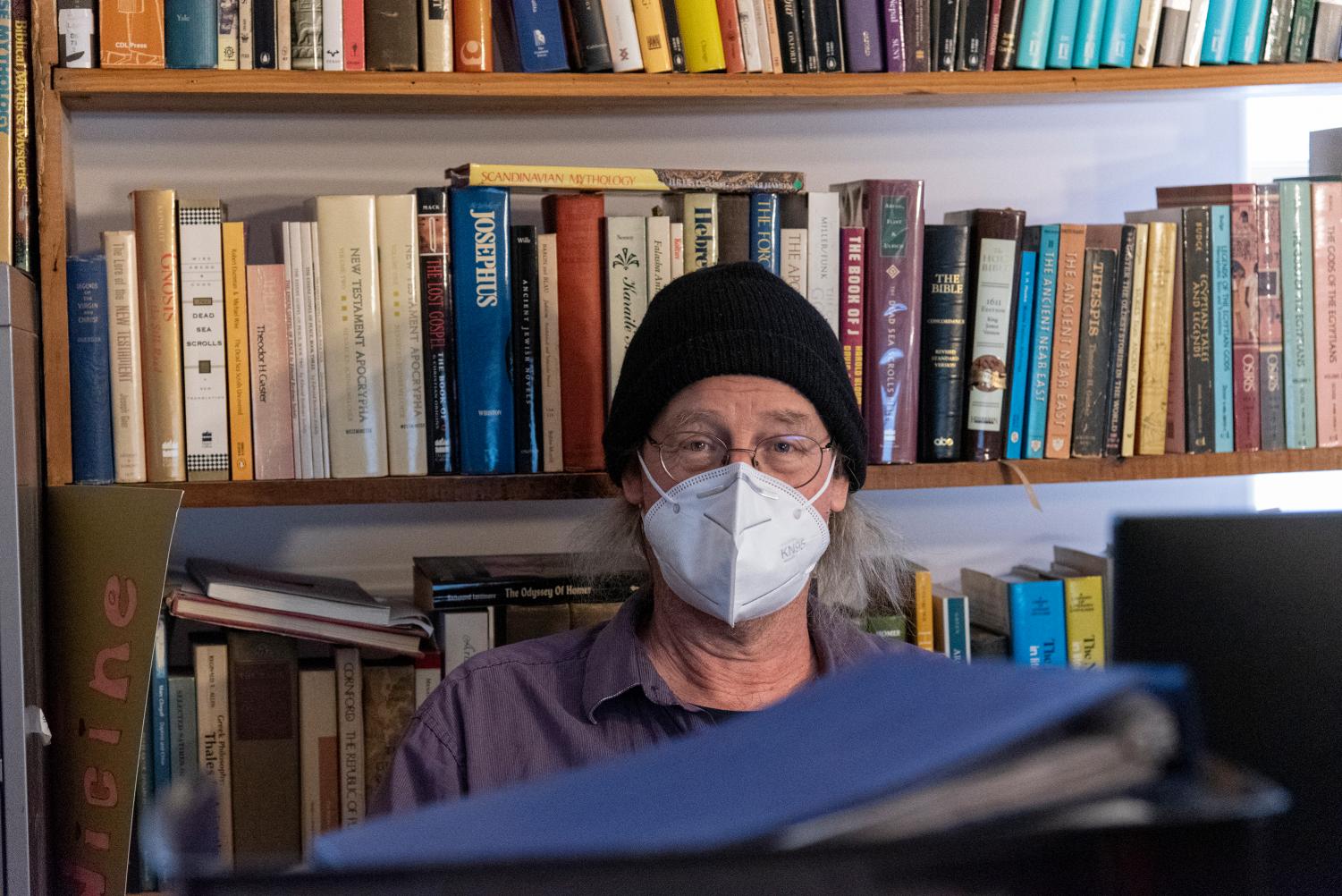 "When I got here, I was looking around for a job and a friend told me to see if I could get a job at Burlington College," Williamson said. "I read a lot and my knowledge was very thorough, so I started doing that with just a B.A."
Williamson earned a Master's of Arts in English Literature from UVM in 1990. Since then he has been employed by the university as a lecturer.
"I've been at UVM for quite a long time. After the Master's Program I pretty much immediately started as a lecturer. That's meant a lot to me. I love the English Department," Williamson said. "The freedom there is great, and I really enjoy the students."
Williamson teaches courses on an array of topics, notably on fantasy writing and Native American literature. His departure will leave UVM with few academic programs on indigenous studies. 
"There's nobody else in the English department with anywhere close to my expertise, and I don't think there's anyone who has the expertise to put together a course on it," Williamson said. "Once that disappears, there's only two other courses that deal with native subject matter."
According to a statement by Provost Patricia Prelock, low enrollment and a budget deficit within CAS are the reasons for cuts to the college's programs and positions. Williamson said this explanation was not representative of the state of CAS programs, rather the college was being scapegoated by the administration.
"Things have been manipulated to place the onus on the College of Arts and Sciences. When I'm saying that, what I mean is the structural deficit that Dean Falls repeatedly by rote is an issue that only occurs after money has been siphoned away from CAS."
Beyond the financial state of the college, Williamson said his courses are of value to the general UVM student body. He says many of his students are not majors in the English Department. 
"You need to look at double edges. For instance, classics has very few majors. On the other hand, classics courses are always full because students from other departments are constantly taking those courses," Williamson said.
Unlike tenured professors, lecturers do not hold guaranteed positions and every few years their contracts are up for renewal. Williamson has held his lecturing position at UVM since 1990. He said that his firing sends a message to other lecturers. 
"Chopping someone who's been there as long as I have and who's done unequivocally a really good job, it's basically saying to every other lecturer you better look for another job," Willaimson said.
Williamson said he made an offer to continue teaching for three more years at three-quarter time, which the university denied.
"It's galling, coming up on 62, I was planning on retiring in three or four years. They make a point to say it's a budgetary decision, nothing to do with my performance, but it would not affect one way or another the university's financial situation to let me teach for a few more years," he said.
Williamson also said that the manner in which he was fired was disrespectful. He says that he was broadsided with the news of his termination on the last day the administration could legally tell him. 
"I was not thanked for my 30 year contribution to the university. I was not thanked for putting my life on the line by teaching in person classes during the pandemic," Williamson said. "On a human level, this is the most disrespectful way to go about things that you could possibly imagine."
Professor Williamson has been teaching a mix of in person and online classes for the past few months. He chose to teach in a hybrid format, and said that he appreciates the in person connection with students.
"I'm here for the students. If this is my last semester, I want my students to get something out of it. I'm dedicated to my students, my anger is not directed at my students at all," Willaimson said.
Senior Mallory McFarland has taken two of his courses, one exploring nature and the origin of fairy tales and one studying race and ethnic studies literature. 
"He is a gem. He taught me two amazing classes early on in my UVM years. I feel like I retained a lot from them," McFarland said, "He has impacted my appreciation and desire to do my own research and more critical thinking on my own,"
McFarland noted that even though his classes were not a part of her Chinese major, they were still a valuable experience. Even her friends who have not taken classes with Williamson were aware of the integral role he plays in the English Department, McFarland said. 
McFarland said that Williamson's firing was problematic. 
"I think UVM is signaling that they don't really value a diverse education," McFarland said, "By losing Jamie, not only are we losing the Native American studies courses that he's teaching, UVM is going to be losing four to five courses that aren't going to be taught in general."
McFarland said that she feels that UVM is erasing Native American history, something she said she sees as a trend in American academia. 
Sophomore Andre Brown took Williamson's class on American literature. He said that he enjoyed Williamson's readings and the energy that he brought to the classroom. 
"As someone who's studying history as a minor, I know a lot of that history is whitewashed," Brown said. "I'd never heard of many of these books before or read them before, having a professor that teaches books by BIPOC people, it gives light to a different side of the story"
Despite the high praise that Williamson received from his students, both McFarland and Brown said they didn't see his contract being renewed. Brown felt this was part of a broader transition of educational priorities.
"UVM wants to transition to more of a tech school and fade away the humanities aspect of learning."  Brown said. "They're faking a budget crisis, not sure if there actually is one, but they're funnelling money away from humanities."
Real or manufactured, the cuts to CAS programs and staff have had impacts felt by faculty and students alike. But this hasn't deterred Williamson from following his passion. 
"I love what I do. If I don't ever teach at UVM again, it doesn't mean I'm done with literature," Williamson said.
Williamson said that he is working on a book about music, and will be focusing on creative writing pursuits, and playing in his band Late Night Sneaky Uncle.
"It's gonna be doing that, figuring out how to live cheaply for the next few years, trying not to draw on my retirement account. I'll probably get some part-time job, maybe you'll see me in a bookstore again," he said.