Samples, education and music at 2019 hair expo
A sign perched on a table at the Natural Hair Exposition read "I am natural because…black is beautiful."
The event, called Thank God We're Natural, was organized by the Womyn of Color Coalition and the UVM Women's Center. Prominent female black artists, like Kari Faux and Leikeli47, played over the speakers in the Silver Maple Ballroom while students visited various tables. Attendees browsed a selection of products that are designed with natural hair hair in mind, from oils to headscarves.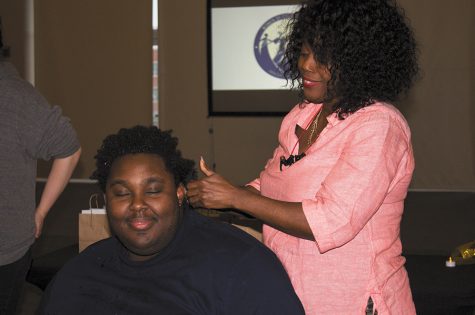 Vendors showcased their products, offered samples and demonstrated tutorials of their products, like castor oil, scalp ointment and hair lotion.
According to the WOCC, the event "celebrates those who embrace the various textures of their hair and promotes healthy, self-care and wellness through preventive care while providing resources, discussions, and free samples and prizes."
The free event drew in both students and Burlington community members. The WOCC partnered with brands like Mixed Chicks, Moisture Love, Palmers and Bounce Curl, and they ran a raffle with prizes like full-size products.
A braiding station run by Burlington's Diversity Hair Salon offered services to attendees, and students also ran workshops, including juniors Ama Sika and Nyria Stuart Thompson.
The event was intended to celebrate natural hair, but also to encourage proper care for it. A poster encouraged attendees to think of their own hair and determine what the porosity, curl pattern/type and hair density in order to find the right products and treatment for their weekly hair routine.
The WOCC hosted the first Natural Hair Expo in 2017. They have also hosted the UVM SlutWalk to raise sexual assault awareness, and earlier in 2018 held the first Crowned in Culture Ball.